May is Plant All The Things Month!
I keep thinking I am getting ahead of the planting, but I realized this week that I am not! I still have so much to plant, and have been so busy planting, that I completely forgot to do my monthly May Homestead To Do List post earlier this month.
So here it is, better late than never! Please keep in mind, I live near Seattle in the Pacific Northwest, and this list is my personal to do list. Your list may need to be slightly altered depending on where you live and your homestead needs.
Please check out all of our favorite Homesteading and Gardening tools in our Amazon Shop!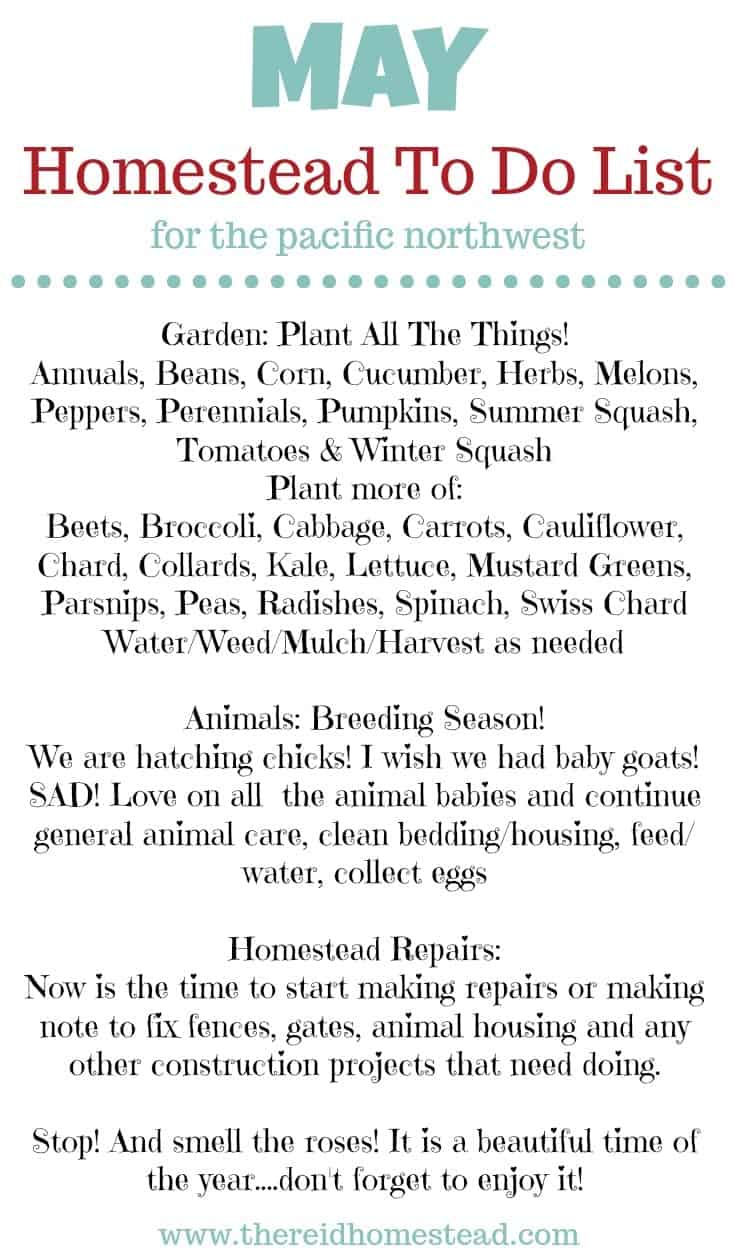 May Homestead To Do List for Gardening:
What am I planting, you might ask. Some of these may have been planted last month, but can be sowed again this month as well. This list includes things that I am direct seeding and some that I have started either via winter sowing or in typical plant flats. See what I planted this year using the Winter Sowing Method.
Before planting things out in your garden, a few weeks before, start using these methods to get your slug and snail population under control before they decimate the garden.
Be sure you have Hardened Off Your Seedlings properly and be wary of night time temperatures. When they are safely above 50 degrees, heat loving plants such as tomatoes and peppers are safe to be planted outdoors. Don't forget to harden off your starts first! Here is my list for this month:
Veggies:
This first group should really already be in. But if they are not, go ahead and plant asap, and next year, try to get them in earlier! All veggies in the first two groups, are known as cold season crops:
Onions (from starts only, not by seed)
Potatoes (if planting this late, go with a short season type such as Yukon Gold)
Brassicas if you haven't yet (starts only and early varieties): broccoli, cauliflower, cabbage, kohlrabi, kale, brussel sprouts
These veggies can be sown earlier than May, but can be sown again in May for a longer staggered harvest:
Root veggies: carrots, beets, parsnips and radishes
Greens: lettuces, spinach, mustard, kale, collards, swiss chard
These veggies are typically planted in May, or after night time temps are above 50 degrees and also known as warm season crops:
Legumes: pole beans, bush beans and dry beans
Corn
Cucurbits: cucumbers, melons, summer squash, winter squash, pumkins
Herbs: All of them such as basil, thyme, dill, cilantro, sage, oregano, parsley, lavender, mint, lemon balm, etc. See my article How to Harvest Basil: The Ultimate Guide for the biggest harvest!
Fruit:
blackberries
gooseberries
rhubarb
yellow raspberries
blueberries
I am sure there are more you could plant right now, these are what are on my list to plant for this month. Consider growing a Food Forest also!
Flowers:
Sunflowers
Zinnias
Snapdragon
Nasturtium
Marigold
Cosmos
Petunias
Coleus
Fuchsia
Lobelia
Allium
All. The. Flowers. Never enough!
There is also harvesting to do in the garden in May. I am harvesting a ton of asparagus right now. Rhubarb as well. I am late with my greens so have not harvested any yet.
My peas did not do well this year. The rabbits nibbled at them and the moles/voles kept tunneling under them pushing them up....so I don't think I'll get many this year. Normally, I would start harvesting them this month.
Strawberries may be ripe before the end of the month. If you got your brassica's in early enough, you may be able to harvest some broccoli or cauliflower this month as well. And don't forget to thin your onions by picking a few green one's where they are too close together. And radishes of course!
As your harvest starts rolling in, consider Tracking Your Homestead Garden Harvest Tally! It is a fun project the whole family will enjoy and teaches your kids STEM concepts, so get them involved!
It is best to plant your starts on an overcast day, or even better, at the beginning of a series of overcast days. Transplanting them on a hot sunny day can cause them to go into shock, which will set them back quite a bit. Be mindful of the rainfall you are receiving. Newly planted transplants and especially direct seeded crops, will need to be watered regularly until they are established or the seeds have germinated. If you are not getting rain or are getting really hot temperatures, watering can be critical to get that garden going off at a good start.
Also be wary of pests. Here in the Pacific NW, slugs and snails love to devour your newly sprouted/planted goodies. I like to use Sluggo to combat them but check out these 10 Natural Methods to Combat Snails and Slugs.
Rabbits have been especially harsh in my garden this year, so I have sprayed with Deer and Rabbit Repellent spray, and it seems to at least slowed them down.
I still haven't figured out how to combat the moles/voles/gophers. Our barn cat gets some of them, but not enough. I have put in those vibrating things in the ground, but they are still out there messing up the garden. Anybody have a sure fire way of combatting them?
May Homestead To Do List for the Animals:
This month we are hatching chicks. We currently have both incubators running. Lots of Marans and Olive Egger eggs, and some Blue Laced Red Wyandottes and some eggs from our Blue Ameraucana pen. We will be locking down on Friday with hatch day on Monday the 28th. First chicks of the year and I am so excited!
Other than that, just general animal maintenance. Cleaning coops and the goat pen, feeding and watering and collecting eggs. Read more on my blog about raising Chickens for Beginners and Chicken Breeds for Colorful Eggs. With farm animals, comes rats and mice. See How I Get Rid of Rats on the Homestead.
May Honey Do List on the Homestead
I have added a new section here that I didn't have in my previous monthly to do lists. I call it my Honey Do list! These are things I really need help from my other half to get done, including fixing some gates and fencing, helping me build some tomato supports and build new shelves for the canning pantry. I doubt all of it will get done this month, but a girl can dream!
May Homestead To Do List for Food Preservation:
I did finally get caught up on all the frozen tomatoes last month by making a big batch of tomato sauce and canning it (see my article on the many Benefits of Freezing Your Tomato Harvest). I still have berries in the freezer that I want to do a couple of batches of jam with before the new berries come in, but see what else you can do with your berry harvest with my article on How to Use Your Berry Harvest.
My garlic harvest from last year is just starting to sprout down in the root cellar. We finished our basement last year and in doing so, created a dark, unheated storage room, that has allowed me to keep the garlic much longer than in the past. Usually by March it was sprouting before.
So I am super excited about that! I will probably peel a bunch, slice it up and dehydrate it, than blend it up for home made garlic powder. I will probably freeze some peeled cloves as well.
See all my articles on Food Preservation for many ideas on what to do with your harvest!
The May Homesteading To Do List
Check out our homestead to do lists here:
Time Management on the Homestead
I hope this list helps you to keep your homestead chore list up to date. This month is all about the planting, I am anxious to start harvesting more next month. Don't forget to take some time and stop and enjoy all the spring flowers! It is such a beautiful time of the year! Please let me know what you are working on this month or if I left anything crucial off the list! Happy Planting!