Berry Season is upon us! Are you bored with your same old recipes? This post will give you some great new ideas on how to use your berry harvest! Scroll down to find out more!
Tips on Growing Your Own Berries
I grow a lot of berries on our homestead. So far, we are growing Raspberries, Strawberries, Blueberries, Blackberries, Honey Berries, Josta Berries and Currants. So I thought I would share a couple of my own tips on growing berries here, before I share ideas from our featured posts on how to use your berry harvest!
Mulching Your Berries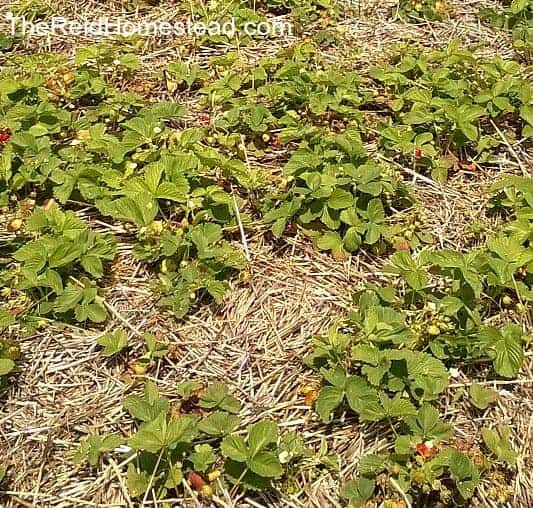 My first tip, is to MULCH! Mulching really really cuts down on weeding and watering! It basically makes your job growing berries, easier! And you will get a bigger berry harvest! Check out my article The Secret to Easy Gardening, NO WEEDING with Mulch!
Protect Your Berries from Birds and Deer
My second tip, is to protect your most valued crop of berries from birds and deer. We finally had to do this for our blueberry bushes.
You can do this by using a simple bird netting. However, when I used that cheap one, be forewarned, the birds can get caught up in it very easily and die. Especially if it is just draped over the pushes.
It is best to build a framework over your berries, that supports the netting. This can be made quite simply with PVC or 2x4's.
But if you want to really protect the birds, consider using this Deluxe Bird Barricade Netting which is designed to prevent the birds from getting caught in the netting.
Or, another option is to just use some bird tape to scare them away. I like to tie strands of it about 2-3' long to my blueberry bushes and as it blows in the wind, it flickers and moves and the birds don't like it.
To protect your strawberries from being eaten by the birds, consider painting some strawberry rocks and setting them out a few weeks before your strawberries are ripe. The birds will come and peck at the rocks, thinking they are ripe berries.
They don't like pecking the rocks, and will quickly learn to leave your ripe strawberries alone! Be sure to also use these Natural Control Methods for Slugs and Snails to keep them away from your strawberries too!
Freezing Your Berry Harvest
My third tip, is grow as many berries as you can, and easily preserve all your berries by freezing them! It is so easy to do, and then you can enjoy them all year long!
Berries are a super healthy whole food, full of vitamins and antioxidants that are good for you. So I love to add a handful into anything I can, smoothies, yogurt, cereal, salad, etc.
How to Use Your Berry Harvest
There are so many ways to use up your berries, but if you are in a rut or stuck on what to do with them, here is where I am sharing all my ideas on what to do with them.
Berry Beverages:
Berry Non-Alcoholic Beverage Recipes:
Raspberry Mint Sparkling Water
Berry Cocktail Recipes:
Honey Thyme Blueberry Smash Cocktail
Blueberry Gin and Tonic Cocktail
Berry Non Dessert Recipes:
Berry Appetizer Recipes:
Blueberry Chutney Goat Cheese Appetizer
Berry Jam - Jelly - Sauce Recipes:
Raspberry or Blackberry Basil Seed Jam (paleo/vegan/keto)
Berry Salsa Recipes:
Strawberry Pico de Gallo (nightshade free!)
Oatmeal - Yogurt Recipes:
Macerated Strawberries with Yogurt
Salad Berry Recipes:
Summer Berry Salad with Yogurt Dressing
Strawberry Butter Lettuce with Goat Cheese Salad
Blueberry Balsamic Grilled Chicken Salad with Mixed Berries
Strawberry Spinach Salad with Quinoa
Strawberry Chicken and Spinach Pasta Salad
Main Course Berry Recipes:
Grilled Turkey Burger with Peaches and Blueberries
Blackberry Brie Grilled Cheese Sandwich
Grilled Pesto Salmon with Strawberry Cucumber Salsa
Berry Dessert Recipes:
Berry Bar - Brownie - Cookie Recipes:
Blueberry Biscuits with Lemon Glaze
Berry Candy - Gummy Recipes:
Berry Cake Recipes:
Red White and Blueberry Crumb Cake
Red White & Blue Gluten Free Mixed Berry Angel Food Cake Roll
Berry Cheesecake Recipes:
Also see my No Bake Pumpkin Cheesecake Desserts Recipe Round Up!
Easy No Bake Blueberry Cheesecake
Strawberry Crunch Cheesecake Cones
Berry Cobbler - Crisp - Crumble Recipes:
Blueberry Cornbread Cobbler in Cast Iron Skillet
Berry "Finger Food" Recipes:
Patriotic White Chocolate Dipped Strawberries with Sprinkles
Chocolate Coconut Cream Stuff Strawberries
Berry Galette - Pie - Pastry Recipes:
Heart Shaped Raspberry Cream Cheese Danish
Rustic Strawberry and Cream Cheese Galette
Wild Blackberry Pie with Honeyed Creme Fraiche
Berry Ice Cream - Popsicle - Sorbet Recipes:
Haskap Berry Ice Cream (No Churn!)
Strawberry Basil Sorbet with Honey
Berry Kabob Recipes:
Chocolate Strawberry Dessert Kabobs
"Mexican" Inspired Berry Dessert Recipes:
Banana Split Grilled Dessert Nachos with Berries
Berry Muffin - Bread Recipes:
White Chocolate and Raspberry Muffins
Strawberry Lemonade Quick Bread
Berry Parfait - Pudding - Trifele Dessert Recipes:
Saskatoon Berry (Juneberries) Tiramisu Dessert Shooters
Berry Scone - Shortcake - Tart Recipes:
Mini Blueberry and Thyme Tarts
Chocolate Biscuit Strawberry Shortcakes
Want to Remember This?
Please share "How to Use Your Berry Harvest" on Pinterest to your favorite homesteading or gardening board!