What is Winter Sowing?
(updated for 2021) Winter Sowing is sowing your seeds in milk jugs or other plastic containers, and using them as mini-greenhouses outside in the middle of winter. Winter sowing is an easy, simple, inexpensive way to sow seeds.
I have been doing this now for the last 8 years or so, and it has worked so well for me, that I wanted to share this Winter Sowing tutorial in hopes that it works for you too. Because it is SOOOOO EASY!!!!! Sow those seeds, and then forget about them for a few months! Seriously. That is all.
Scroll down to get my free printable Winter Sowing Schedule!
Winter Gardening with Winter Sowing
Another reason I love winter sowing, is it allows me to get back into my gardening groove before the weather truly lets me. I don't know about you, but after the holidays are over, I start getting the gardening itch.
Winter sowing allows me to actually begin gardening in the winter, but without really dealing with the nastiness of winter. I plant the seeds indoors, and then just pop them outside and let nature do the rest.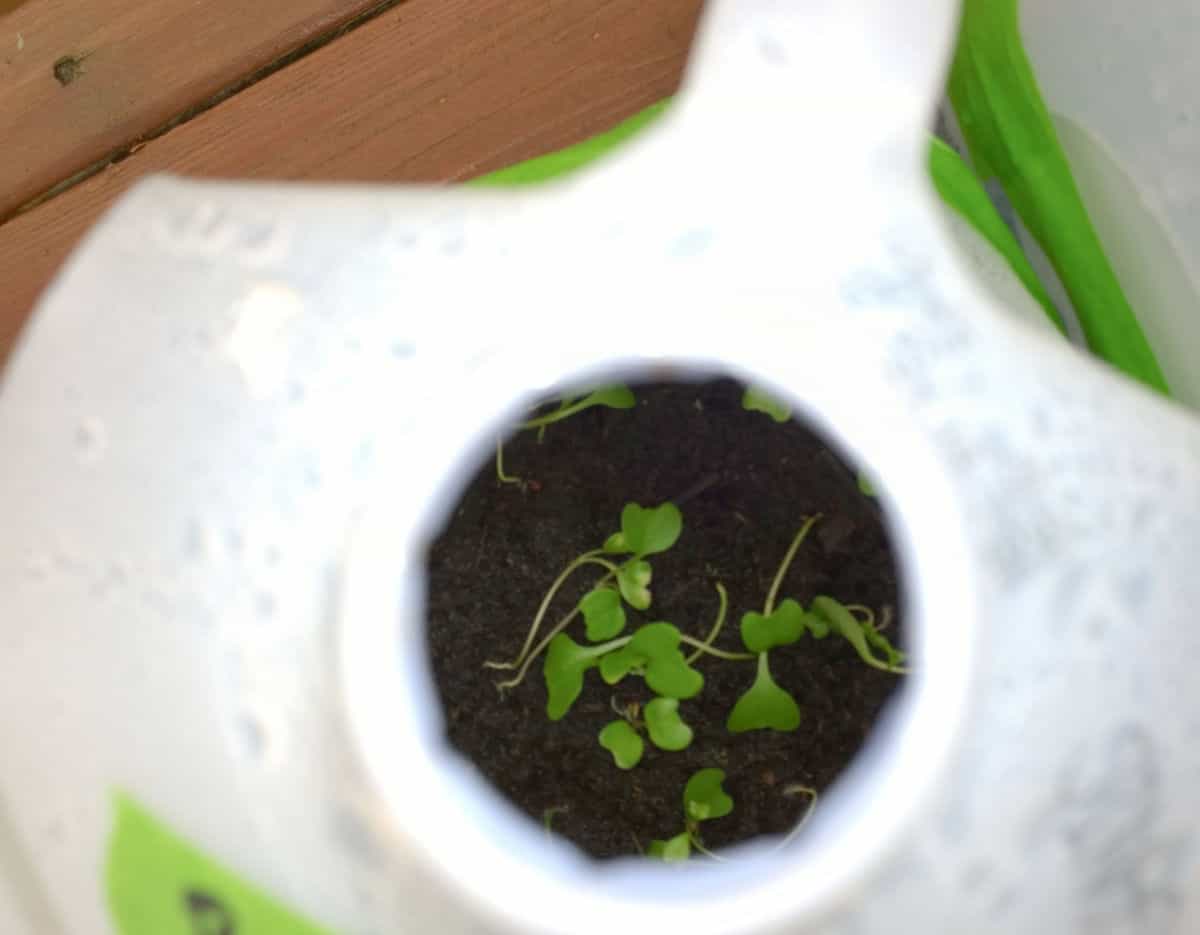 It's also a great STEM project for the kids to do when they get bored over the winter! See 100+ Ideas for Bored Kids on the Homestead for more ideas! Or check out these cute Snowman Wood Bead Ornaments or these cute Gnome Christmas Ornaments to make with the kids this winter!
Frugal Seed Starting with Winter Sowing
Winter Sowing is also a much more frugal way to start seeds. No need to buy all that seed starting equipment such as heat mats, grow lights, plant trays, etc. Just save your used milk jugs or other plastic containers, and then the only thing you need to acquire is the potting soil to grow in, and the seeds! And duct tape to seal the container closed with.
Winter Sowing Containers are Mini Greenhouses
I like to use milk jugs for my winter sowing containers, but any similar type of container will work. First step is to collect your milk jugs or other plastic containers.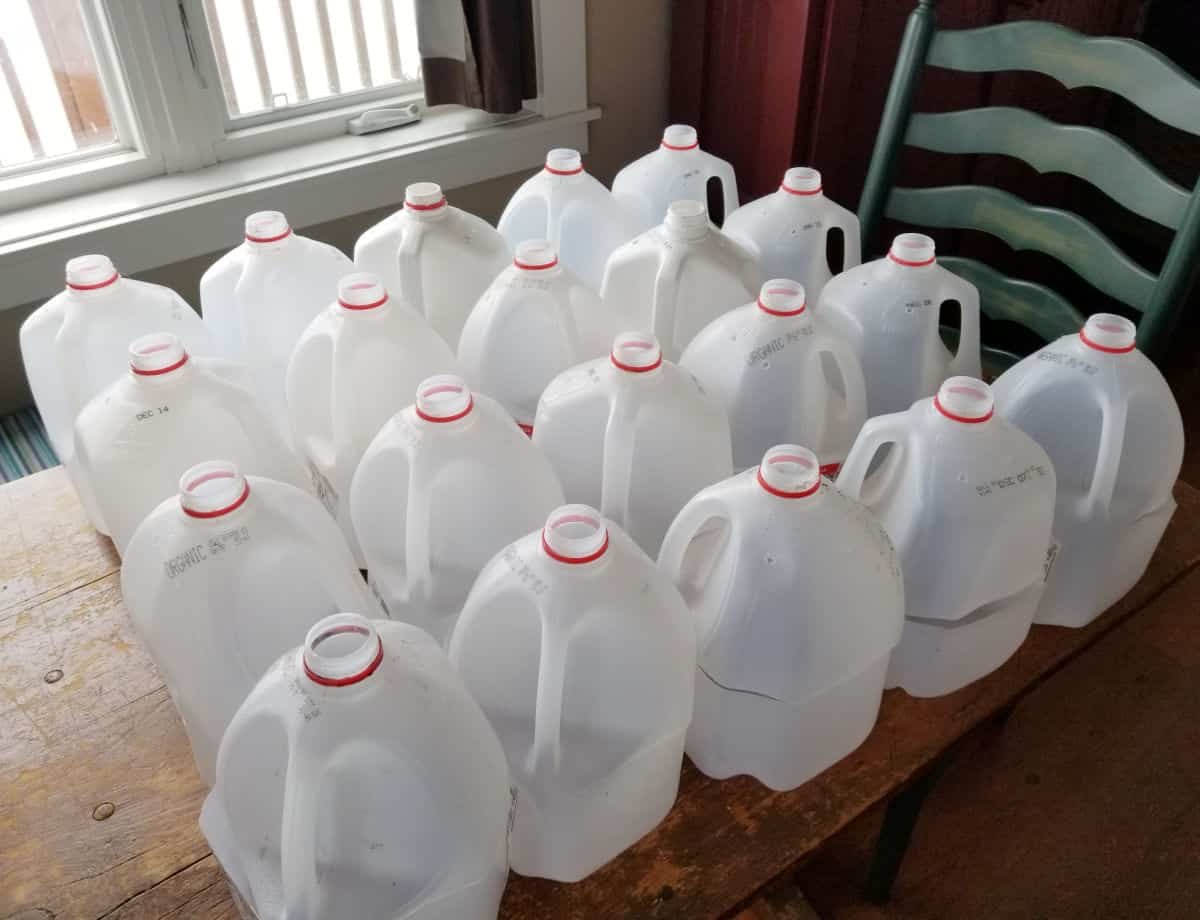 To prepare them, first, poke a bunch of holes in the bottom for drainage, and a few holes around the top for extra air circulation. I use a Phillips head screwdriver that I heat up over a gas burner, than just poke it thru the plastic a bunch of times.
Then you cut the milk jug almost all the way around about 4" up from the bottom, but leaving an inch or so intact below the handle, as a hinge, so that you can lift the upper part of the jug open. I use an X-acto knife to do this.
What Types of Containers Can I use for Winter Sowing?
Below is a list of containers that may be suitable for winter sowing. Just be sure that your container is not too shallow. You will need room for the plants to grow with the lid or cover in place.
Milk Jugs: Generally, milk jugs are the recommended ideal container to winter sow your seeds in. If you don't drink milk, ask your friends and family to save them for you, or ask at your local coffee house or espresso stand to save them for you!
However, many other containers will also work if you don't drink milk.
2 liter soda bottles
plastic spinach/greens bins (tape two bottoms together so you get more height for your seedlings to grow in)
rotisserie chicken containers. Really any clear plastic bin/container should work as long as you vent it properly and drain it properly.
Water Jugs: You could also buy gallons of water in similar jugs for fairly cheaply.
Planting Pots with Domes: Or, I recently came across these 6" plastic pots with domes and have seen people using them for winter sowing with success. You may want to add a few holes to the top of the dome or make the one there bigger to allow for the rain to get in.
Clear Plastic Bins Zip-tied together: You could also plant in 4" pots, set the pots in a shallow clear plastic bin, get a second clear plastic bin the same size and flip it over and use it as a cover over the first bin. Drill some holes around the sides of both and zip tie together. Be sure to drill holes into the bottoms of both ins. The bottom bin needs drainage holes, and the top big will need hole in what will not be the top of your winter sowing ensemble, to allow rain in and for air circulation.
Which Soil to Use for Winter Sowing
The most important aspect of the soil you choose to use, is to use a soil that drains well. If the soil stays too wet, the seeds may rot. I usually use the same kind of potting soil I talk about in my Seed Starting Equipment post, which is a moisture control potting soil.
You don't need to use the moisture control, it's just what I usually have on hand. If you are purchasing soil specifically for use in winter sowing, I would not choose the moisture control potting soil unless you live in a very dry climate.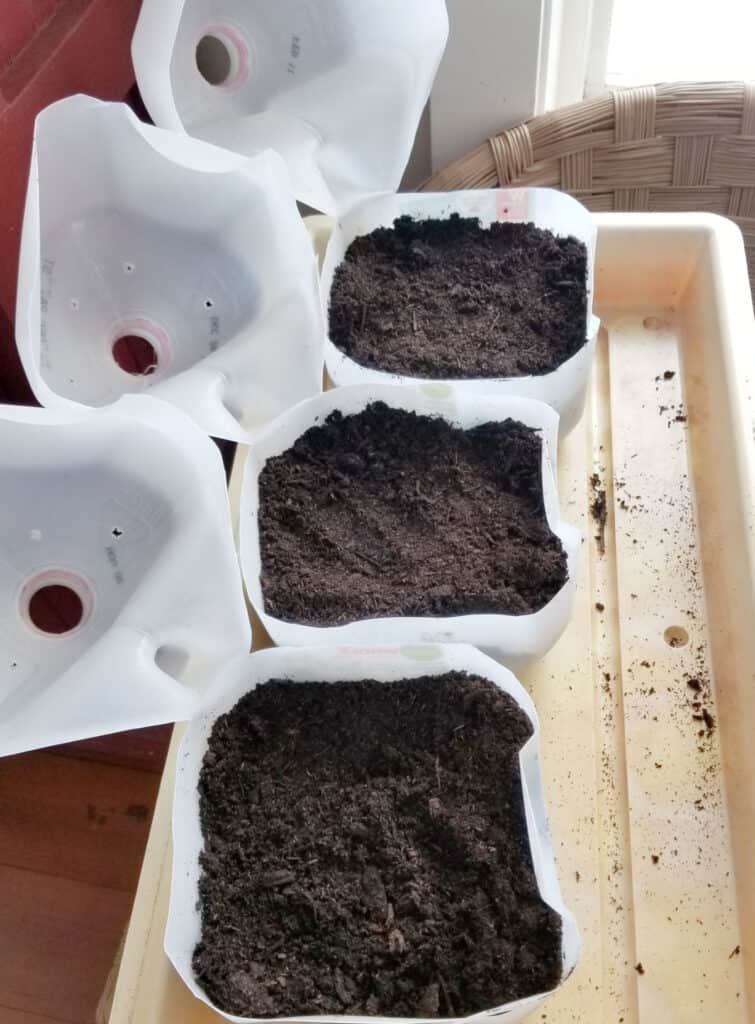 When Should You Start Winter Sowing
The most recommend time to begin winter sowing is after the winter solstice which is December 21. However, being that this is such a busy time for most folks with the holidays, I tend to recommend starting in January. This is when I begin.
See below for more details on my recommended sowing schedule. I have broken things down by types of things to plant and when I plant them down below in further detail.
If you would like to print out my recommended Winter Sowing Schedule which includes more details, see below and sign up to get my free Winter Sowing Schedule / Calendar printable!
How to Plant your Winter Sowing Milk Jugs:
Fill the bottom part of the jug with 3" of damp potting soil. Moisten the soil before using, by placing some soil in a plastic bin and watering and then mixing the water in well. The soil should hold its shape when squeezed, but not be dripping wet.
Plant the seeds into the soil as directed on the package for depth of planting. I tend to plant the seeds pretty densely, knowing that I will be dividing up the plants to transplant later in the spring.
Spray the surface with water so the top 1" or so of soil is quite damp.
Close the jug and tape the jug closed all the way around.
You can leave the plastic cap that came with the milk jug on, until the seeds germinate. This will keep the moisture in there, which helps hasten seed germination.
Once the seeds germinate, remove plastic lid to allow for rain to get in, and the air to circulate out when it gets warm in there.
Have some duct tape or similar tape on hand, that you will need to seal the two halves of the jug closed.
Also, stick a label in there also with the name of the seeds you are planning to sow. Don't write on the tape or jug, as the sun will fade it. Ask me how I know!
Where to Place Your Winter Sowing Containers:
Set your Winter Sown containers outdoors in a sunny location that will receive rain. Do not put under an eave which might prevent rain from entering into the open top.
Caring for your Winter Sowing Containers:
Then, just be watchful of really warm weather. If the seeds have germinated and you get an out of the blue HOT day, the plants may bake in there with the lid still on.
So if you are getting some unseasonably warm weather, take the tape off and open up the lids. You may need to water them also.
If it cools back down, tape them closed again. Then just watch.
Once the plants are big enough to be filling the jugs with their greenery, it is time to pop the tops off like I just mentioned. And transplant as soon as you can for what you have grown.
What Seeds Can You Winter Sow?
You can winter sow perennials, annuals, herbs, and vegetables. So basically most anything that you can start from seed. It is the frugal way to start a lot of plants from seed, whether you are planting a new perennial bed, or filling a lot of containers with annuals, or putting in a vegetable or herb garden.
Winter sowing in milk jugs is the way to get a lot of plants for little money. It is a true frugal gardening method! And if you end up with more than you can use, just sell them! Or, grow extra on purpose to sell! Learn how I sell my extra seedlings for tips!
Winter Sowing Flower Seed, Perennials and Annuals
I like to grow my own perennials and annuals using winter sowing. I tend to start out with hardy perennial seeds first, as early as January and through the month of February.
Then I plant annuals and more tender perennials later in March. Winter sowing flowers & perennials is a great inexpensive way to grow your garden. Save your own seeds, or exchange seed with friends or family and grow your own.
I usually start as early as January with lavender, phlox, rudbeckia, and other similar perennials. I will then do winter sow sweet peas a few weeks later. And a few weeks after that, I will winter sow snapdragons, marigolds, nasturtium, lobelia, alyssum and other annuals.
But this is such a super flexible way of growing, if you haven't started in January, go ahead and sow all the things in late Feb or March! Just remember to keep notes, so next year you can refer back and change up how you do things if you need too.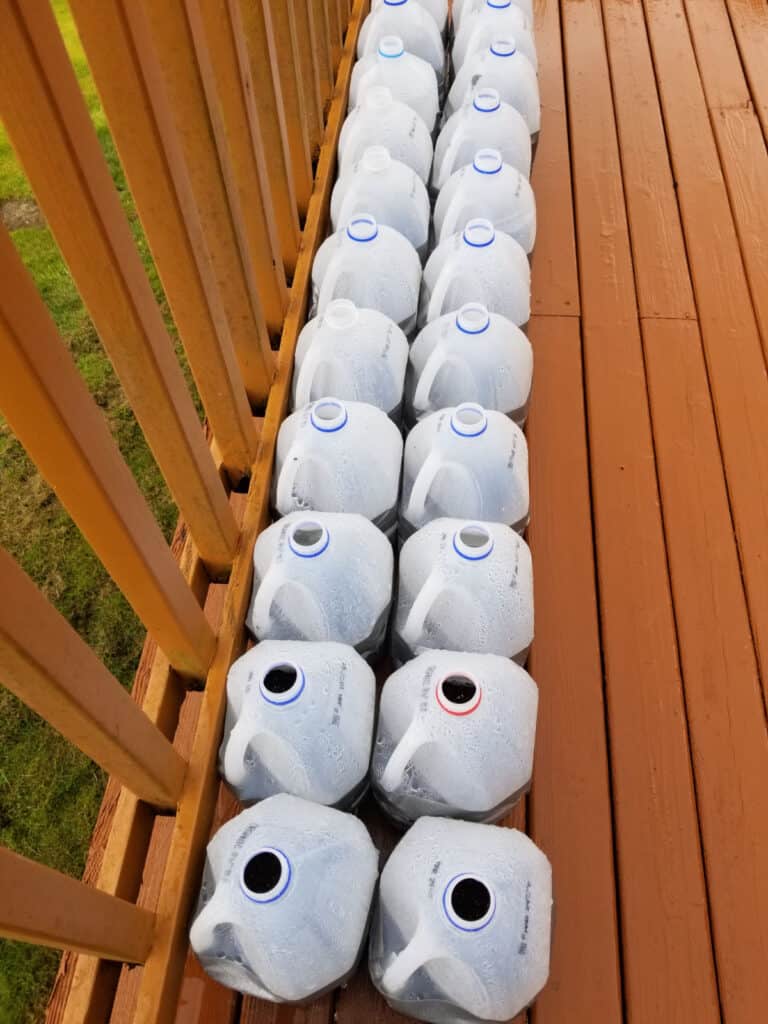 Winter Sowing Vegetables
I like to start my cold season vegetable crops in February. Some cold season veggies I have winter sown with success, are all the brassicas (kale, broccoli, cauliflower, cabbage, etc), greens such as chard, spinach and lettuce as well as root veggies and onions. Then by late March they should be ready for transplanting.
See my article Grow More Food with Fall and Winter Crops for more ideas!
You could even try some warm weather vegetables like summer squash, winter squash or pumpkins in April. You could also start your cucumbers and melons in April as well. I have not tried warm season crops like tomatoes and peppers using winter sowing, but I bet it would work also if you follow the guidelines below.
Can You Winter Sow Tomatoes?
You can try to winter sow tomato seed in very late winter or early spring, but this is one crop that I do not winter sow. Tomatoes and peppers and other heat loving vegetables, will not do well in cold winter temperatures. These crops usually need a soil temperature between 70-80 degrees to germinate, and once they do germinate, they do not do well in temperatures lower than 50 degrees.
Winter sowing milk jugs are usually set outside and left alone in the deep winter with freezing temps. If you are still having winter like temperatures, especially at night, the heat will escape the winter sowing containers, and this will negatively effect those heat loving crops. Even during the day, if you are having really cold weather, these milk jugs will not warm up enough for these crops to thrive.
You can try in the spring, but you would want night time temps to be above 50 degrees. And if you get warm daytime temps, you would need to open the containers so that the heat does not cook the seedlings. At this point, it is not really winter sowing anymore, but using milk jugs simply as a seed starting container. See more of my tips on Growing Tomatoes.
Winter Sowing Zone 8
I am in gardening zone 8b, and these are winter sowing methods that have worked well for me here in the PNW. Please let me know if you try this growing method and what you plant when!
If you aren't sure what to plant when, I suggest starting a bit of seed, and then 4 weeks later, start another batch. Keep notes and compare what did well when. Then next year, you will have a better idea of what to plant when. I am anxious to hear how you all do!
Winter Sowing Seed Starting Schedule / Calendar Free Printable!
If you would like to grab my members only Winter Sowing Schedule/Calendar for Garden Zone 8b free printable, just sign up below!
If you are already a subscriber to my newsletter, access it in my Freebie Resource Library! (check one of my emails for the password!)
Winter Sowing Results and More Information
Be sure to check out my Winter Sowing Results article where I share what I have grown using winter sowing!
Also, come and watch my Winter Sowing Tutorial Web Story!
For more information on Winter Sowing: I used to suggest the WinterSown.Org but I see now that it's not working. Don't know if this is a temporary problem or not so I will leave the link. I know there are a couple of big winter sowing groups on Facebook, so you could also try there.
Some of my other popular articles you may be interested in:
How to Use Eggshells in the Garden
Simple Easy No Work Composting (+DIY Compost Bin Tutorial from a trash bin)
How to Store Onions from the Garden Through the Winter
Which Pressure Canner Should You Get?
Want to Remember This?
Please Save "Seed Starting 101: Winter Sowing in Milk Jugs" to your favorite Gardening Board on Pinterest!