There are many reasons to freeze at least a part of your tomato harvest, and in this article I will share them all with you as well as how to freeze tomatoes from your garden!
Fresh home grown tomatoes are best eaten straight off the plant, but I am here to tell you that if you love to grow tomatoes, it is worth your while to freeze some of them to enjoy later on in winter.
So if you have ever wondered, what is the best way to freeze fresh tomatoes? The answer is yes you can, and today I will show you how to freeze tomatoes from your garden!
Freezing Tomatoes is the Easiest Way to Preserve Them!
I don't have a lot of time to deal with the tomatoes at the time of summer when most of them are harvested. SO MUCH goodness is coming out of the garden at the same time, it is very difficult to try and preserve it all at the same time! The end of summer is so busy for so many, with school starting and last minute vacations.
Freezing tomatoes is sooooo very simple and easy to do, that is why it is the easiest way to preserve them!
See my article: Can You Freeze Cherry Tomatoes Whole?
Use Frozen Tomatoes for Canning in the Winter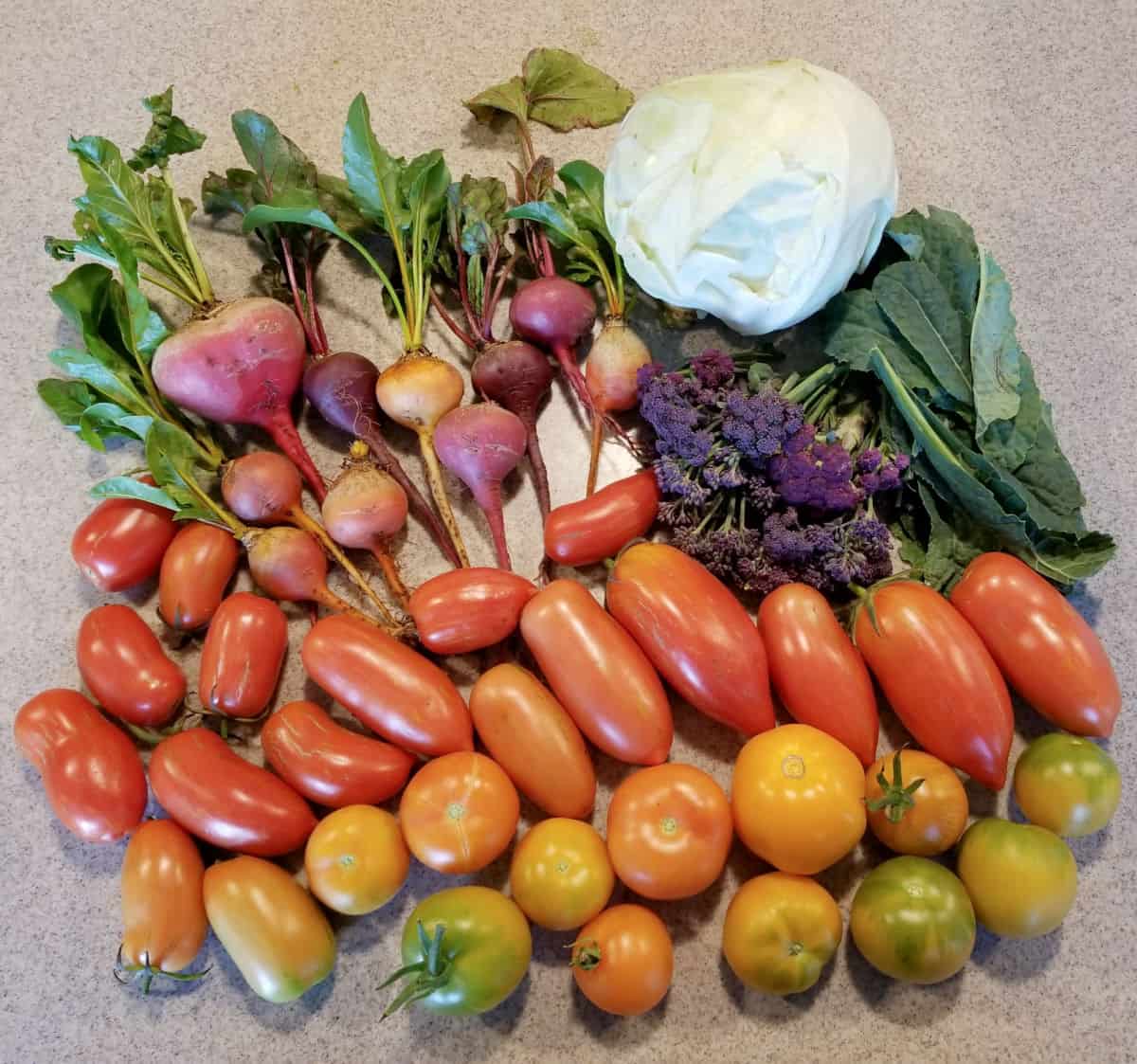 Freezing tomatoes to can later in the winter, is the main reason I freeze them. This allows for me to make sauce and preserve the sauce by canning, deep in the heart of winter! Nothing better than canning up a large batch of tomato sauce on a winter weekend watching football!
Today I will teach you how to freeze tomatoes for sauce, that you can make at your leisure when you have more time, how to freeze whole tomatoes and how to use those frozen tomatoes!
How to Freeze Tomatoes From Your Garden
I fill my clean and sanitized sink with cold water
Add a few large glugs of vinegar.
I wipe off any big dirty areas on the tomatoes, and then drop the tomatoes in the sink gently.
Let the tomatoes sit in the sink for a few minutes, swish them around a time or two.
The vinegar helps kill off any bacteria or mold that may be sitting on the tomatoes, so this is an important step.
After washing, set them on a towel to dry.
Meanwhile, grab a cutting board and a paring knife.
Take each tomato and core it, and cut an X on the opposite end.
Place in a zip lock freezer bag and put in the freezer!
You can always add more tomatoes to the bag if it isn't full next time you harvest some.
Freezing Tomatoes Means NO Blanching Required!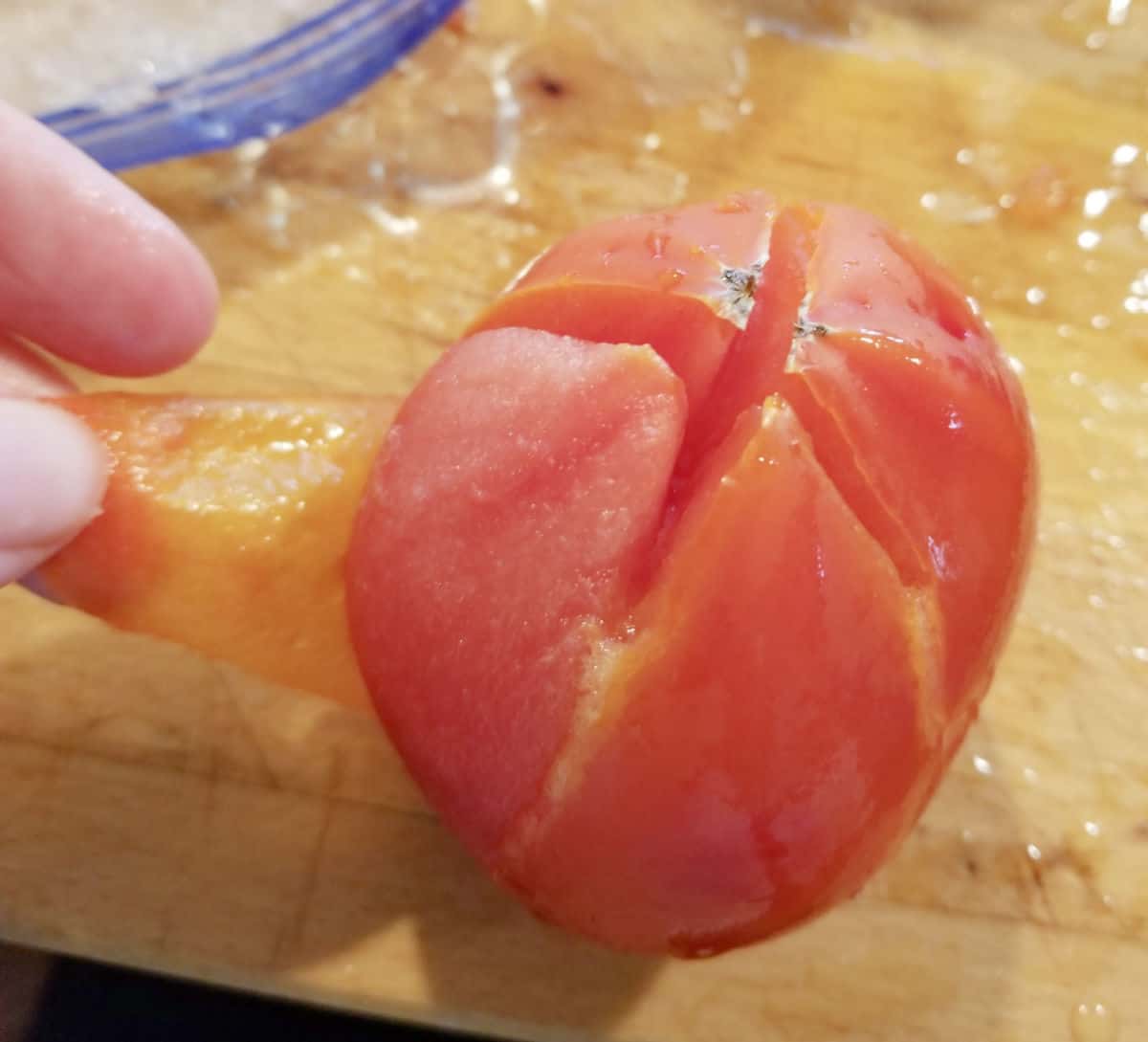 Freezing tomatoes makes for such EASY PEELING! If you can any type of tomato product, you know the hassle of blanching and peeling tomatoes. It is long hot tedious work.
Not with freezing them! Pull out a frozen tomato, run it under warm water, and the skin comes right off! So easy! This reason right here is why I will continue to freeze most of my tomatoes.
Fresh Tomatoes for Winter Cooking
It's winter time and you want to make soup? Go grab a couple of frozen tomatoes instead of a can you bought at the store! Peel them real quick, drop them in the pot!
Mash them up once they have defrosted in the broth, or use an immersion blender! Easy peasy!
Want a quick pasta sauce for dinner? Same thing! Grab a bunch of frozen tomatoes, peel them real quick, add to pot with a little water, garlic, seasoning, other veggies, let simmer. Blend when done and walla! Pasta sauce with fresh home grown tomatoes in the WINTER!!!! Yum!
Canning Frozen Tomatoes in Winter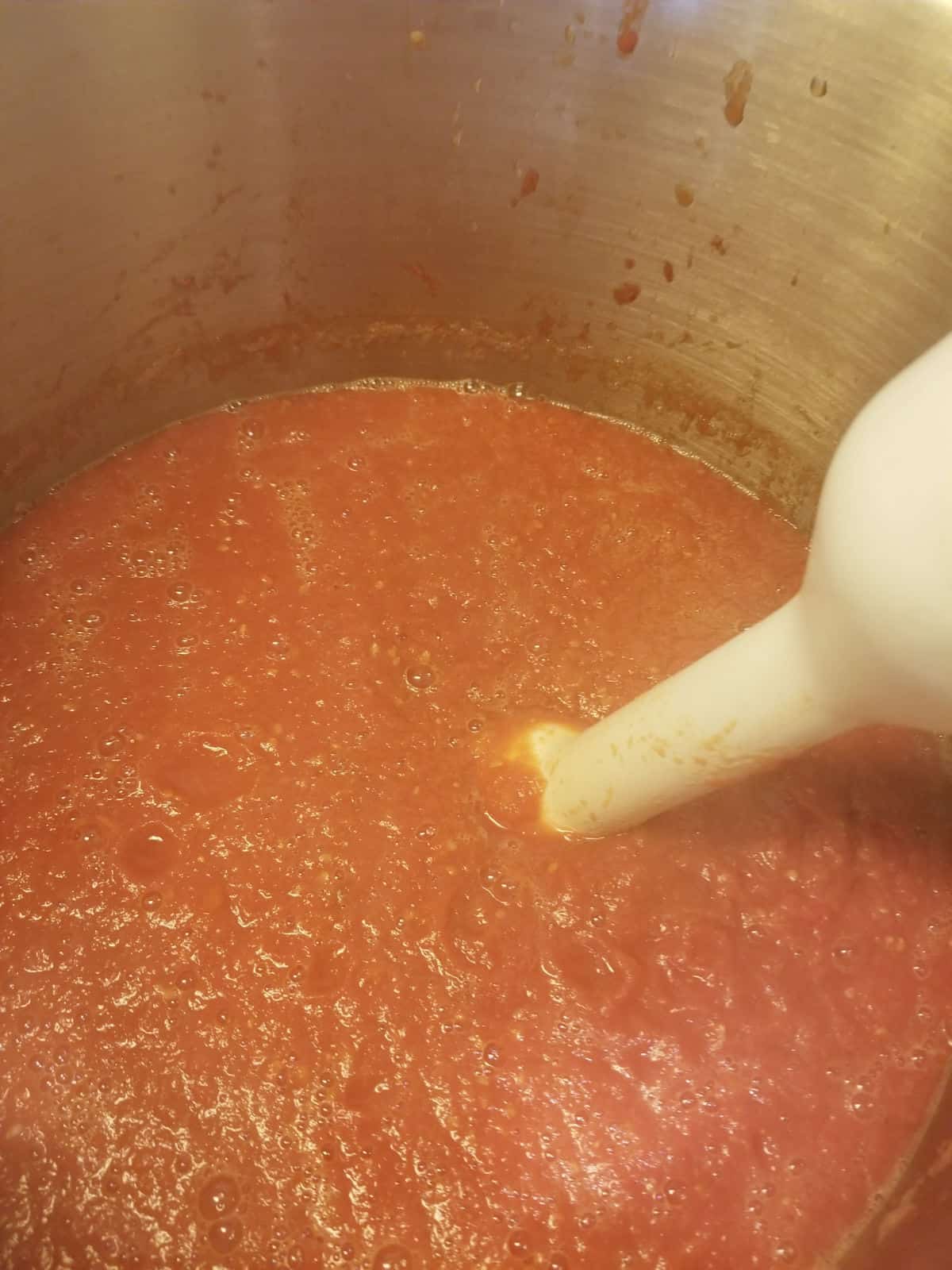 Do some serious canning with your frozen tomatoes in your down time this winter. When it is winter, and not much is going on outside, and time seems slower......this is the time that I like to do some large batches of canning. It also doesn't hurt that it helps heat up the house, which isn't so cool in the heat of summer.
Last winter, there was a day when I pulled out nine gallons of frozen tomatoes and whipped up a HUGE batch of tomato sauce. Then I canned 18 pints in one go in my pressure canner.
I would much rather do this on a slow winter day, than in the summer when I would rather be outside working in the garden, or dealing with other produce that must be preserved at that time.
Can you Make Salsa or Can Whole Tomatoes that Have Been Frozen?
Sadly, the answer to this is no. Freezing the tomatoes destroys their cell structure, so once thawed, they turn to much and do not hold their shape. So anything that requires a firm tomato is a no go.
No salsa, chopped tomatoes or whole tomatoes or anything of the like. Tomato sauce and tomato juice will both work wonderfully for frozen tomatoes.
ARE YOU NEW TO CANNING?
If you are new to canning, and need a little guidance, consider getting these two handy guides that my friend Victoria has available:
Quick Start Guide to Water Bath Canning
Quick Start Guide to Pressure Canning
Canning Tomato Sauce
Several people have reached out and asked for a recipe to can tomato sauce. I hesitate to do canning recipes, because there is so much unsafe canning advice on the internet already.
I refer all my readers to the either the National Center for Home Food Preservation or the Ball website which is called FreshPreserving.com. These sites explain in detail how to safely can things, and have recipes that are safe and scientifically proven to be shelf stable. I highly suggest you educate yourself on safe canning practices and what can and cannot be canned prior to canning anything.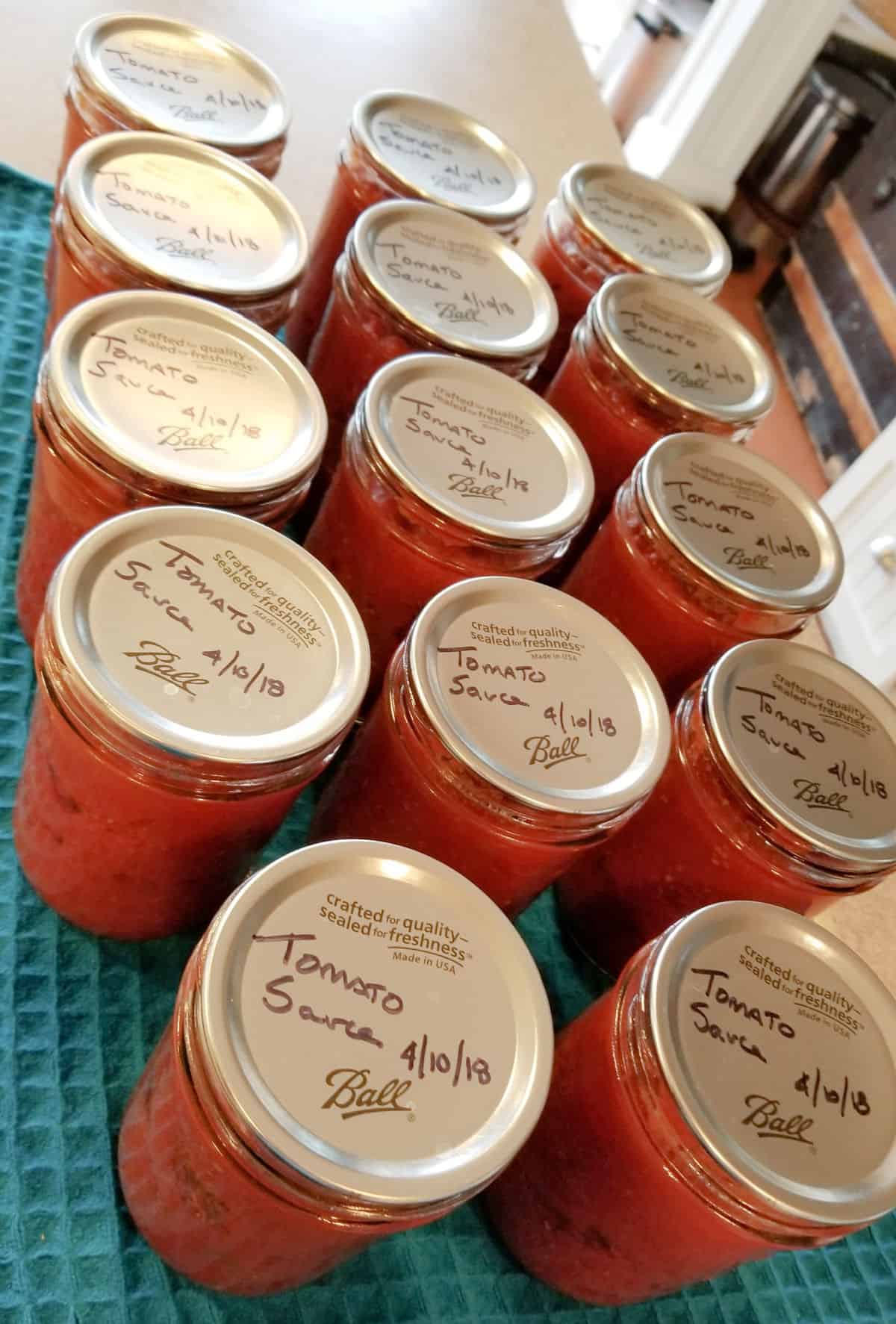 Freeze Tomatoes for Easy Tomato Juice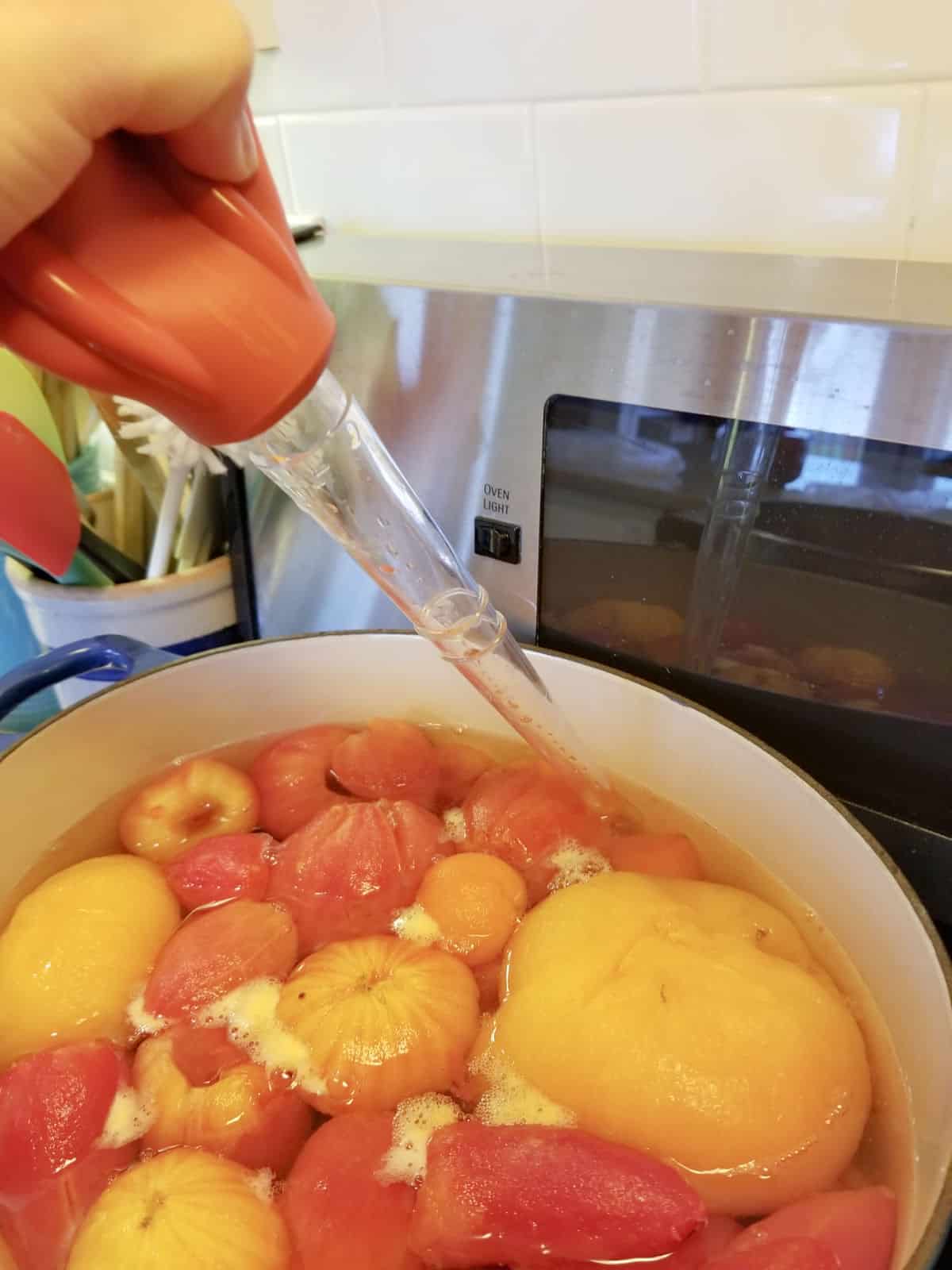 If you are a person who makes a lot of tomato sauce from fresh tomatoes, you know how long you have to boil down the sauce to get it nice and thick. Well. When you make sauce from frozen tomatoes, as they warm up and thaw in a bowl, they emit all this "tomato juice" that you can easily remove with a turkey baster!
No need to boil it down at all! Just heat up frozen tomatoes, remove the "tomato juice", mash down the tomatoes and blend up with immersion blender! It doesn't take all day this way!
After doing this a couple of times, I realized there is a LOT of flavor in that tomato water, so now I do leave some of it in the stock pot as I make sauce. The batches of sauce I made after removing the water this way, were less tomato flavored.
So if you choose to do this, at least save that tomato juice and use it for future soups or stocks, or can it as tomato juice!
How to Use Tomato Cores and Tomato Skins
When you core the tomatoes before freezing, start a zip lock bag that you keep all the cores in and also keep it in the freezer. As you pull tomatoes out of the freezer and use them over time, if you peel them, add the tomato skins to the same bag with the cores.
Consider making Tomato Cheese Powder with the dehydrated skins!
How to Use Frozen Cherry Tomatoes
Can you freeze cherry tomatoes? YES! Of course you can! I even freeze my cherry tomatoes! I wash them the same, but don't bother coring or peeling them.
Then I will cook up a big batch of sauce using the frozen cherry tomatoes, and all the frozen saved cores and tomato skins. I use an immersion blender to blend it up. Then after I have cooked up this batch, I then run it through a chinois, which is a very fine food strainer.
With this sauce made from skins, cores and cherry tomatoes, I throw it in the freezer. Canning tomato skins is not recommended and even straining it thru the chinois, I know there is probably some skins remaining in this type of sauce.
I like to call this my free batch of sauce, because it is made with a lot of the extras that folks usually won't use. If this idea doesn't appeal to you, save the skins anyway, and dehydrate them. Then grind them up for a wonderful tomato powder you can add to soups, stews and sauces.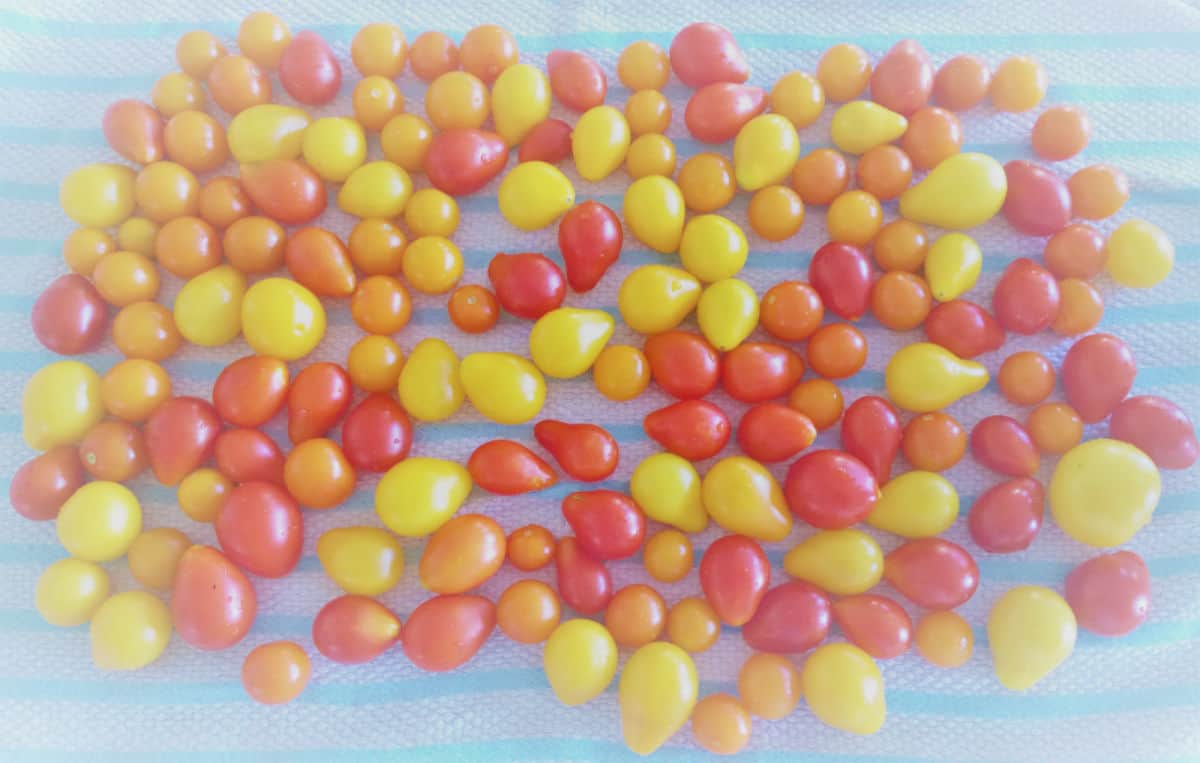 Benefits of Freezing your Tomato Harvest
As you can see, there are many benefits from freezing your tomato harvest. Don't get me wrong, I like them fresh best of all. I've been known to eat tomatoes like an apple right out in the garden while they are still warm from the sun. And that is the absolute BEST!
Even if you don't grow a lot of them, or do big batches of canning, I hope you will see why it might be a good idea to freeze at least some of your tomatoes! Hmmmm….perhaps you should grow a few more tomato plants than what you were planning?!?!? 🙂
My Other Articles on Growing Tomatoes:
To see all my articles about tomatoes, please see my page Growing Tomatoes.
I hope this was helpful and you have now learned how to freeze tomatoes from your garden! Please let me know if you have any additional questions on growing or preserving tomatoes!
Want to Remember This?