Do you want the ultimate secret to big basil plants? Learn how to prune basil!
Gardeners shy away from pruning and trimming herbs because they are afraid to damage the plant or reduce the yields, but basil is a plant that needs to be pruned to reach its full potential. Not only does pruning basil help the plant grow bushier, but it also helps you by giving you more leaves to use or preserve.
Last year, I focused for the first time on regularly pruning my basil, and the results were phenomenal. I harvested more basil than ever before, and my plants were the largest I have ever had.
I harvested basil for almost all summer by removing the flowers and trimming them in the proper spots. Pruning basil makes a huge difference!
Which Varieties of Basil Need Pruning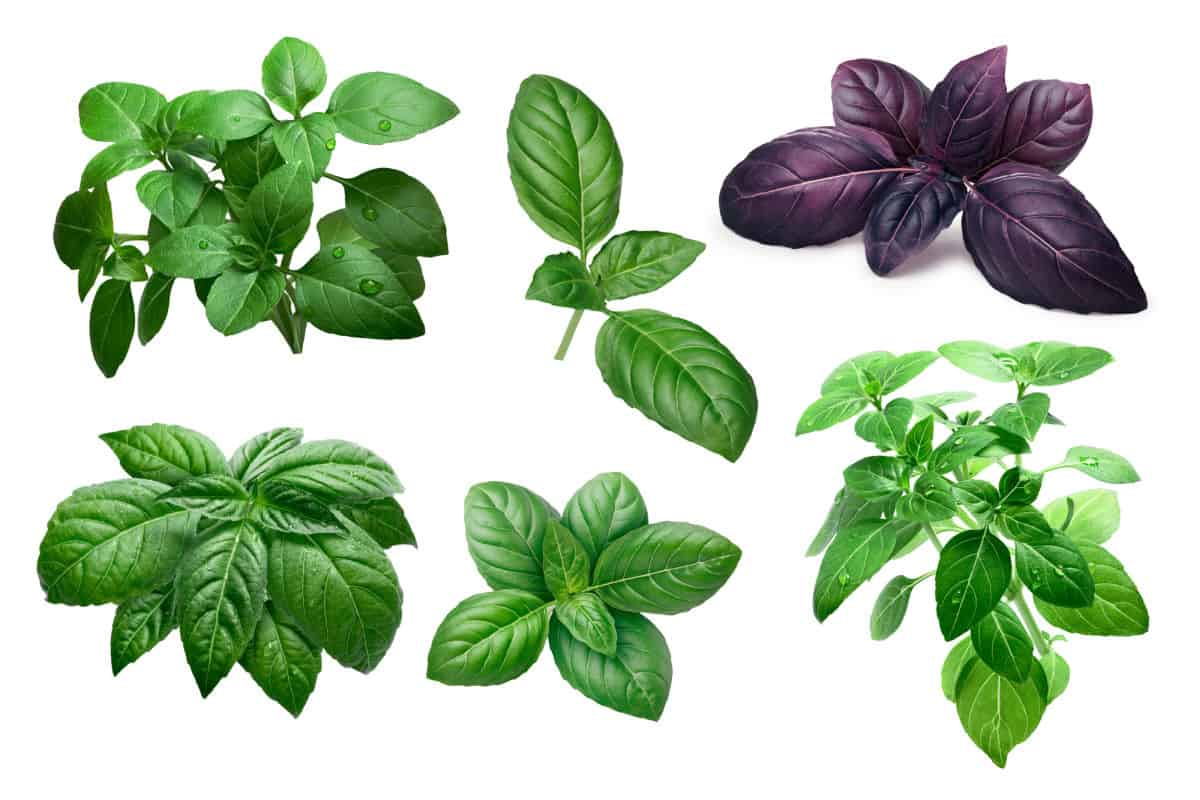 It doesn't matter what type of basil you grow; all types of basil love to be pruned. Pruning basil doesn't need to be a long task that takes time; regular clipping takes a few minutes, but this easy garden task pays off in dividends.
Here is what you need to know about pruning basil the proper way not to damage the plant.
Why You Need to Know How to Prune Basil
Pruning basil has many benefits; here are the top reasons you need to know how to prune basil.
Trimming Basil Promotes Growth
The best reason to prune basil is that it helps to stimulate more growth. Removing parts of the plant encourages the plant to grow bushier and larger.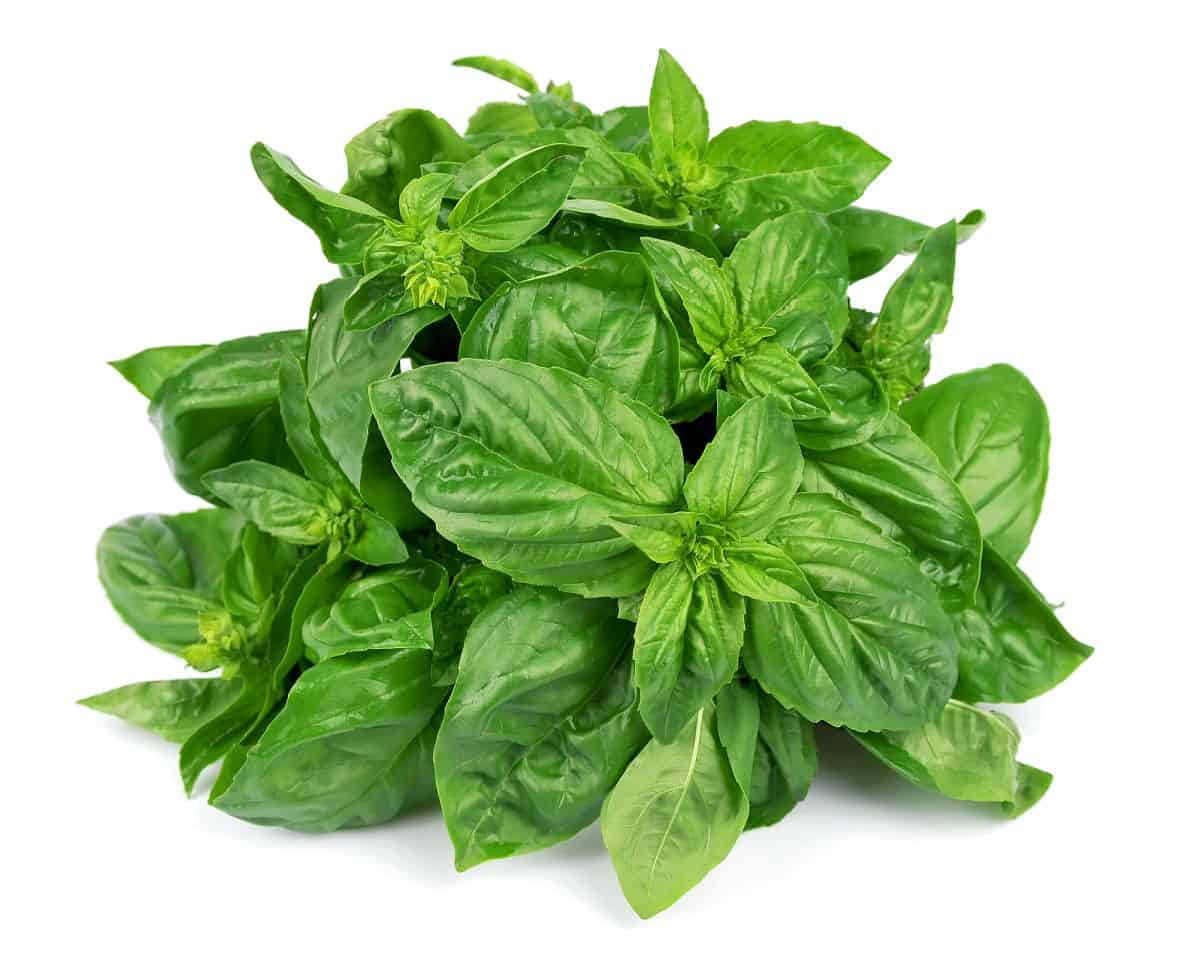 It seems strange but cutting basil stems encourages the plant to grow new sets of leaves. If you cut those leaves off once they grow, two more sets grow, doubling your production. If you continue to do this, the harvest from your basil plant could be exponential.
Pruning is Harvesting
Don't get confused because of the wording; pruning means harvesting basil. When you trim your basil plants, you harvest the leaves and branches. Those may be used for cooking, drying, making pesto, or whatever other ways you want to use your fresh basil.
Removing Basil Flowers Stops Bolting
Over time, all basil plants produce basil flowers, but allowing your plant to flower slows down the growth and causing bolting. That means you will have fewer leaves to harvest, and that's the whole reason why you're growing basil in the first place.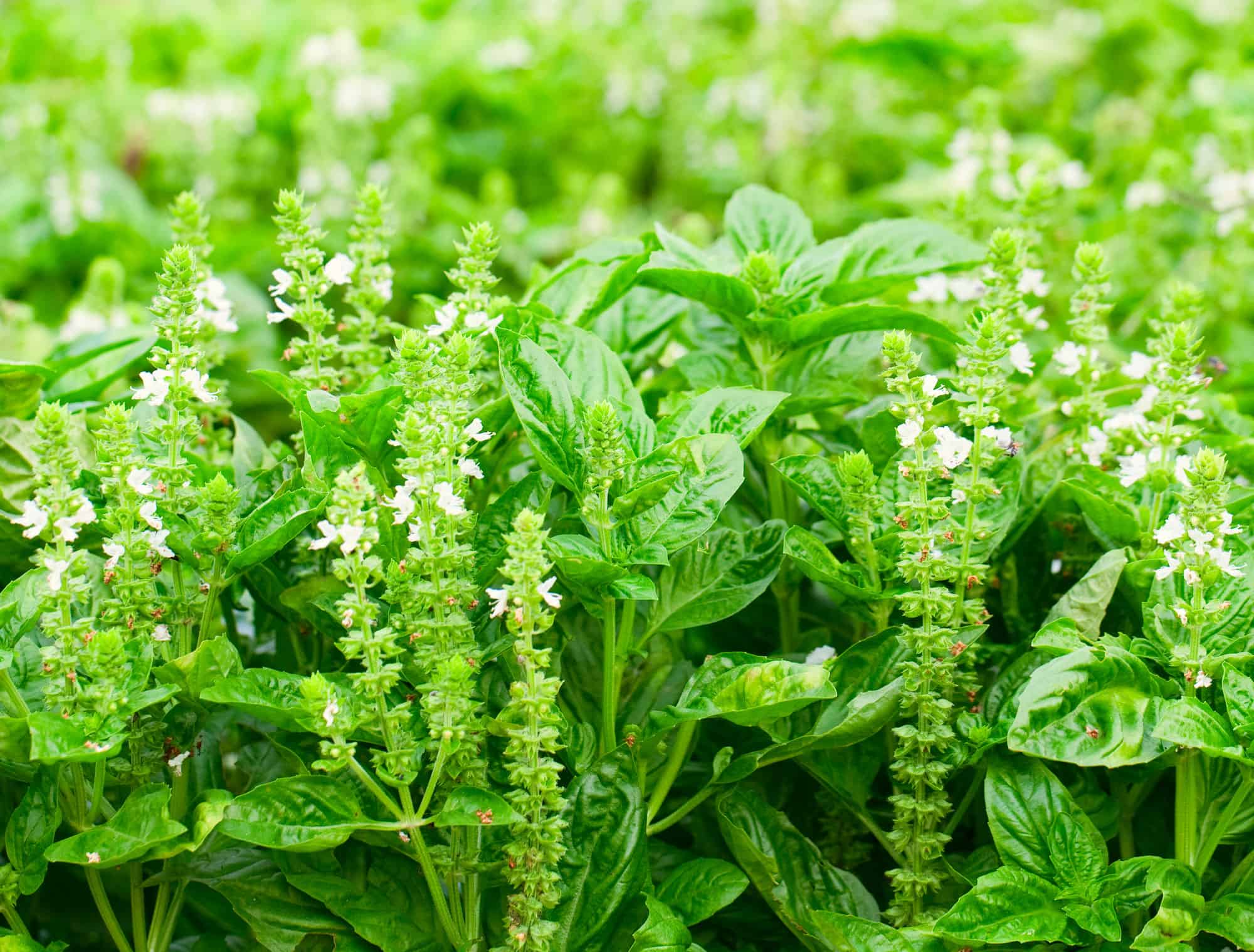 Removing the basil flowers by pruning back the plant slows the bolting and flowering process. That helps your plants continue to produce more leaves, so you have a larger harvest.
The Wrong Way to Prune Basil
Before you learn the correct way to prune basil, you have to know the wrong way. Here are the two most common mistakes gardeners make.
Using Dull Pruning Shears
If you pinch basil leaves or flowers, all you need is your fingers, but the best way to prune basil is with a pair of sharp pruning shears. Using dull shears increase the risk of tearing the stems of your plant, and that's the last thing you want to do. Tearing increases the risk of diseases.
Removing the Biggest Leaves
It's tempting to remove the biggest leaves off of the plant that grows on the bottom branches. Those big leaves will make a lot of dried herb or pesto, but the bigger leaves at the plant's bottom generate the most power for the plant.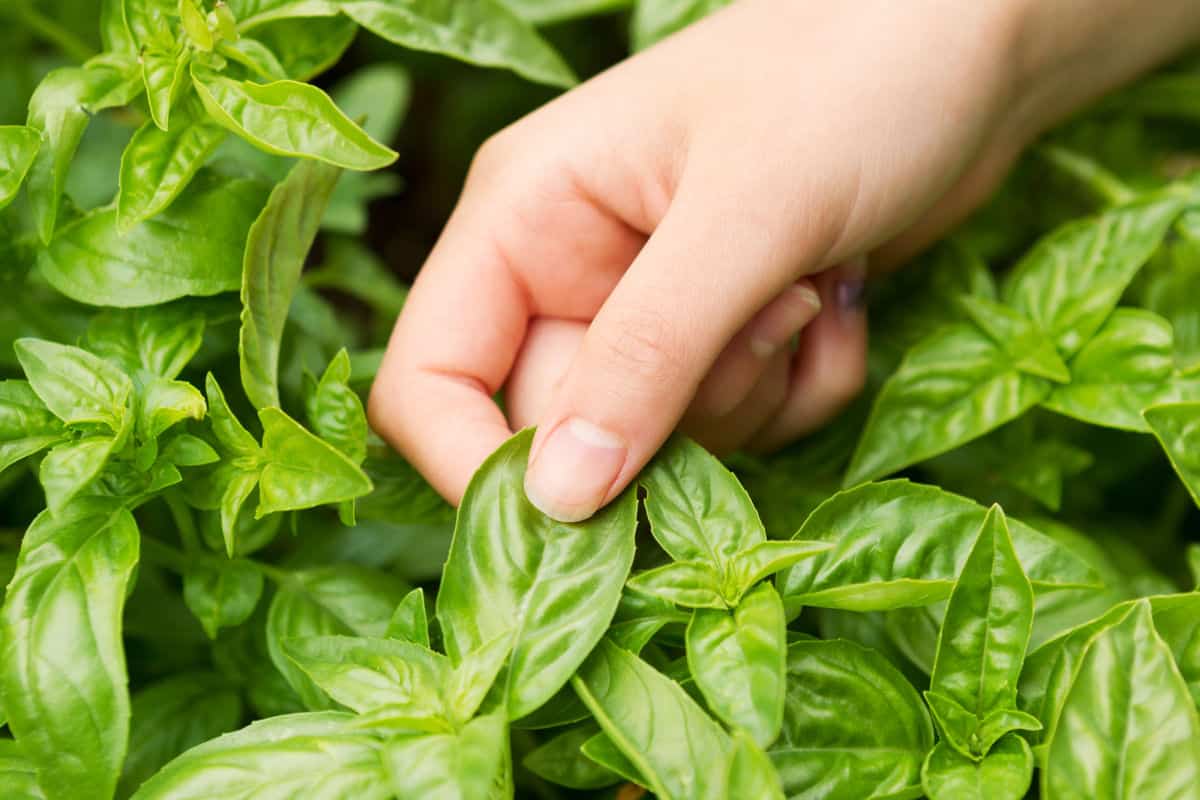 The big leaves take in the most sunlight and ensure the plant receives adequate nutrients. Pruning off the biggest leaves from your basil plant is a big mistake.
How to Prune Basil Plants
When you remove leaves from your basil plant, they should be the ones that grow at the top of the plant. These leaves are smaller, so they won't create the biggest basil salad, but pruning these leaves will cause better growth.
Each time you prune your plant, you will have a different goal in mind, changing how you prune and trim your plant.
Prune Basil Seedlings
Whether you grow your basil seedlings or buy transplants from the store, pruning basil seedlings is necessary. This starts the process of growing bushier, larger plants with more leaves.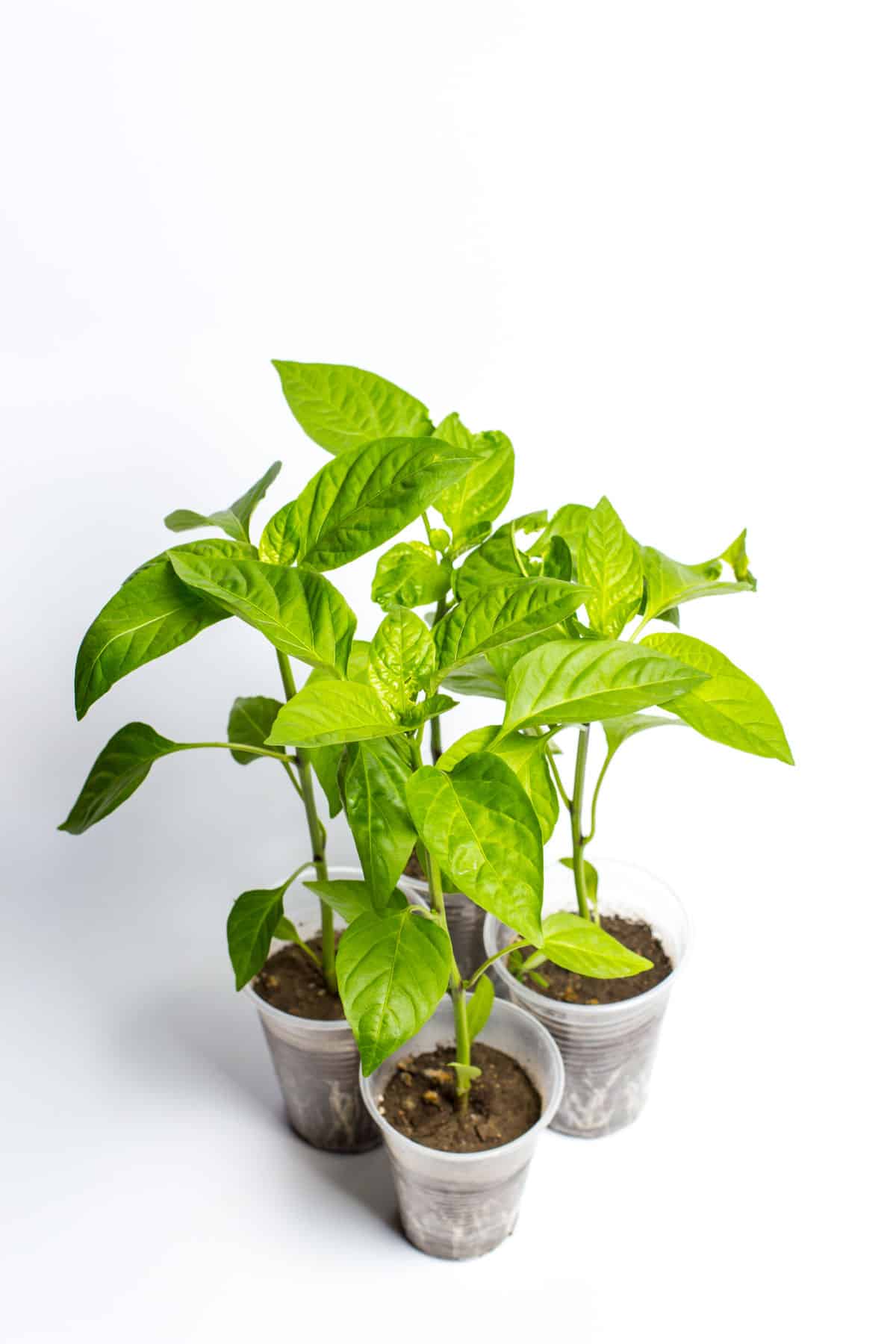 Take a look at your basil seedlings, and make sure you only have one plant. Sometimes, basil seedlings group together in nursery pots. Trim the plant back by one-third, clipping above a set of side shoots.
That is all you have to do - seriously.
Let your plant grow for several weeks, and that's when your next steps for pruning basil begin.
How to Prune Basil to Promote Growth
Pruning basil to promote growth is as simple as pinching flower buds or trimming the top shoots off the basil plant. If you forgot to prune for several weeks, you might need to use sharp shears to avoid tearing the stems.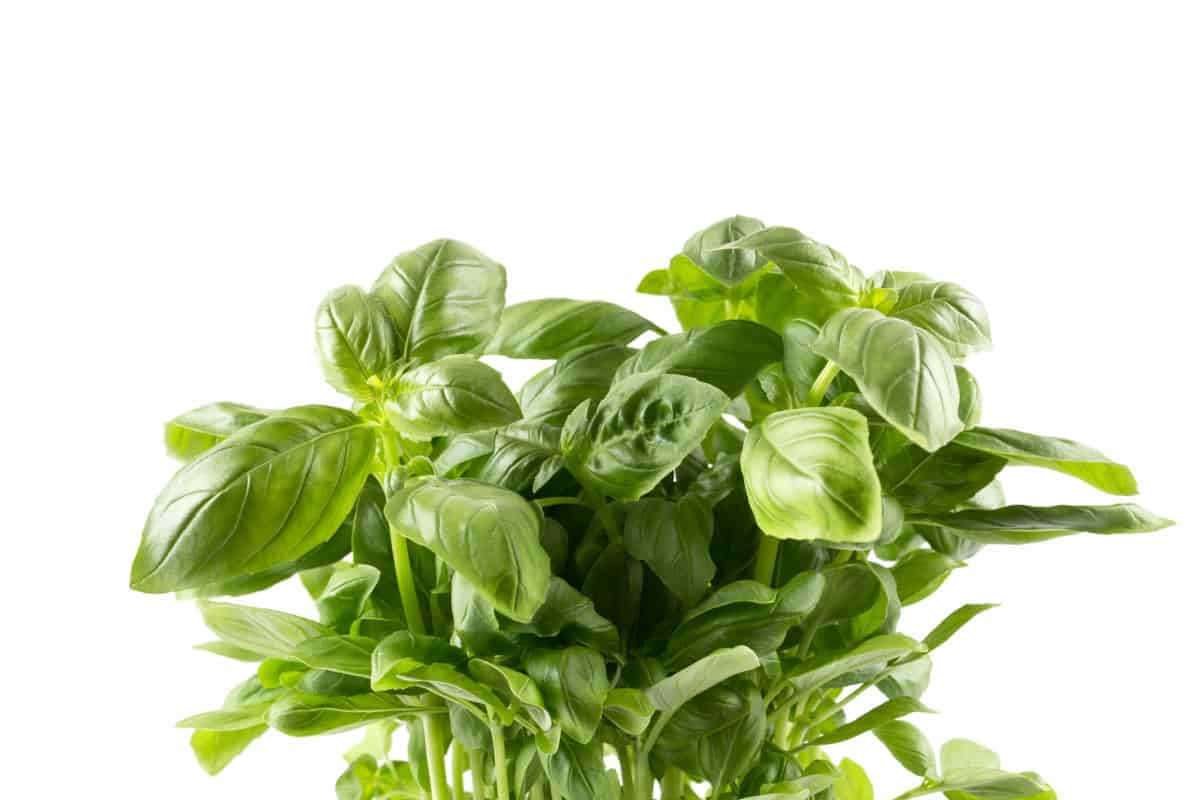 Take a look at your plant and find the central stems. Those are the parts of the plant that you want to cut back to a lower set of leaves. Trim this back to where two tiny leaf buds emerge from the leaf axil.
It sounds complicated, but once you take a close look at your plant, you will see this area. Cut the main stem back a quarter-inch above the leaf buds.
How much you prune off of your basil stem is your decision. You might only take a few stems for your dinner or cut the entire plant back by a third.
Never remove more than a third of your plant at a time, or you risk damaging its future growth.
How to Harvest Basil
Harvesting basil happens whenever you have a meal that you need fresh basil! Taking your pruning shears and remove a few leaves to use or cut back a whole stem if you need larger quantities. My favorite tool for pruning basil and tomato plants are these Fiskars Micro Easy Action Shears.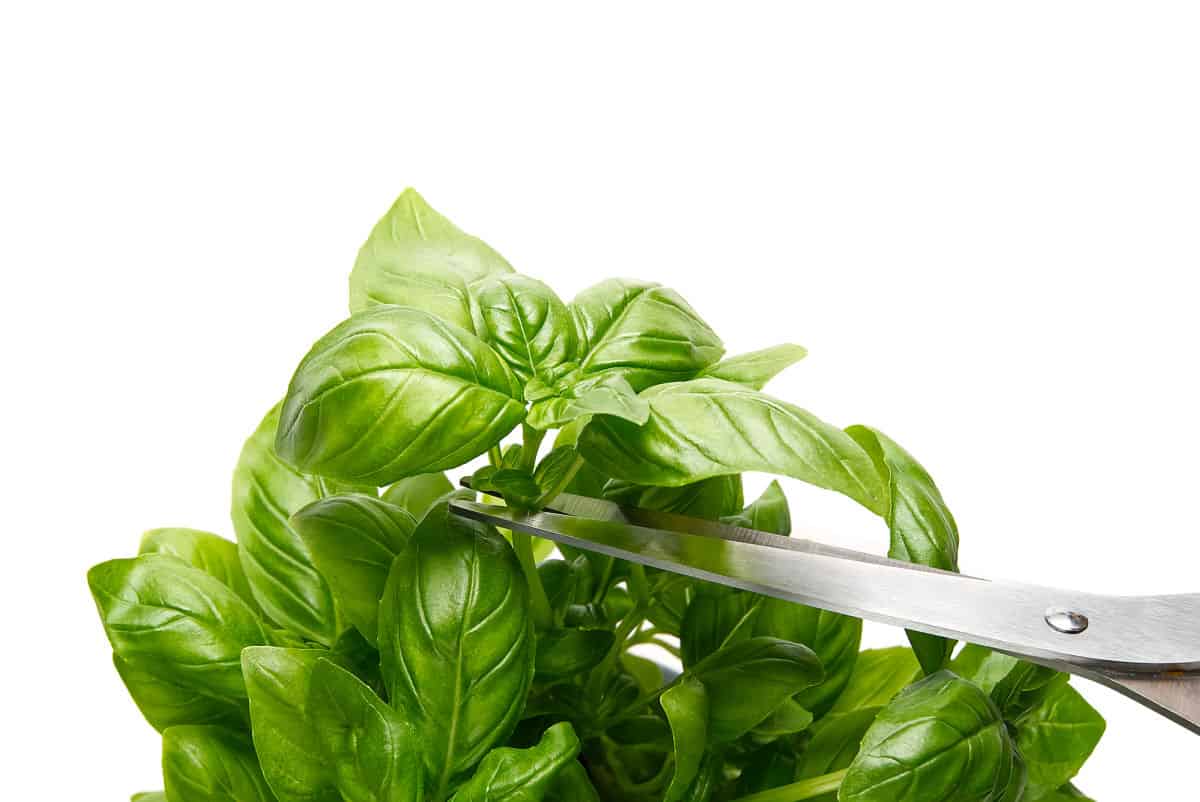 Your final harvest at the end of the growing season is the largest one. Cut the stems all the way back to the ground and remove all of the leaves. Basil typically won't overwinter unless you live in an area without frost.
How to Pinch Basil Flowers
Another reason you want to prune basil plants is to remove basil flowers. Stressed basil plants flower sooner than those growing in optimal conditions, and flowering leads to a reduction in leaves. If your plant begins to flower quickly, it means your plant lacks something, such as moisture, sunshine, or fertility.
Keeping your plant happy is the first step, but sometimes, basil plants send flowers around mid-summer.
If you see basil flowers at the top of your plant, use your fingers to pinch them off. It's a simple task that you complete as you walk through your garden.
When to Harvest Basil
Gardeners start to harvest basil as soon as the plant has six sets of leaves. After that, harvest basil as often as you want and need to do so. Basil plants start to grow quickly when they reach 80℉; after this, harvesting needs to happy frequently, or your plant will stop producing leaves.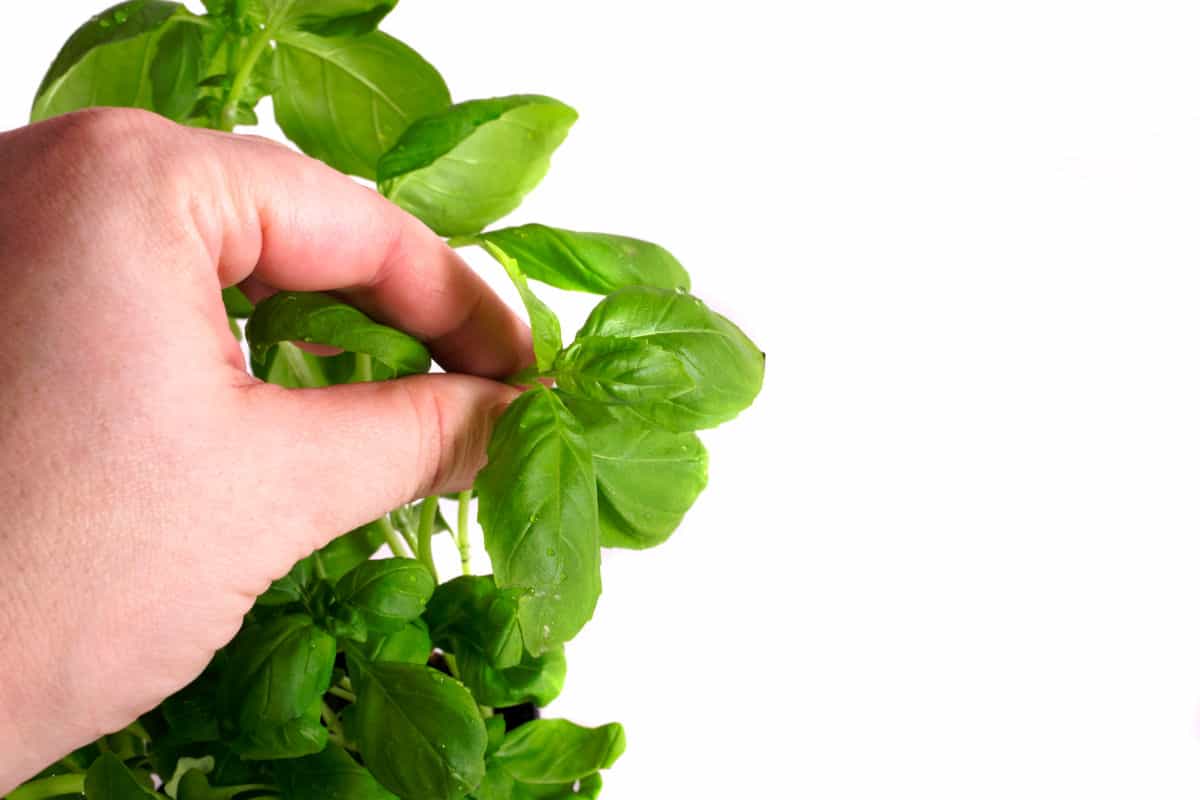 The best time to harvest basil is in the morning because the essential oils are at their peak freshness. Get out there before the sun gets too hot.
Final Thoughts
Figuring out how to prune basil is easier than you imagine. Once you take a look at your plants up close, you'll be able to identify where to cut and how much to remove from your plants. Start pruning your basil plants regularly, and you'll see a large increase in leaves.
Want to Remember This?
I hope you found this article on How to Prune Basil: The Ultimate Guide helpful. Please pin this article so you can easily find it when you need it, or feel free to share it on Facebook too!