Today we will be talking about chickens for beginners on the homestead. If you are thinking of getting chicks this spring, my Farm Fresh Tuesday featured post teaches you how to raise healthy chicks on the homestead!
Chickens on the Homestead
Many homesteaders keep chickens on their homestead for good reason. They are a gateway animal to other livestock, because they are generally easy to care for, don't cost a lot, and can provide both meat and eggs.
Starting with Chicks
It is easiest to begin with chicks, as they are usually abundant in the spring time. Some people would prefer to buy hens that are already at the point of lay, but these are harder to come by. The best resource for finding these, are to find someone who is getting out of raising chicks, and needs to rehome their flock.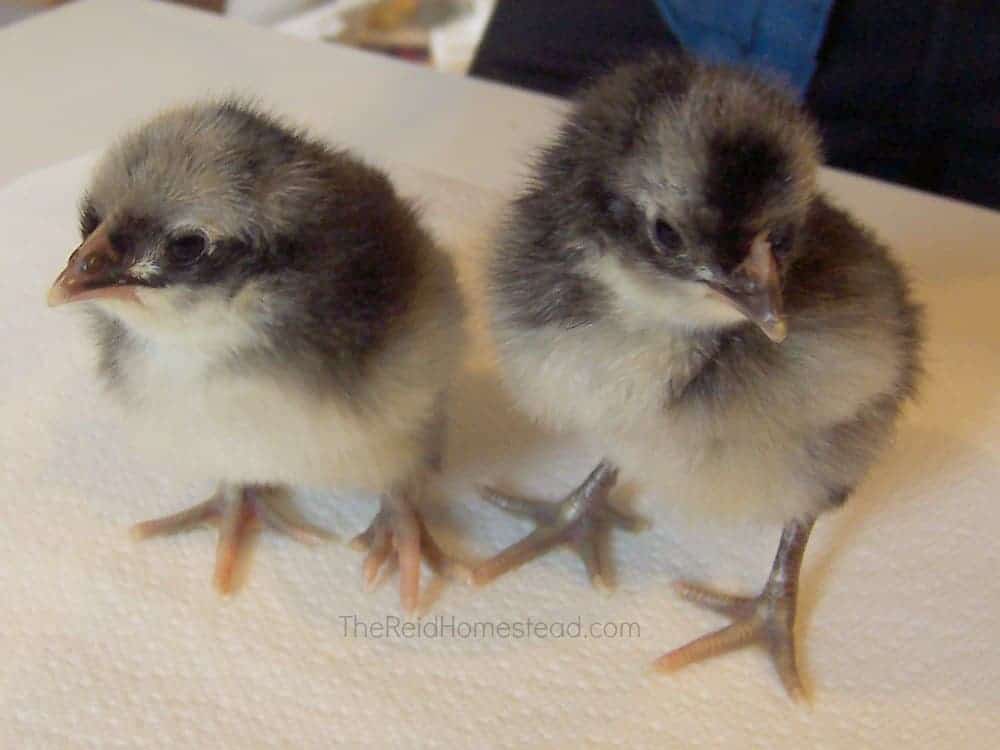 Poultry Education via 4-H and Extension Services
When we first got chickens, my oldest daughter was nine years old, and our younger two were just preschool age. We knew nothing about chickens, so we looked for a local 4-H group to join.
4-H Poultry programs are an excellent way to learn about chickens hands on. And it's not just for your kids, trust me! You will learn just as much, if not more, as they study.
The best way to find a 4-H Poultry program near you, is to contact your local county extension office. An extension office is a community outreach office affiliated with your local land grant state university. They offer programs such as 4-H, Master Gardener Programs, Food Safety & Processing, Livestock management and more.
Find your local extension office!
Learning About Breeds of Chickens
Once you start learning about chickens, you will realize that there are lots and lots and lots of breeds and varieties of chickens. Just like dogs have the AKC that recognizes dog breeds and sets the standards for each breed and variety of dog, there is the American Standard of Perfection book, put out by the American Poultry Association that does the same for chickens.
This is the go to book for learning about all of the different chicken breeds, especially if you want to get into showing chickens. All three of my girls were involved in 4-H Poultry, and as a result, our family was involved in showing chickens for 15 yrs.
When you dive deep into the book, you will realize that there are different classes of chickens, and that there are different uses for chickens. Different uses for chickens include production (egg layers), meat, dual purpose (both meat and eggs) and show.
It is important to consider what you want out of your chickens, before deciding on which breed to get.
Bantam Breeds vs Large Fowl Chickens
Bantam breeds are small size chickens that were originally bred or used for show. They make great pets and are the perfect size for kids who might be interested in joining 4-H or showing. Bantams make a great show bird because they are smaller and easier to handle, eat less, and take up less room per bird.
Bantam breeds would also be a great option if you are limited on space for your chickens. Many lay plenty of eggs but they are small sized eggs. My kids favorite breeds to work with were bantam Cochins, bantam Faverolles and Old English Game. Silkies and Serama's are other popular bantam breeds that many kids used for show.
General Information on Egg Layers
Some basic information on egg layers you may find useful.
You do not need a rooster for your hen to lay eggs.
Hens do not lay eggs every single day.
A hen's most productive egg laying year is from age 1 to age 2. After age 2, their egg production will slowly decline over time.
A hen needs 14 hours of light a day to continue to lay eggs. So in the short days of winter, you may need to add supplemental light to their coop to simulate that light in order for them to continue to lay
Spring is when your birds will lay the most eggs as the days get longer with more daylight. Birds need 14 hours of light a day in order to lay. So when the days get shorter in winter, you can add a light in their coop on a timer to extend the light they are in so they will continue to lay throughout the winter.
If you find you have a surplus of eggs in the spring, and need some great ideas on how to use up those eggs, see my article 12 Ways to Use Eggs to find some unique ways to use them up.
Best Egg Laying Breeds
The best egg laying breeds literally lay more eggs per year, than many other chickens. Not all chickens lay the same amount of eggs. Those breeds meant for meat or for show, may lay very few eggs in comparison.
The recognized breeds of birds that lay the most eggs each year are as follows (amount of eggs shown is for their most productive year):
White Leghorns - 280
Barred Plymouth Rock -280
Rhode Island Red - 260
Austrolorp - 250
Speckled Sussex - 250-300
Wyandotte - 200
New Hampshire Red - 200
Buff Orpington - 150-200
Best Hybrid Laying Breeds
These birds are not recognized breeds per the American Standard of Perfection. They are usually a cross of two other breeds, bred for desirable traits. They will not breed true as a result.
Golden Comet (White Leghorn X Rhode Island Red) - 250-300
Isa Brown (a sexlink chicken whose cross has been a guarded secret, but males hatch white and females hatch brown) - 300
Easter Eggers, sometimes mistakenly called Ameracauna usually by hatcheries (mixed breeds that lay a variety of egg colors) - 250
Egg Layers with the Calmest Demeanor
If you are looking for a calm breed to have around your family, several come to mind from our experience. Wyandottes are my personal favorite. Plymouth Rocks, Orpingtons, Sussex, and Easter Eggers are other good options.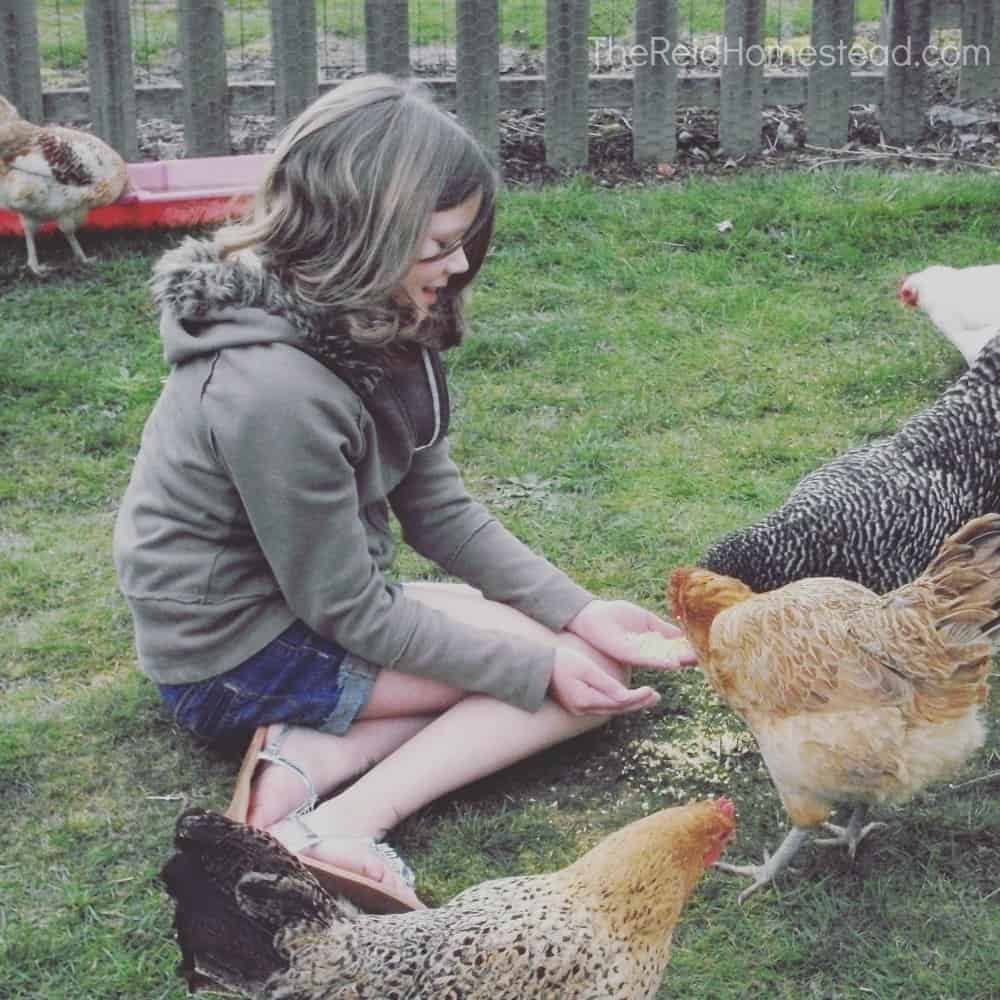 Meat Chickens on the Homestead
Raising chickens for meat, is fairly common on many homesteads. My daughter raised several batches of meat birds for the youth livestock auctions in her high school years. The most common breed are the Cornish Cross or Freedom Rangers.
However, if you are wanting to raise birds for both meat and eggs, consider dual purpose breeds. This way, you get to keep the females as your egg layers, and the males can fill your freezer. There are many breeds that fit this dual purpose role.
The most popular dual breeds are:
Australorp (mature male 8 ½ - 10lbs)
Orpington (mature male = 8 ½lbs)
Wyandotte (mature male = 8 ½lbs
Rhode Island Red (mature male = 8 ½ lbs)
Plymouth Rock (mature male = 8lbs)
Bringing Chicks Home for the Beginner
If you are new to chickens, and are bringing them home for the first time soon, be sure to read my featured post down below, on how to raise healthy chicks. I will also list some must have items you will need to have on home to set up their brooder box below.
I hope you have found this article Chickens for Beginners on the Homestead helpful and informative! If you have any questions, please feel free to comment below!
My Farm Fresh Tuesday Blog Hop Featured Post this Week:
Raising Healthy Chicks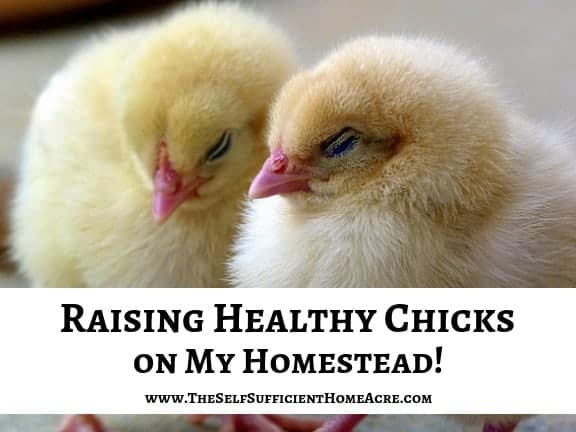 Raising Healthy Chicks on My Homestead from Lisa at the Self Sufficient HomeAcre
Want to Remember This?
Don't forget this Chickens for Beginners article!
Please pin "Chickens for Beginners" to your favorite chicken or homesteading board on Pinterest!