Learn how to grow lavender from seed easily and simply using the winter sowing method!
I have been using the winter sowing method to grow lavender for the last couple of years. It has been really easy to grow a lot of lavender this way. Who doesn't want to grow more lavender in their garden, right? It's definitely one of my favorites!
Collecting Your Own Lavender Seed
When the lavender is in full bloom in the summer time, it is really easy to save some of your own seed from plants you may already have. Trim a couple of branches from just below all the blooms. Use a rubber band wrapped tightly around the stems, and hang them up to dry somewhere dry in your house.
After they are good and dry, I place them in a ziplock back for storage until seed planting time. Be absolutely certain they are 100% dry, or they will mold. Then throw them in the freezer until you are ready to plant.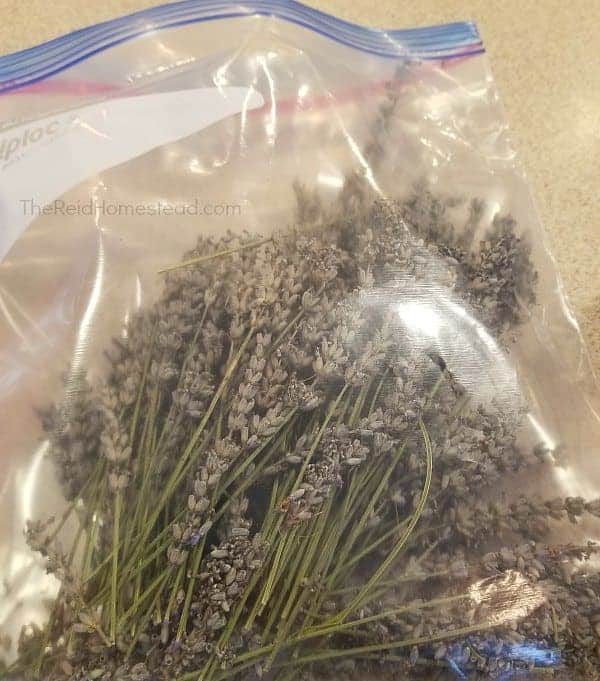 Winter Sowing Basics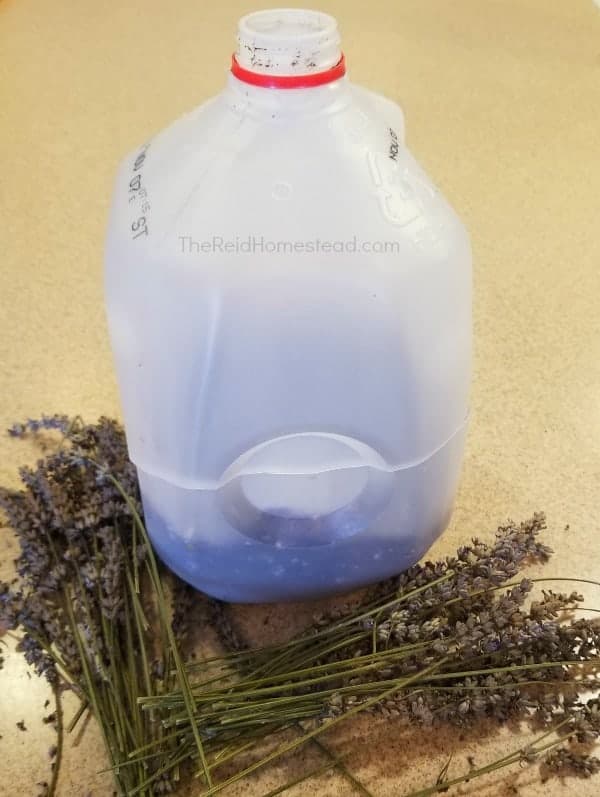 If you are not familiar with Winter Sowing, it is the process of using milk jugs, as little greenhouses. Please see my article Seed Sowing 101: Winter Sowing, for more details about how to do it, with a step by step guide. You plant them, and set them outside in January. Super duper easy!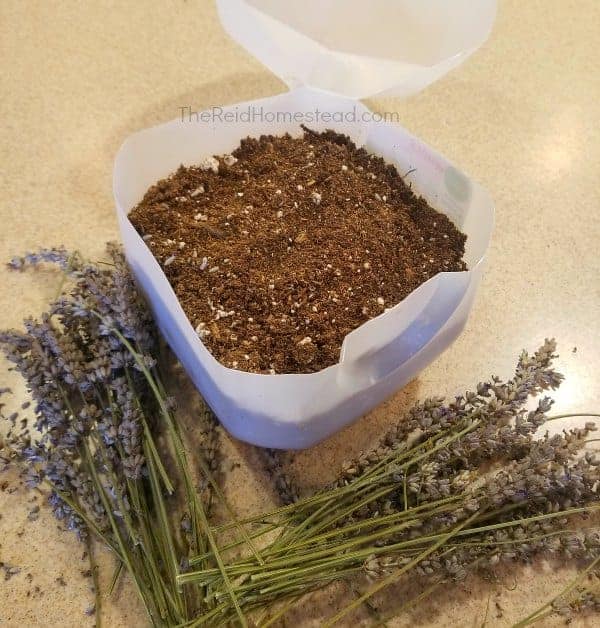 Planting the Lavender Seed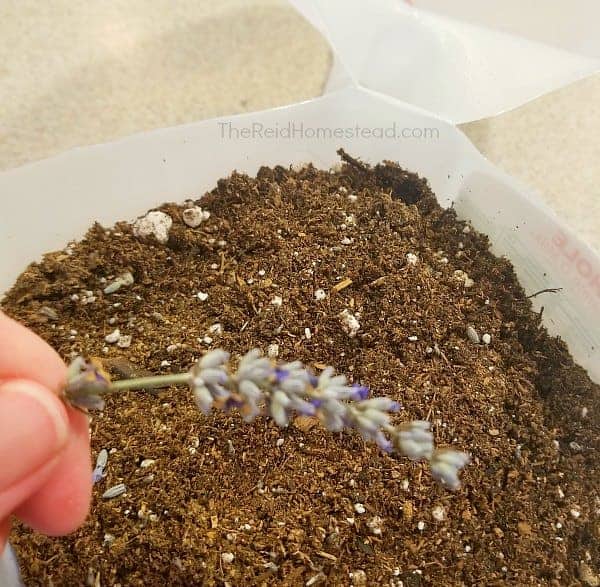 You can plant any hardy perennials in January when you use the winter sowing method. This goes for lavender too. So collect all your winter sowing materials, and your lavender seed. Fill the jugs with 3-4" of dampened potting soil. Then take one branch of the lavender, pinching it with your fingers, move down the stem, and let the seed fall on top of the soil. I think I did 3-4 branches worth of seed for each jug.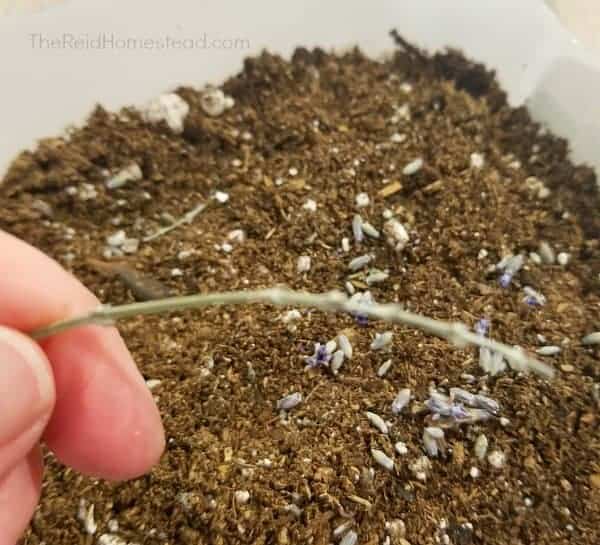 You can see in the photo below, how much seed is dispersed across the soil. I don't cover the seed with any soil. Take a water bottle and spray the seed well so that it is nice and wet.
Then I like to put a plastic plant label inside the jug. Tape the jug closed with a heavy duty duct tape, the lid should be off and set it outside in an area where it will receive sun and rain (be sure it is not under an eave of your roof where it won't get rain!). I like to set mine right out on my deck.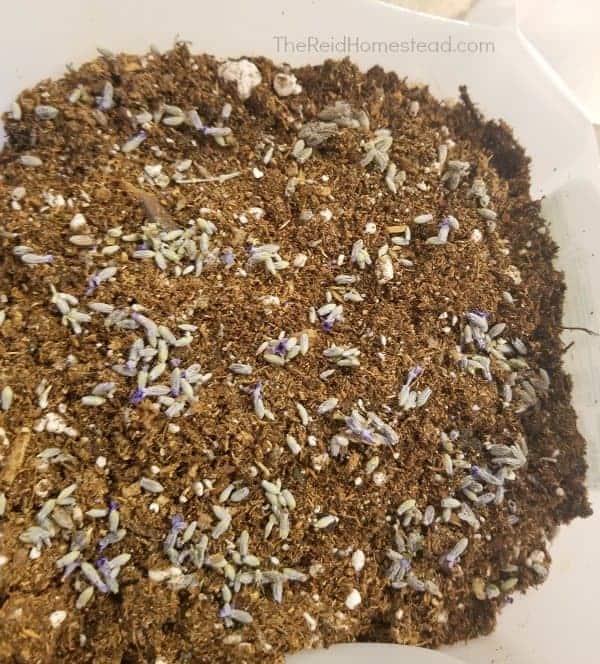 Tending to the Lavender Seedlings
Keep a watch on the seed, so that you know when the seed has germinated and you have seedlings now growing. If you are having a really dry spell, or unusually warm spell, you may need to water them. Here in the PNW, I don't usually have to do that at all, until later on when I open them up and it gets much warmer outside.
Once it does get warm out, usually in the 60's or warmer, you will want to open the jugs. Just remove the tape and open the lid. If you don't, the seedlings will dry out very quickly because it will be very hot in those greenhouse jugs! Keep them watered well until you are ready to transplant them out into your yard. And now you know how to grow lavender seed the easy way!
Transplanting the Lavender Seedlings
When you are ready to transplant the seedlings, empty the jug by dumping in upside down. Literally pull the plants apart. It is ok if the dirt fall off of them, but they will need to be planted quickly after doing this.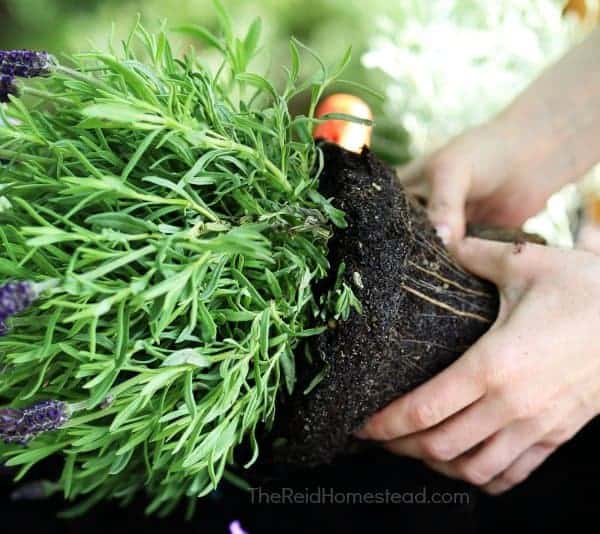 Get a trowel, and dig a good 6" hole. Add some compost and mix in a bit of soil you removed from the hole and mix together. Then plant the lavender in the hole and be sure to water it deeply. Continue to water it well for the next few months while it gets established into its new home.
Winter Sowing Flowers is a Cheap Easy Way to Grow Your Garden
Once you have done this once, you will be sure to do it every year! You can really grow your garden quickly and easily by using this very same method to grow all kinds of perennials and annuals for your yard (although annuals would be planted later in March). It is so easy in fact, I like to use this method to grow plants to sell as well! You can read more about how I sell plant starts here: How to Make Money Growing Plants at Home.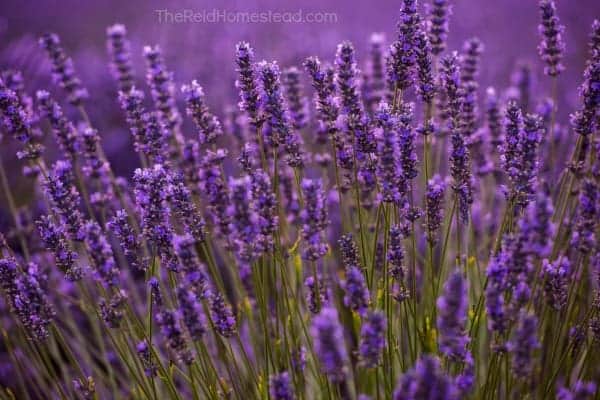 Want to Remember This?