One of the best things that you can do this year is to start vegetable gardening with kids. Your family will love spending all the time together in the garden. In this article, I will share 7 Benefits of Vegetable Gardening with Kids, 9 Helpful Tips for Veggie Gardening with Kids and 5 Easy Vegetables to Grow with Your Kids.
Grow What You Eat
Growing a vegetable garden is the smartest thing you can do for your family as it provides food security in times of trouble. Teaching your children this skill is one of the greatest gifts you can give them, teaching them how to be self-sufficient.
Are you new to vegetable gardening and not sure where to start? Here is a great article on Food Gardening for Beginners to help you start planning out your family food garden.
Eat What You Grow
My girls grew up with us having a vegetable garden, and they were always keen to help. Growing your own food with kids, helps them to be more adventurous with eating things grown right in their own backyard.
If you're wondering if this is the year you need to start vegetable gardening with kids, it is. Here's everything that you need to know to get started.
7 Benefits of Vegetable Gardening with Kids
Vegetable gardening, and gardening in general, is excellent for everyone, including kids. Beyond giving homegrown food for your family, vegetable gardening has several benefits that kids love. Check out these cute gardening tools for kids!
Gardening is a Great STEM Learning Activity
Planting things and watching them grow, is a great science lesson in and of itself. Check out my Garden Harvest Tally Spreadsheet and have the family participate in harvesting, weighing and tracking how much food you can grow! A great STEM activity that help teaches science, math and planning!
Check out these other fun garden science activities! Or check out these fun STEM Activities for Middle Schoolers.
It's a Family Activity
Sometimes, it's hard to find activities that everyone in your family enjoys, but gardening is an activity that everyone loves, regardless of their age. Spending time in the garden with your kids is fun and gives you food to enjoy as a family. Check out these great gardening books for kids to help get them excited!
Encourages Kids to Try New Foods
Not all kids love to try new foods, but gardening is the perfect way to introduce reluctant kids to new foods. They watch the plant grow from seeds into edible foods, and it tempts them to try it, especially when they harvested it with their own hands.
My kids never liked peas until they ate homegrown, fresh peas from the garden. That changed everything, and now, they love eating peas. That's a gardening win.
The Perfect Sensory Activity
Spending time in the garden is the perfect sensory activity for kids. Playing in dirt, mud, digging, and more makes a great sensory activity. If your kids take a bite of dirt, it's not a bad thing! Let your kids explore.
Time Outside
Kids need time outside, but our lives are busy, and it's easy for kids not to get enough time out to play and have fun. Gardening gives you a reason to get outside every day and gives you a purpose. You might be surprised that your kids keep you accountable and remind you to get outside and garden.
Learn about Our Ecosystem
Gardening is the best science experiment that you can do with your kids. It starts with a seed and watching it grow into a plant. Kids get to see worms and other insects in the dirt, and you can use a compost bin and show your child how food scraps decompose over time.
Teaches Kids about Responsibility
Gardening requires responsibility. If you don't water your garden enough, then it dies. If you don't feed your plants, they die. This is a great lesson for kids about responsibility and doing the tasks that need to be done, even if you don't feel like it that day.
You Don't Need Land to Grow Food!
One of the biggest misconceptions people have is that you need to have land or a big backyard to garden.
This is a total myth. You can garden wherever you are, no matter how much space you have outside.
If you don't have a large backyard, don't panic. Start with a few large pots that might fit on your back deck or balcony. Container gardening is a great idea; most plants grow well in containers, and your child will still get the same learning experience growing in pots.
Another idea is to use vertical gardening. Do you have a fence in your backyard? If so, use the space to grow vertically. Add a trellis or some wire for the vines to grow upward.
Don't let a lack of space prevent you from vegetable gardening with your kids.
9 Tips for Vegetable Gardening with Kids
After gardening with kids for years, I came up with some tips that work great for our family. Our kids love to garden, and I hope it becomes a life-long passion and skill set for them.
Make a Child's Garden
Create a garden just for your kids. If your vegetable garden is to feed your family, that might not be the best place for you to let your child go wild with planting.
Consider creating a separate raised bed or garden just for your child. They have free range over what they plant. Your child might want to grow only flowers, or they could grow a range of flowers and veggies, it's up to them.
Trust me, when kids have free range to plant what they want and create their own garden, they take it more seriously than you might imagine. Kids plan, and it's incredible to watch them create a garden from their minds.
Or give them a container or two of their own to grow some veggies. See my article Best Vegetables for Container Gardens to see which vegies they will have the best success with in containers.
Have Your Child Pick the Spot for the Garden
Let your child pick where the garden will go. This is a great time to teach your child why plants need sunlight. Teach your child that some plans need up to eight hours of sunlight each day to grow and thrive
Make a plan with your child. Show your child how to draw a garden and make plans.
Let Your Child Pick the Plants
Without a doubt, one of the most exciting times is when you get to pick out the plants for your garden. Now, it's your child's turn to pick out their plants for their garden.
Take your child to a local garden nursery or grab a few seed catalogs from your favorite seed companies. Talk to your child about what they would like to grow first; start with the food they like to eat the most. Make sure you add in some flowers like marigolds or sunflowers.
For example, does your child love carrots? If so, show your child all of the different options for carrots; there are dozens. If your child loves to eat salads, help him pick out a few lettuce varieties to include as well.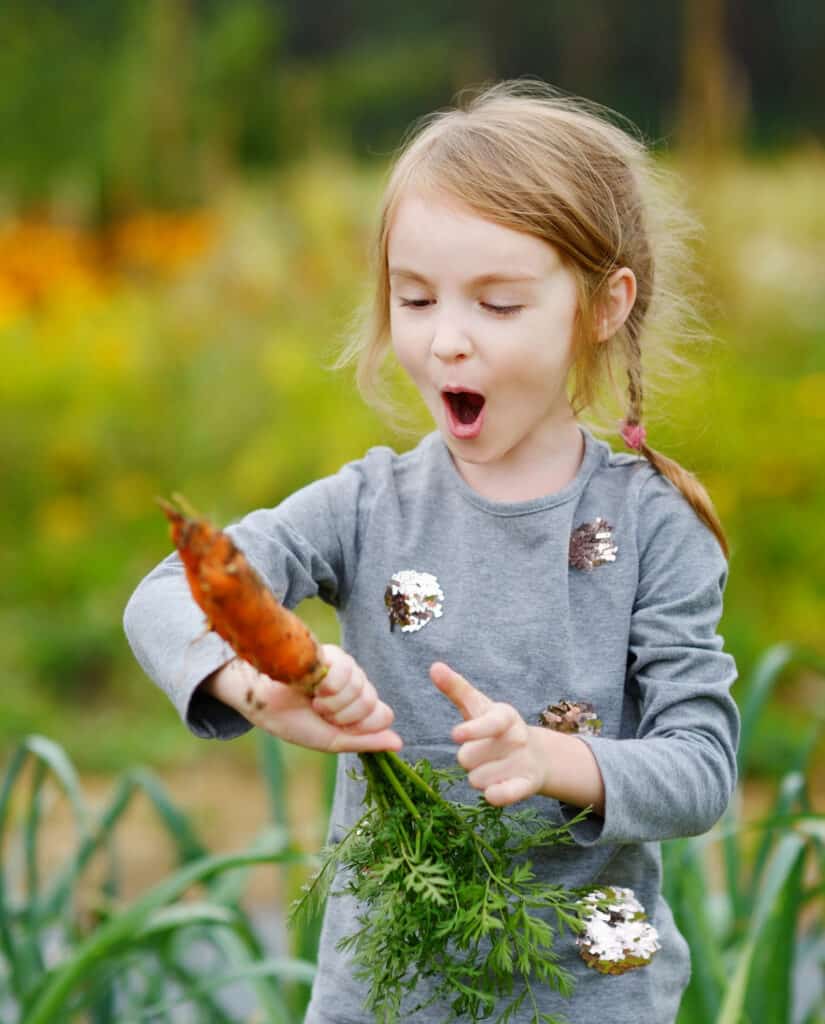 Now is also the time to consider whether you want to start seeds with your child or if you want to buy started seedlings from a local garden nursery.
Start Seeds with Your Kids
Kids love to start seeds. Start your seeds indoors with them this winter or consider Winter Sowing your seeds. Both are great options to get your kids involved while it is still yucky outside and they are bored and cooped up inside!
Once it warms up, direct seed more things with your kids outside. Let your child get messy and teach them about all the things that seeds need to grow. Seeds need water, warmth, and nutrients to grow. This is a fantastic educational experience for kids of all ages.
Plus, kids are incredibly helpful when it comes to seed starting. Once they learn what they need to do, your kids will make the process faster.
Go Vertical with Your Garden
Take your garden vertical. Even if you have a large garden, vertical gardening is a great way to grow more plants in the same amount of space.
Vertical gardening is beautiful; nothing compares to seeing vertical arches full of food and flowers throughout your garden. Kids will love it.
There are all kinds of ways to use vertical gardening in your garden. Use arches, a trellis, or stack some containers together. Whatever you decide, kids will love it.
Use Containers to Grow In
Container gardening is a great way to grow vegetables with your kids, even if you live in an apartment. Most vegetable plants grow exceedingly well in containers. Some plants grow even better in containers than they do in the ground.
Some fantastic plants to grow in containers include carrots, lettuce, radishes, and even tomatoes.
Yes, seriously! Tomatoes grow so well in containers. Learn how to transplant tomato seedlings if you are new to gardening!
Tend to the Garden Together
I love heading out into my garden with my kids whenever I can. Kids love to help water, pull weeds, and plant new seeds. Kids are fantastic workers; don't let anyone tell you differently.
After planting the seeds or seedlings together, your kids should be able to water, fertilize, pull weeds, and harvest the vegetables they grow. Tending to the garden is a huge part of vegetable gardening, and it would be a shame to take that away from kids.
Remember, gardening is a learning experience for kids as well.
Make Cute Garden Decorations
Gardening isn't just about growing vegetables, even though that's a big part. There are so many great decorations that you can make with kids in your garden.
Create fun garden marker labels with them like these fun painted rocks that my kids made me for Mother's Day one year! Or follow this cute Easy Bumble Bee Painted Rocks Tutorial or this Easy Painted Strawberry Rocks Tutorial!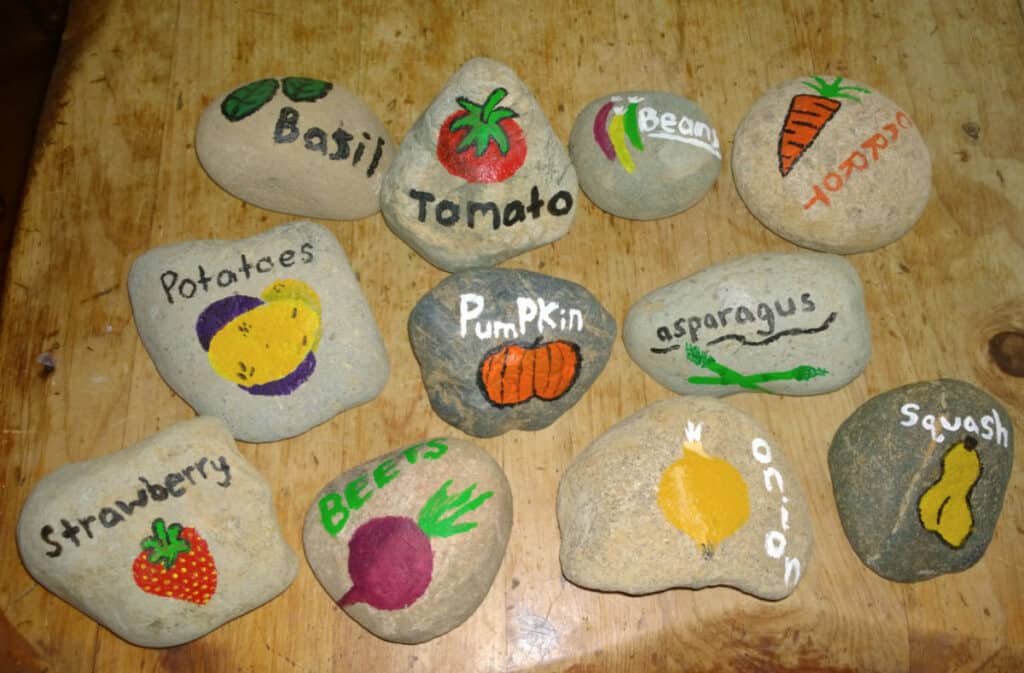 Kids love to make bird feeders, and birds are a great asset in a garden. Teach your child how to make butterfly baths to encourage pollinators to visit. Use this time to teach your child why gardens need pollinators.
Another idea is to decorate the paths together and make stepping stones out of concrete and marbles. Trust me; it's an activity your kids will surely love.
Turn Gardening into a Family Business
Plant a few more seeds than you know you will need and have your kids sell the extra seedlings! Dig up and pot some perennials that need dividing or learn how to propagate plants as a family. Turn it into a family side hustle! So many opportunities to teach them STEM ideas with planning, selling, budgeting, saving!
5 Easy Vegetables to Grow with Your Kids
Not sure what vegetables grow with your kids? I'd recommend first, trying to grow the things that they are most excited about. Let them lead the way! But here are some easy ideas that you should have some success with! Check out my article on The Fastest Growing Vegetables to get more ideas!
Peas
Peas are supper easy to grow, and one of my and my kids favorite things to nibble on in the garden straight off the vine. If you think you don't like peas, you probably haven't eaten them fresh, when they are the sweetest and taste the best. Store bought peas of any kind just do not compare! If you need a refresher, see my article Seed Starting 101: Planting Peas.
Tomatoes
Sungold cherry tomatoes are probably the next favorite thing that my kids and I love to eat fresh off the vine, they are like nature's candy! Now starting tomato seed can be a little bit trickier, but I have a guide you can follow Seed Starting 101: Starting Tomato Seed Indoors or you can always wait until it's warm and plant transplants.
Pumpkins
Pumpkins are an easy and fun thing to grow with your kids. Just pop that seed in the ground when it gets warm out and watch them grow! A fun thing to be able to harvest your own pumpkins come Halloween! Consider some fun varieties like the Blue Jarrahdale, my favorite of all time for it's unique color and delish for eating!
Potatoes
Potatoes are always one of my favorite things to harvest, it's like looking for treasure in the dirt! My kids always enjoyed helping me harvest them! I prefer to grow them in pots, that way I know exactly where they are come harvest time! See how I grow potatoes in pots!
Radish
If your kids don't have a lot of patience, radish is one of the quickest things to grow. They are ready to harvest in only 30 days! But they don't love the heat, so definitely grow them in the spring or the fall before heat of the summer sets in. Not a fan of fresh radish? Try them roasted or pickled/fermented!
Try Gardening with Your Kids
Start small and gauge your child's interest in gardening. Most young kids find gardening exciting, but they might not share the same interests if you have older kids. That's okay!
Give gardening a try together; you might find that you love vegetable gardening with kids. I sure do and I can't wait to get my baby grand-daughter out there this year!
See these other easy outdoor activities for kids too, for more ideas to get them outside!
Want to Remember This?
I hope you found this article on "Vegetable Gardening with Kids" helpful. Please pin this article so you can easily find it when you need it, or feel free to share it on Facebook too!
Please pin "Vegetable Gardening with Kids" to your favorite Gardening or Kids board on Pinterest!