Fall displays don't have to be difficult or complex. Take just a few of the fall yard decoration ideas below and incorporate them into your yard or front porch to create the perfect ambiance to bring in the new season! With minimal effort, you too can increase your fall curb appeal with some simple autumn decor around your homestead!
Front Door Fall Decoration Ideas
First, focus on your front door. Consider hanging a welcome sign or a wreath for the front door.
Also consider a fall or Halloween themed door mat, don't be afraid to mix things up each season! Really make that front door a focal point!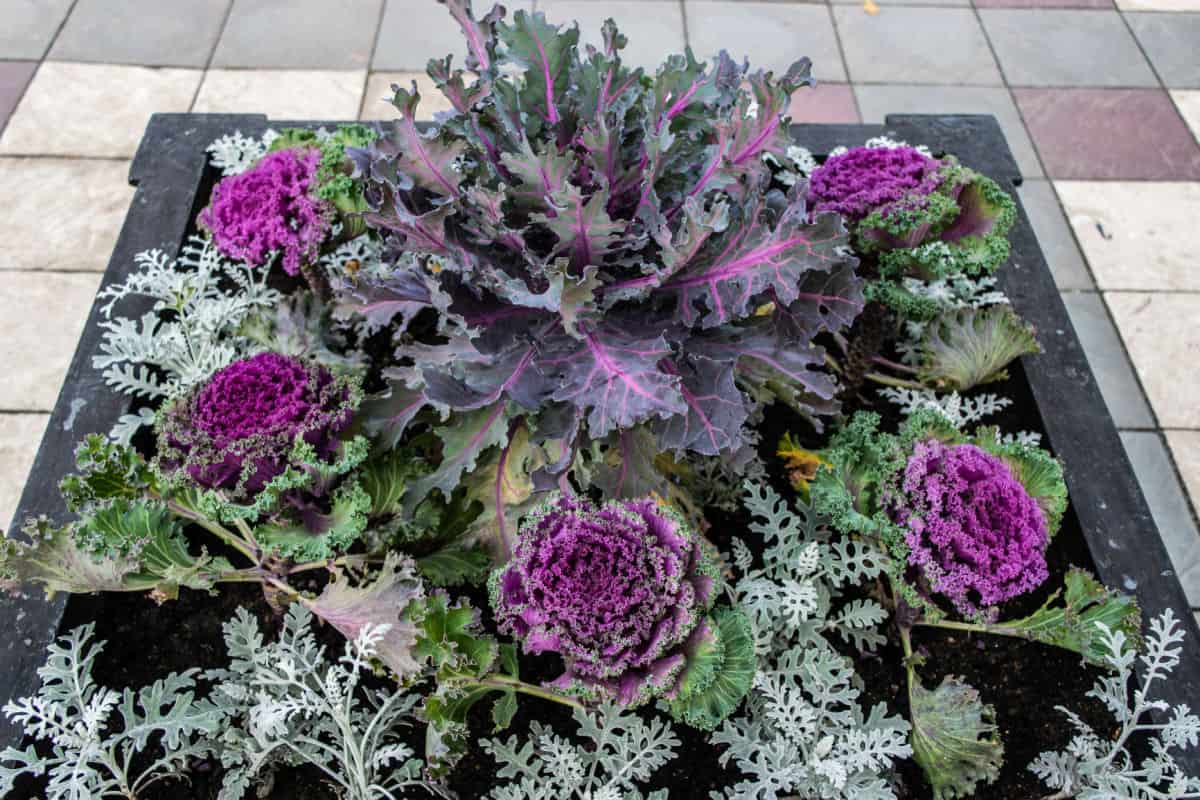 You could include some colorful planters on either side of your door with mums or decorative kale plants.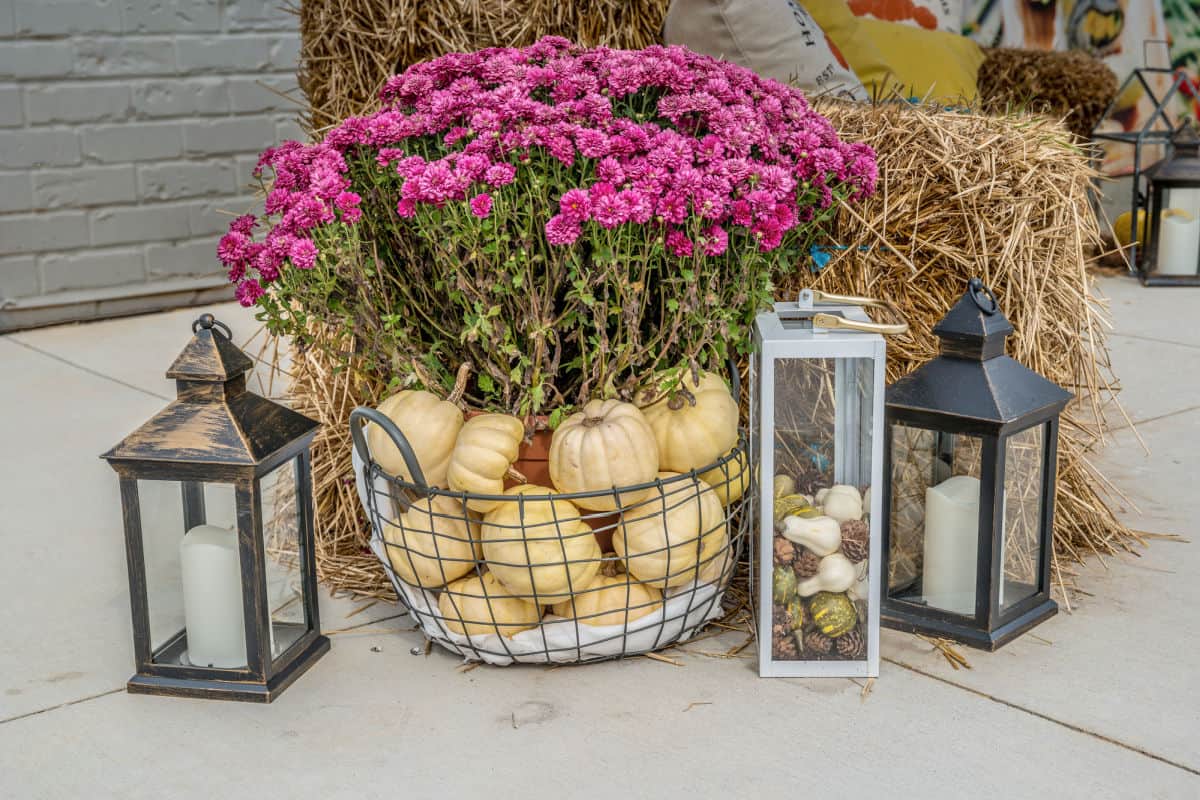 Fall Decorating Front Porch Ideas
For your front porch you could stick to purely fall/autumn decorations or you can add in some outdoor Halloween decorations too. Wrapping your railings with a maple leaf garland or other fun garland would be a good idea and you could even add in some fairy lights for fun!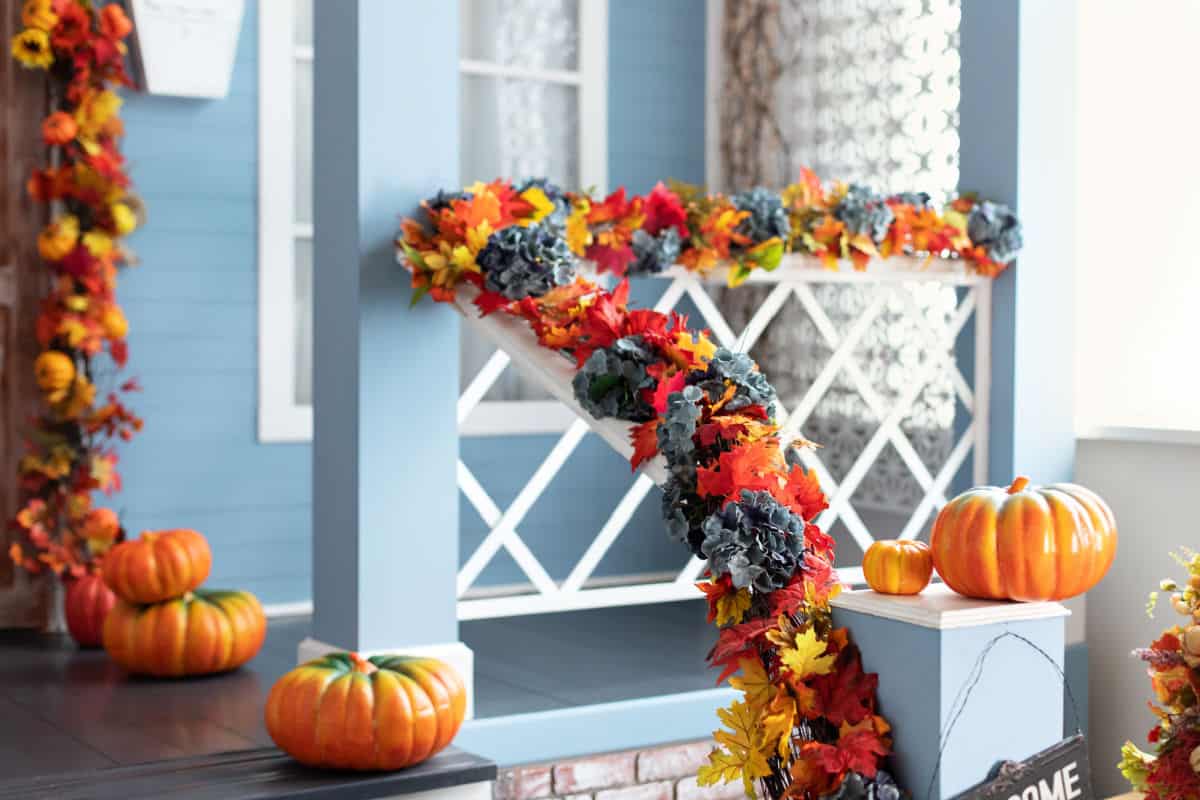 If you have seating on your front porch, consider a fall or Halloween throw pillow or two. And pumpkins everywhere!
Grow Your Own Fall Decorations
Consider what fall harvest decorations you can use for your yard decor this fall.
Outdoor fall decorations are one thing you can plan ahead on, and grow your own! From corn stalks, decorative gourds to pumpkins, I am sure that there is something you can plan to grow next year for your fall yard decor! This is the easy way to come up with inexpensive harvest season outdoor decorations.
Pumpkins
Here is a photo of our pumpkin and winter squash harvest a few years ago. After this harvest, I planted all kinds of weird pumpkins the next year!
You can see which varieties of pumpkins I have planted if you visit this post about my favorite pumpkin of all time, the Blue Jarrahdale Pumpkin! (I have linked them all to Amazon at the bottom of that post.) Consider getting a wide variety of pumpkins in different colors instead of the standard bright orange pumpkins.
I love the look of white and blue pumpkins together for a modern farmhouse style! But you can get warty pumpkins, flat pumpkins that stack well, and pumpkins in all sorts of colors!
Gourds
Gourds come in so many unique shapes or sizes and they are perfect for decorating with! Fill up bushel baskets with them on your porch, put small ones in floral arrangements or use them on your table scape. Line your sidewalk with them or hand them out as party favors!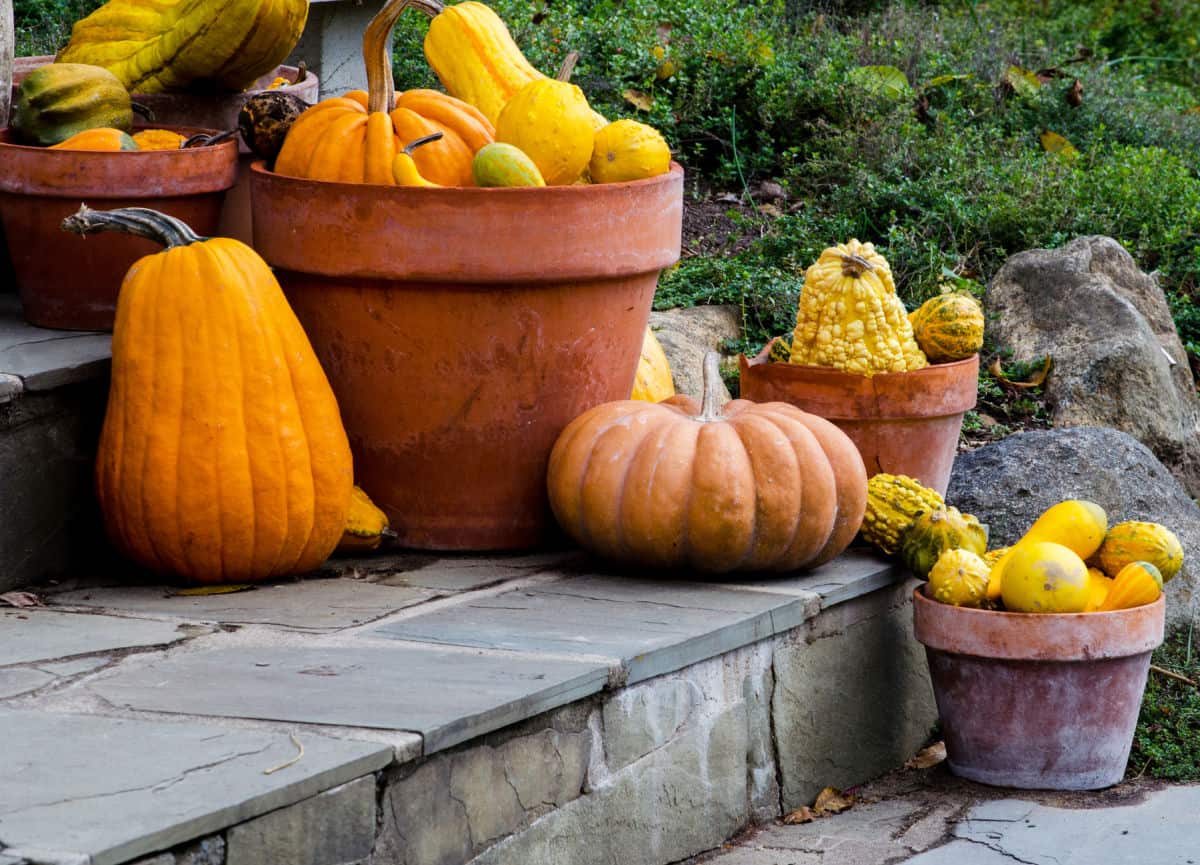 Straw Bales and Corn Stalks
Another item that may come in handy for decorating with, are straw bales or bales of hay. Straw bale yard decorations are easy to do and useful afterwards as well. If you have hay bales on your homestead or use them in your garden, or buy them in the fall, use them for decorating and then use them in your garden! See my article Using Hay & Straw in the Garden for more ideas!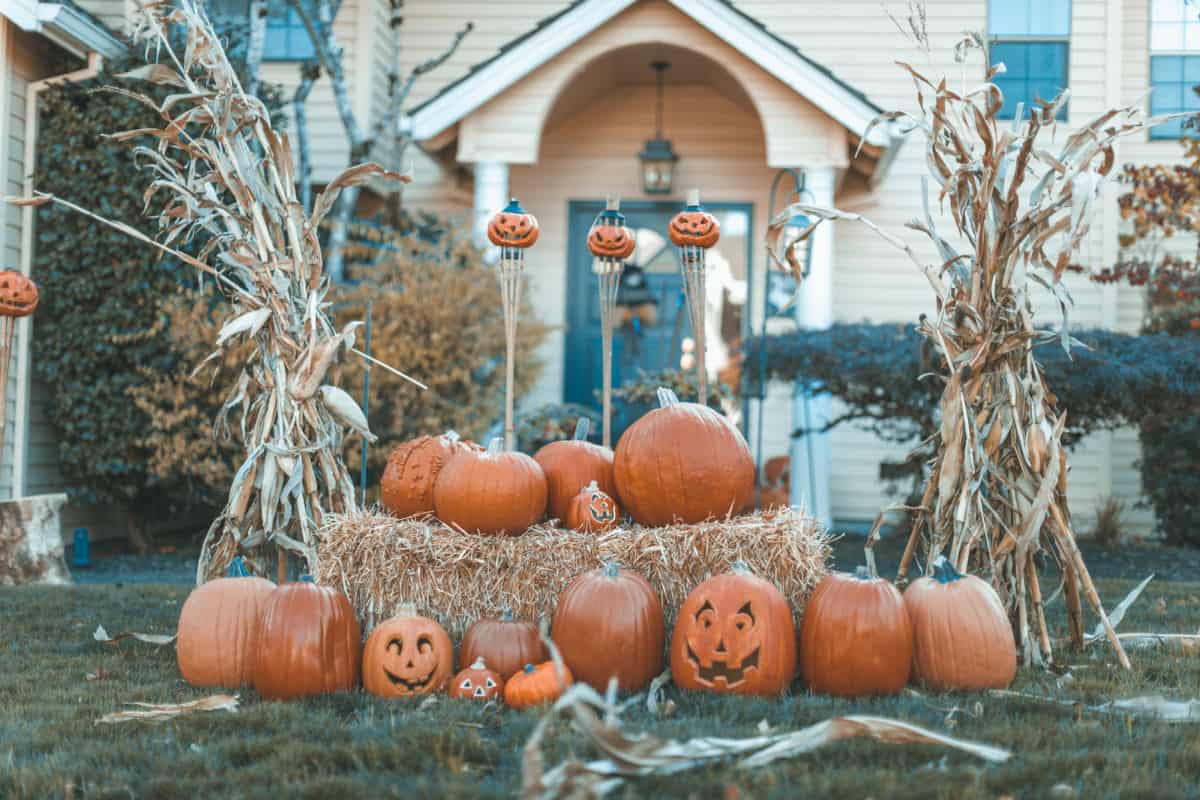 Use the hay bales for seating around your bon fire, extra seating on the porch, or stack them up to place your pumpkins on! You can also use them to help your scarecrows, witches or skeletons to stand upright!
Corn stalks can also be tied together and leaned against those piles of hay bales, or placed on either side of your front door or tied to fencing. Use the corn husks in flower arrangements or fall planters or in a dried flower wreath.
Make Your Own Fall Décor Items
Lets start with decorating our pumpkins! You could paint them with acrylic paint, carve them, put fairy lights in them and more! If you want to make them last longer, painting might be a better option over carving them.
And you don't have to do the standard jack o' lantern face, consider using stencils and/or glitter, or use a paint pouring technique! Make it a fun family project to do with the kids!
Make these Painted Pumpkin Mason Jars and line your porch with them! Light them up with twinkle lights inside or little tea lights!
Consider making your own DIY Fall Wreaths for your doors and/or windows! Use artificial flowers to create unique fall arrangements or wreaths.
Halloween Yard Decoration Ideas
Along with fall comes Halloween, and it is always fun to throw in some spooky decorations for the tricker treaters! Think of a theme that you might want to incorporate into your decorations, perhaps witches or skulls or monsters are your thing!
Set up a large pot as a witches cauldron and have it be a centerpiece to decorate around! Or paint all your pumpkins as ugly monsters and get some glow in the dark googly eyes to stick on them! Hang a skeleton on your door instead of a wreath, and place skulls and other bones around with gravestones and other graveyard decoration items....
A Complete List of Fall Yard Decoration Ideas:
Front Door Decorations:
Make or buy a festive fall wreath
If wreaths aren't your thing, a fall themed Welcome sign is another option
If Halloween decor is more your thing, hang a skeleton or witch or other Halloween decor item on your door
Consider placing a container of mums on either side of the door
If mums aren't your favorite, a planter of decorative kale/cabbage will also do well this time of year
Place a bushel basket of colorful gourds on either side of the door
Tie a bushel of corn stalks to either side of the door
Consider replacing your door mat with a fall or Halloween themed door mat
Front Door Entry Area decorations:
Place a straw bale on either side of the door with pumpkins piled on top
If you have steps up to your front door, consider placing pumpkins on each step
If you have steps up to the front door consider wrapping the railings with fall garlands
Create a trick or treat stand to leave out the treats for the kids on Halloween night
Hang a spooky ghost to scare your visitors
Front Porch Decorations:
Pumpkins everywhere! In all shapes, colors and sizes, or pick a theme and stick to it!
Gourds can be intermingled with the pumpkins, or fill some wire baskets or bushel baskets with them!
Miniature pumpkins or gourds can line your railings.
Hang fall garlands around your windows
Hang cobwebs from the ceiling if you want a spookier look
Decorate with Halloween decorations of all types, skulls, witches, ghosts, monsters, whatever is your jam!
Make your own Painted Pumpkin Mason Jars and light them up!
Sprinkle fall leaves on your porch floor or on your table top if you have one!
Fall Yard Decorations:
Fall Yard Activities:
Make a donut and cider stand to sell to neighbors
Make a pile of fallen leaves for the kids to jump in, then save all those leaves for composting for the garden
Set up an outdoor movie area and watch spooky Halloween movies while drinking warm cider
Set up a bonfire area with hay bales, pumpkins and fairy lights to enjoy the magic of fall
Press your favorite autumn leaves and frame them or make a collage with them
Activities for Fall
Don't forget to enjoy the cool fall weather and plan some outings for the family! Visit an apple orchard and pick some apples, go to a corn maze or a sunflower field. A lot of our local farms offer huge fall festivities including tractor rides, and fresh home made cider donuts and caramel apples as well as picking your own pumpkins.
Fall is usually harvest time and it is fun picking all the fruits of our labor in our own gardens, preserving food, making cider, picking out pumpkins and decorating them, making fall treats and preparing for the long dark days of winter!
I hope you have found some simple ideas for your outdoor fall yard decorating and that you have your best fall season ever! Happy Fall Y'all!
Want to Remember This?
Please share "30+ Fall Yard Decoration Ideas" on Pinterest to your favorite Home Decorating or Fall themed board!