Now that fall is in the air, it is Pumpkin Spice season! Some of my favorite flavors are big at this time of year, apples, cinnamon, pumpkin...YUM! It's time to start those chilly mornings off right with a nice hearty warm breakfast, a bowl of Pumpkin Spice Steel Cut Oats!
(Updated August 2020) Awhile back, I shared with you how to Preserve your Pumpkin and Winter Squash by Roasting and Freezing. With this recipe, I wanted to share with you one of my favorite ways to use up some of that frozen pumpkin.
When the mornings are chilly, there is nothing like a warm bowl of hearty pumpkin spice steel cut oats to warm your soul. Add in a little maple syrup, pumpkin spice and some pecans or walnuts, and life is good. Even the kids will like it!
This is a whole foods vegetarian recipe that can easily be made vegan/plant based depending on which type of milk you choose to use. I hope you enjoy this recipe for Pumpkin Spice Steel Cut Oats as much as I do!
The Ingredients:
I like Bob's Red Mill Quick Cooking Steel Cut Oats, as they cook in 7 minutes instead of 20. I am not a morning person to begin with, so anything that makes my morning quick and easy is a good thing!
You will also need Pumpkin Puree (to make your own for the freezer, see my post from last week here) and Pumpkin Pie Spice. You can make your own Pumpkin Pie Spice by mixing together 4 spices. Mix 1 tspn of ground cinnamon, 1/4 tspn of ground nutmeg, 1/4 tspn ground ginger and 1/8 tspn of ground cloves.
Optional ingredients are maple syrup (or honey), pecans or walnuts, and a little milk (not shown). Plant based milk is fine too, almond milk is my favorite.
Cooking the Steel Cut Oats, Pumpkin & Spices:
Add the 2 cups water, 1 cup quick cook steel cut oats, 1/2 cup pumpkin puree and your pumpkin pie spice to a medium size pot that has a lid. Bring to a boil. Stir. Put lid on pot and turn down to a simmer for 7 minutes, stirring occasionally.
Adding a Finishing Touch, a Little Maple Syrup:
When the 7 minutes are up, you may add a couple swirls of maple syrup to sweeten, approximately 1-2 TBSN's should do it. This is optional though, so if you are cutting out sugar, you can skip this step.
All Dished Up, Ready to Eat!
After stirring in the maple syrup, you are all ready to dish it up. According to the directions on the steel cut oats, this makes 4 servings. But they are kind of small servings. For adults, 3 servings is probably more realistic.
Optional ingredients are topping the steel cut oats with some chopped pecans or walnuts, and adding a splash of regular milk or plant based milk. I really hope you enjoy this Hearty Pumpkin Spice Steel Cut Oats recipe!
Pumpkin Spice Steel Cut Oats Recipe: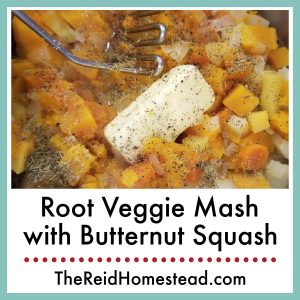 Root Veggie Mash with Butternut Squash
An easy rustic side dish for the holidays or anytime that uses up lots of your garden vegetables!
Equipment
cutting board

vegetable peeler

large pot

chopping knife

potato masher
Ingredients
1 medium butternut squash
1 large parsnip
1 rutabaga or sub 2 turnips
2 medium yellow onions
3 carrots
1 stick butter (1/2 cup)
1 tsp dried thyme more or less to taste
1/2 tsp salt to taste, more if you used unsalted butter
1/4 tsp black pepper to taste
Instructions
Peel the butternut squash, parsnip, rutabaga (or turnips), and carrots. Slice carrots and parsnips and onions into 1/4" pieces. Chop onion slices again in opposite direction into 1/2" pieces. Chop butternut squash and rutabaga (or turnips) into 1/2"- 1" pieces. Add to large pot and cover well with water. Bring to boil and boil for +/- 15 minutes until all vegetables are soft enough to mash.

Drain vegetables (reserving the liquid for use in other soups/stews later). Add back to pot. Add butter, thyme, salt and pepper to taste and mash to your preferred consistency and serve!
Want to Remember This?
Pin it for later reference! Pin Pumpkin Spice Steel Cut Oats on Pinterest to your favorite recipe board so you can find it again easily! Or share on Facebook too!