Today we are talking about the benefits of using straw or hay in the garden, an inexpensive material that is often overlooked!
Using Hay or Straw for Mulch in the Garden
I have been using straw for mulch in the garden for years and I love it. It insulates over the winter, it suppresses weeds and decomposes quickly, feeding the soil. I first learned about this method after reading Ruth Stout's Gardening without Work; for the Aging, the Busy and the Indolent book and I loved learning how she grew potatoes in her hay garden and that is how it began for me.
Yes, sometimes I do have a few weed seeds germinate from the straw, but when this happens, they are super easy to pull out, unlike the clover or buttercup or crab grass that would probably be growing there in its place! I simply pull them out, and lay them on top, creating more mulch with them!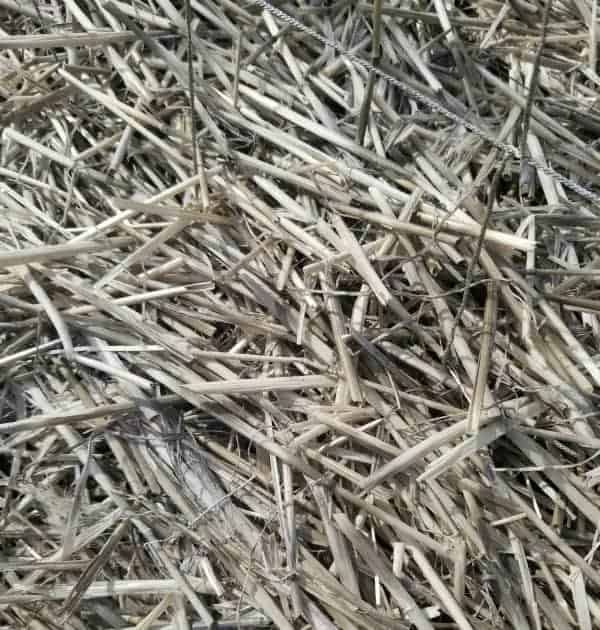 Now hay may have more weed seeds in it, so be careful. But if you get it at the right price, it may still be worth it. See our friends article down below for more info on the differences between hay and straw.
Remember, any place that you have bare earth, other wise known as dirt, exposed; it is an invitation for weeds to grow there. Whether that dirt is bare in a garden bed or a path, cover it up and you will have less weeds!
Back to Eden No Till Gardening with Straw
I use a no till method of gardening called Back to Eden gardening, or Lasagna Gardening, for all of my gardening, vegetable, flower and fruit gardens. I use the arborist wood chips when I can get them, and hope to transition to this method everywhere eventually.
But in the mean time, I use straw when I am short on the wood chips. For more information on Back to Eden gardening, no till gardening and/or lasagna gardening, see my other article on The Secret to Easy Gardening, Use Mulch for No Weeding.
Get the Beginner's Guide to Back to Eden Gardening Guide TODAY!!!
Sourcing Straw or Hay for Use in the Garden
Straw and spent hay are both inexpensive and available most everywhere, so they are an easy option for using in abundance to mulch with. Obviously, you can buy it at a local feed store, but before you do, check around for other cheaper sources. See if any of your local farmers have spent or soiled hay or straw they need to get rid of.
Usually spent or soiled straw or hay has gone moldy, or it may have been used as animal bedding. Both are great options for using in the garden as mulch. Try and join a local Facebook group for homesteaders or farmers and network that way to find a local source.
Combating Slugs in Straw or Hay Mulch
Cons to mulching with straw or hay are slugs and snails. Especially here in the Pacific Northwest where it is mild and damp all winter long. They love to live under the mulch and hang out there all winter long.
Check out these Natural Slug and Snail Control Methods to help keep them at bay.
Planting In a Bed Mulched with Straw or Hay
To plant in the bed, I just move the straw away, clearing away right down to the dirt. You will notice that the soil is loose and lovely, thanks to all the little worms and microbes doing their thing beneath the mulch.
I plant seeds, and as soon as I see them germinating, move the straw back up to the plants. Or, plant a veggie seedling in, and then move the straw back up to it. I do use Sluggo again here until the plants are more established.
You can keep reusing the mulch until it breaks down completely. As it gets smaller and more broken down, just add some fresh straw on top.
Garden Areas to use Straw or Hay Mulch:
Three Sisters Garden
Potato Beds
Pumpkin Patch
Asparagus Bed
Raspberry Bed
Blueberry Bed
Around and over Potatoes planted in Pots or a Potato Bed
flower beds
paths in the garden
really, anywhere dirt is exposed!
Using Straw Bales as a Cold Frame
I also use straw bales to build a very simple cold frame. See my tutorial on How to Build a Simple DIY Straw Bale Cold Frame. Using a cold frame like this allows you to plant earlier in spring or later into fall, extending your growing season. You can even use it to grow greens all winter if you live in a milder climate like I do in the Seattle area garden zone 8b.
Using Straw and Hay in Garden Compost
Another great way to use straw and hay in gardening, is using it in your compost. Both are great materials to add to your compost as a brown material which will help add bulk and aeration to your compost pile as it breaks down. See my article Simple Easy No Work Compost.
What is the Difference Between Hay and Straw?
Click the link below to read Lisa's fantastic article and get her perspective on using hay and straw in the garden and more info won the differences between Straw and Hay.
Our Featured Post this Week:
How to Use Hay or Straw in the Garden for Best Results
How to Use Hay or Straw in the Garden For Best Results from Lisa at The Self Sufficient HomeAcre
Key Take Away Points on Gardening with Straw or Hay
Any exposed dirt or earth, that is not growing a dense sea of plants, is an invitation for weed seeds to take hold and grow. If you want less weeds, you need to cover that earth, dirt or soil with something. Straw and Hay are both cheap alternatives to do so AND feed the soil as they decompose, so a win in my book!
Get the Beginner's Guide to Back to Eden Gardening Guide TODAY!!!
To see more on mulching, the act of covering the soil, see my article The Secret to Easy Gardening, NO WEEDING with Mulch!
Want to Remember This?
I hope you will remember and try these great ideas on using hay and straw in the garden!
Please pin "Using Hay and Straw in the Garden" to your favorite Gardening board on Pinterest to remember for later!