Today I am sharing our Root Veggie Mash with Butternut Squash Recipe. It is one of our family recipes that we make every Thanksgiving and Christmas as a side dish, and it is a great way to use up some of those veggies from your garden!
My husband's family is from England, and my mother in law introduced me to this dish early on in our relationship. We always call it Root Veggie Mash, and it consists of a variety of root vegetables and one butternut squash.
It is one of my favorites, and I make it every year for the holidays. I make a huge batch of it, and freeze the leftovers for warming up to go with other meals later on.
The Ingredients:
Root Vegetables: This recipe is really flexible, and you can mix up the ingredients a bit or substitute one out for another if you like. In this case, we made this dish with one large parsnip, one medium butternut squash, one rutabaga (I have also used turnips), 2 yellow onions, and 3 carrots.
Some years I use a rutabaga and other years I use turnip. Otherwise I use the same ingredients listed above. But quantity can vary. I personally love the parsnips in this dish and sometimes will add more if I have them on hand.
Other popular root vegetable mash dishes are turnip and butternut squash mash, butternut squash and parsnip mash and rutabaga and carrot mash.
Winter Squash: Mashed butternut squash alone with a glob of butter, is one of my favorites. But this is one of my favorite mashed butternut squash recipes. I usually make it with a butternut squash, but you could also make it other similar winter squash like the Blue Jarrahdale Pumpkin.
Preparing the Vegetables:
Next, we are going to chop everything up and add to a large pot with water. You will need a cutting board, knife, vegetable peeler and a potato masher.
I forgot to take a photo of me peeling the squash, but do that first. I just use a vegetable peeler to do this. Once all the skin is off, cut it in half and scoop out the seeds. Than chop the squash into ½" - 1" cubes.

Next, peel the onions, and chop them up and add them to the pot.
Use the vegetable peeler again and peel the rutabaga or turnip, and then chop it up into ½" pieces and add it to the pot.
Next peel the parsnip, and slice it into ¼" pieces. If it is a large one such as this, you may want to halve it or quarter it length wise first before slicing. Add them to the pot with the others.
Peel the carrots and slice them into ¼" pieces and add them to the pot.
Once you have all the vegetables sliced and chopped and added to the pot, put it on the stove and bring it up to a boil.
Adding the Final Touches: Butter and Seasonings
Boil the vegetables until they are all fork tender and easily mashable.
This usually takes about 15 minutes or so, depending on how big or small you chopped things. So maybe start checking around 12 minutes, if you chopped things larger, you may have to go a bit longer than 15 minutes.
Once soft, drain the vegetables. I like to save the liquid to add to future soups and stews!
Put it all back in the pot, add a stick of butter (see how to make homemade butter), and about 1 teaspoon of thyme. I like a lot of thyme and after tasting, may add more.
Add salt and pepper to taste. Using a potato masher, mash the butternut squash and all the root veggies together.
You can mash it smooth if you like, I like to leave it a bit lumpy myself. A little bit more rustic I think! 🙂
All Dished Up, Ready to Eat!
Once mashed to the consistency you like, it is ready to serve!
If this doesn't get all gobbled up, I like to use wide mouth pint jars to freeze the leftovers in. Be sure to leave enough room at the top of the jar for room for expansion when freezing! These are great just warmed up as is, or add to soups, stews, or curries!
Root Veggie Mash with Butternut Squash Recipe: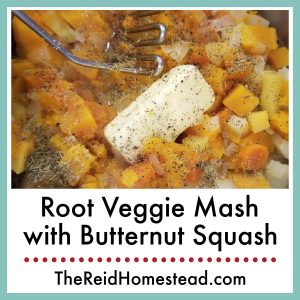 Root Veggie Mash with Butternut Squash
An easy rustic side dish for the holidays or anytime that uses up lots of your garden vegetables! A healthy whole foods vegetarian dish that can easily be made vegan / plant based if you swap the butter out for a vegan butter alternative!
Ingredients
1 medium butternut squash
1 large parsnip
1 rutabaga or sub 2 turnips
2 medium yellow onions
3 carrots
1 stick butter (½ cup)
1 teaspoon dried thyme more or less to taste
½ teaspoon salt to taste, more if you used unsalted butter
¼ teaspoon black pepper to taste
Instructions
Peel the butternut squash, parsnip, rutabaga (or turnips), and carrots.

Slice carrots and parsnips and onions into ¼" pieces.

Chop onion slices again in opposite direction into ½" pieces.

Chop butternut squash and rutabaga (or turnips) into ½"- 1" pieces.

Add all vegetables to large pot and cover well with water. Bring to boil and boil for +/- 15 minutes until all vegetables are soft enough to mash.

Drain vegetables (reserving the liquid for use in other soups/stews later). Add back to pot.

Add butter, thyme, salt and pepper to taste and mash to your preferred consistency and serve!
Want to Remember This?
Pin it for later reference! Pin Root Veggie Mash with Butternut Squash on Pinterest to your favorite recipe board so you can find it again easily!
Or share on Facebook too!