Not sure when or how to harvest your onions or cure them for long term storage? Read on for tips for harvesting and curing onions!
Tips for Growing Onions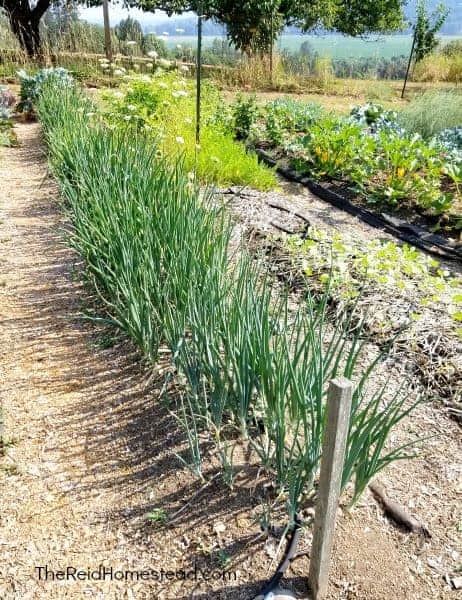 How often do you buy onions at the store? I know that before I started growing my own, I bought them almost weekly! Onions are just one of those vegetables that a lot of people don't think about growing.
If people do decide to grow onions, they just stick a few in and eat them fresh! I do that with sweet onions, but I personally like to grow enough onions to keep our household in home grown onions for most of the year. How do I do that?
First, I grow onion by seed, rather than by sets. I go into more detail about why in this article about How to Plant Onion Seed.
In this article I explain exactly How to Plant Onion Seedlings.
Choosing the Right Onion Varieties for Long Term Storage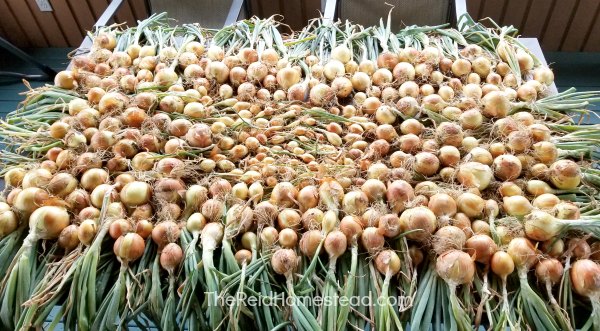 If you are also interested in growing the majority of onions that your family uses, it is super important to choose the right variety that stores well. Sweet onions have a lot of sugar, and don't keep well. You need to choose an onion variety that is known for being a long keeping onion or storage onion. These are the ones that store the best.
I go into much more detail in this article about How to Store Onions from the Garden Through the Winter.
In order to store onions properly, first they must be harvested and cured properly.
Harvesting and Curing Onions
My friend Kathi from Oak Hill Homestead has a great article on Harvesting and Curing Onions that goes into great detail. I hope you find some useful tips there!
Want to Remember This?
Please share "How to Harvest and Cure Onions" on Pinterest to your favorite homesteading or farming board!