As an Amazon Associate I earn from qualifying purchases.
You can read my full disclosure statement here.
This week in our Farm Fresh Tuesday Blog Hop, our featured post is all about harvesting and curing onions! Scroll down to find out more!
Growing Onions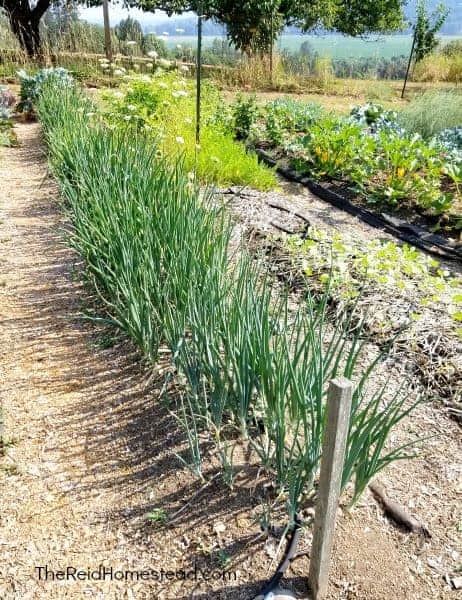 How often do you buy onions at the store? I know that before I started growing my own, I bought them almost weekly! Onions are just one of those vegetables that a lot of people don't think about growing.
If people do decide to grow onions, they just stick a few in and eat them fresh! I do that with sweet onions, but I personally like to grow enough onions to keep our household in home grown onions for most of the year. How do I do that?
First, I grow onion by seed, rather than by sets. I go into more detail about why in this article about How to Plant Onion Seed.
In this article I explain exactly How to Plant Onion Seedlings.
Choosing the Right Onion Varieties for Long Term Storage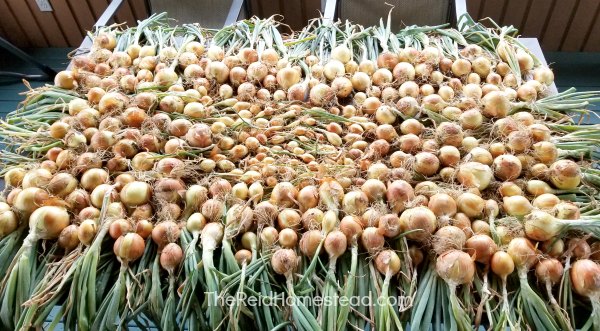 If you are also interested in growing the majority of onions that your family uses, it is super important to choose the right variety. Sweet onions have a lot of sugar, and don't keep well. You need to choose an onion variety that is known for being a long keeping onion or storage onion. These are the ones that store the best.
I go into much more detail in this article about How to Store Onions from the Garden Through the Winter.
In order to store onions properly, first they must be harvested and cured properly. That is why I chose my featured post this week, since I haven't really covered that on my blog yet in fine detail.
Our Featured Posts This Week: Harvesting and Curing Onions
When I saw that Kathi from Oak Hill Homestead had shared a great article on Harvesting and Curing Onions on last week's blog hop, I knew I had to feature it this week! 
Welcome to our Farm Fresh Tuesday Blog Hop!
Thank you for visiting our Farm Fresh Tuesday Blog Hop! I have teamed up with some other awesome homesteading bloggers to host this awesome blog hop! Each Tuesday this blog hop opens for you to share your posts on gardening, herbalism, crafts, homesteading, food preservation.
Feel free to share your in season gardening and homesteading posts with us and please feel free to share this blog hop where ever you like! There is a link down below for you to click on to share your posts!
To Be Featured on the Farm Fresh Tuesday Blog Hop:
Please remember, for a chance to be featured next week, PLEASE LINK TO OUR BLOG HOP in your post! It has been difficult to find articles that had followed thru with this the last few weeks!
Also, it helps to have your own featured image in your post, other than a pin! Especially in round up posts! Thank you!
Your Farm Fresh Tuesday Blog Hop Hosts Are:
Essential Tips for Starting Out in Farming from Annie at 15 Acre Homestead
Curried Pickled Eggs by Shelle at Rockin W Homestead
Stuffed Poblano Pepper Recipe by Lisa at The Self Sufficient HomeAcre
And myself! I'm Tamara and I blog here at The Reid Homestead
Are You Ready to Start Preserving Your Harvest this Summer?

Your Farm Fresh Tuesdays Blog Hop Hosts are all participating in a summer-long blogger roundup event, Preserving the Harvest! This round up, includes different ways of preserving 23 of the most popular fruits and vegetables!
Each blog post participating, lists all the other posts near the bottom of their post! Each post, focuses on one fruit or vegetable, and all the ways to preserve it!
I am sharing all about Preserving Green Beans! Some of my other food preservation posts include: freezing berries, roasting and freezing winter squash & pumpkin, and freezing tomatoes.
Check the list at the bottom of my post to see all the other fruits and vegetables and how to preserve them! You can find a ton of great recipes and preservation methods from our blogging friends in this round up!
Share Your Farm Fresh Posts This Week!
Homesteading, homemaking, sustainable and green ideas, DIY, healthy living, and self-reliance posts are all welcome. Share up to 4 family friendly posts.
You may share older posts with 'in season' information, but please don't share the same posts each week!
If you share your posts in this party, you are giving permission for others to link to your posts….that's a good thing because it helps get more eyes on your posts.
Check each host's hop post to see if you were featured this week.
Be sure to link back to this blog hop so that we can feature you next week.
Visit some of the other posts and leave a comment…let them know you found them here!
Feel free to apply to our Farm Fresh Bloggers Roundup Page!
Please do not link to other blog hops, linky parties, or to giveaways in this homesteading hop. However, you may leave a comment below telling us about your blog hop or giveaway!
---
This linky list is now closed.
Thank You!
Thanks for visiting our Farm Fresh Tuesday blog hop! Please check out all the amazing posts and comment on, and share the posts that you learned something new from! Feel free to share your blog hops below in the comment section!
Want to Remember This?
Please share "How to Harvest and Cure Onions" on Pinterest to your favorite homesteading or farming board!