As an Amazon Associate I earn from qualifying purchases.
You can read my full disclosure statement here.
Today I am excited to share with you my favorite tools for vegetable gardening and the

Spring Homesteading Giveaway

that I am participating in this year with 15+ other bloggers, with the grand prize value of over $400!
Yesterday was the first day of spring, and that means it is vegetable gardening season! This weekend I need to get my beds all cleaned up and ready to go, so I am happy today to share with you my favorite tools for vegetable gardening.
Scroll to the bottom of this post for more info and to enter into the Spring Homestead Giveaway!
Vegetable Gardening for Security
During these crazy times of self isolation during the pandemic, you could essentially say the sh*t has hit the fan. Having a vegetable garden in, gives me a sense of security in knowing that my family will have food. For this reason alone, I think that everyone should have a small food garden.
Even if all you can muster is a couple containers on your deck, you can still easily grow greens, which are a nutrient dense food. They grow quickly and you can grow them over and over and get multiple harvests. Consider spinach, lettuce, chard, kale, bok choy, etc.
Potatoes are another crop I would plant, but look for long storing varieties such as Kennebec, Yukon Gold or German Butterball. They are also super in nutrients and will store for awhile. You can grow them easily in containers on a small deck or patio, or in the ground in large quantities.
The third vegetable I would choose to grow in these trying times, would be winter squash. They do require a little more space, so if space is limited, look for a bush variety. These are also nutrient dense, are easy to grow and will store for a long time in a cool dark place.
My all time favorite is Blue Jarrahdale Squash, but look for other long storing varieties such as Sweet Meat, Butternut and Blue Hubbard.
These foods may not be as exotic as say tomatoes and peppers, but they will go a long way in helping feed you and your family through a tough time.
The Right Tools Make for Easy Work
Vegetable gardening is easier when you use the right tools. Other than tools, mulch makes for easy gardening, with less weeds. So make your work in the garden more enjoyable, and therefore, more productive, by using the correct tools.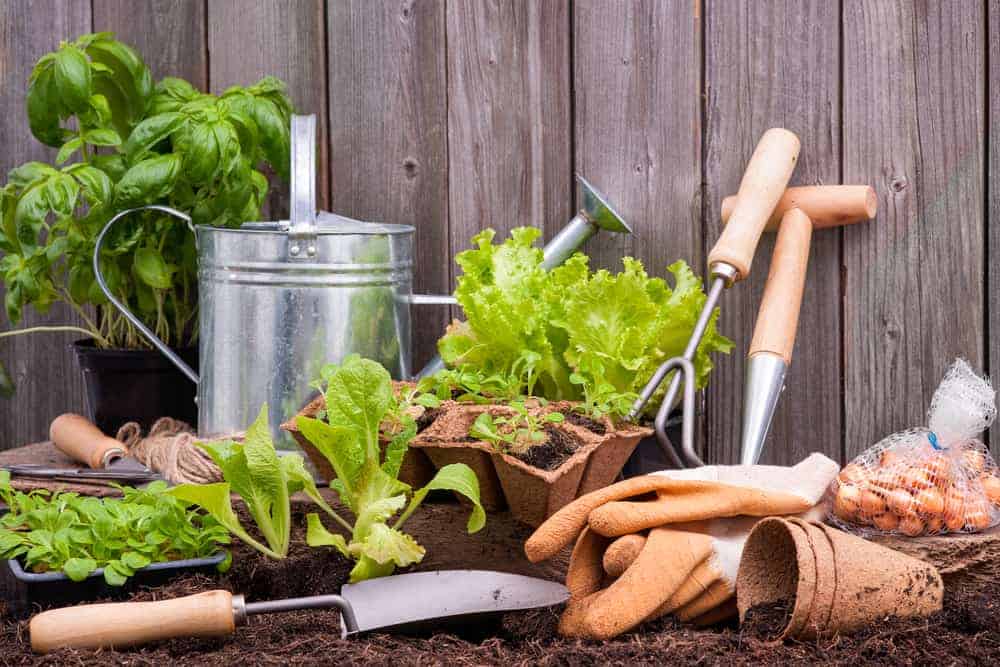 Many people quit vegetable gardening, because they find it too hard. Don't give up! Use the internet to find short cuts such as mulching for less weeds. You can learn tips on watering correctly, companion planting, vegetables that grow in shade, etc.
Any problem you are facing with your garden, Google is your friend, just search it out! I actually consider Google to be an awesome tool that I use all the time when a gardening or homesteading issue comes up that I am unsure how to handle it!
My Favorite Tools for Vegetable Gardening:
#1: The Cobrahead Weeder and Cultivator tool is my all time favorite gardening tool.


I am also giving one away in the Homestead Spring Giveaway! Scroll down to the bottom enter! 
I like this tool for tackling big weeds and little weeds easily. For big weeds, you just hook them and pull, and they come up so easily. For smaller tiny just germinated weeds, turn the hook on it's side and scrape along just below the surface of the soil to uproot them all.
It also works really well to loosen up compacted soil, for drawing a line to drop your seeds into, or for digging a hole to drop a plant start into. This is a must have tool in my opinion!
#2: The Hori Hori Digging Knife comes in as a close second.


I like this tool for several reasons. It makes digging a hole to drop a plant into super easy. I like it to cut off the roots of a plant when I am wanting to remove dead plants as I clean up the garden beds. I follow a no till practice, and instead of pulling up the whole plant root system and disrupting the soil, I prefer to leave the roots in to decay, and feed the soil.
This tool is perfect for that job! I have also been known to use the knife part to cut twine or my netted trellis or even cable ties!
#3: The Gorilla Cart Wagon is also a must have.


I use this for hauling weeds to dump, for hauling harvests into the house and for hauling compost from our bins to where it needs to go in the garden. I also using it for hauling out any purchased soil amendments from the garage out to the garden. I use it to empty out the chicken coops, and haul the spent bedding out to our compost area.
If I am spending the day working outside in the garden, this is always by my side. I love how you can lift the wagon part up simply, to dump it, just like a dump truck. I love how heavy duty these are….my tires are the only thing that have worn out on one of the 2 wagons we have, which were easily replaceable.
I have one just for use in the garden, and then we have another that we use for all of our chicken chores.
#4: The Suncast Outdoor Rolling Garden Scooter is a comfy seat and tool storage all wrapped up in one!


I like this garden scooter for a couple reasons. It has a cushy knee cushion on the top of it. The cushion can stay where it is for a comfy seat while you work, or if you need to kneel down and work, you can pop it off the cart and use it on the ground to cushion your knees.
It is just the right size for storing your garden hand tools, plant labels, twine, hoze nozzels, even a small sprinkler head! The lid shuts and latches nicely and it stays water tight in size. It comes with a nice little carrying basket for hauling your tools along or for harvesting a small bunch from the garden in.
#5: Melnor multi Pattern Metal Hoze Nozzle is perfect for all watering needs in the vegetable garden!


After going through many many hoze nozzle attachments over the years, this has become my favorite. I love how it is metal and heavy duty, I used plastic ones in the past that cracked. I also love the many different spray patterns it has. From a light mist to a jet spray and everything in between. I especially love the jet spray for cleaning out chicken waterers….not veggie garden related, but a key selling factor for me!
#6: 5 Gallon Buckets are simple, easy, and get used all the time around here!


I use simple 5 gallon buckets around here for everything. We have one on our deck outside our kitchen door to collect kitchen scraps for the compost bin. I haul compost out in them to where I need it.
I use them upside down to sit on if they are handy. I fill them with weeds to dump in my wagon. We also use them to haul chicken feed out to the coops…..so yes, these are a must have for the vegetable garden and homestead!
#7 My Greenhouse … a must have in our short cool growing season here in the PNW!


I am so thankful to have this, it allows me to grow tomatoes and peppers here in abundance. I fill the greenhouse every year with about 30+ tomato plants and at least that many peppers. I also grow a lot of vegetable starts to sell every year, and it allows me to move them out of the house earlier than if I didn't have it.
Seed Starting & Gift Giving – Favorite Tools and Equipment
I have a whole post dedicated to the tools and equipment I use for starting seeds.  I also have a post for Mother's Day Gardening & Homesteading Gift Ideas as well as a Holiday Gift Guide for Gardeners.


Spring Garden Giveaway!
I am so excited to be participating in the Spring Garden Giveaway this year! Below you will find the details of the giveaway, the items being given away by the bloggers participating and finally, the way to enter!
Spring Garden Giveaway Details:
Please Note: One winner will take the main prize package and 6 runner-up winners will receive a 'mini-homesteader' prize package!
Dates of the giveaway:
Beginning on 3/20/20 at 6 am and ending on 3/29/20 at 11:59 pm (Central Time Zone)
Total value of the Grand Prize is $407.86
6 Prizes with an approximate value of $10 each for our runner-up winners!
Spring Garden Giveaway Items & Participants!
Pulley Clothesline Kit – Retail value $60
Sanitize your laundry and save energy with a convenient pulley clothesline. When fully installed, this clothesline will allow you to stand in one location while pulleys move your wet laundry down the line. When your laundry is dry, simply pull the line back towards you and fold your clothes into your laundry basket. Your family will love the fresh scent of sun-kissed, wind-swept fabric. This prize package includes a 200′ cotton clothesline, two plastic pulleys, two screw hooks, one clothesline tightener, wooden clothespins, and five clothesline separators. Visit How to Install a Clothesline for full installation instructions.
Natural Soap Making Online Course and eBook Retail Value $49
Learn how to make your own natural handmade soaps using the traditional hot process method! There are many reasons to make your own soaps.
When you make your own soaps you will and can:
Get rid of toxins in your soap products because you'll KNOW what's in them
Save money
Give yourself a fun, creative outlet (self-care)
Add to your self-reliance and self-sufficiency skills
Improve the health and appearance of your skin
Reduce consumer waste
Build a foundation for starting your own soap making business (if you choose)
Winner will have a choice between the Soap Making Course and eBook or The Art to Making Herbal Tea For Health and Pleasure Retail Value $35
The Art & Science of Making Tea:
Take the mystery out of making and using herbs for teas (tisanes)
Start with the most basic of herbal practical skills (tea making) so you can use plant medicine on your own to support your health and prevent illness
Downsize the information overload and start your herbal journey in a familiar place: with making teas as remedies and for fun
See your kitchen as a healing apothecary, and get healing herbs into every meal
Nurture your family with natural health and home remedies that work
Be more confident and empowered in keeping yourself and your family well
Know how to support your daily wellness using teas!
Keep more toxins away from your family by using REAL plants with pure flavorings and ingredients
Learn a lifestyle that is empowering, creative, and enjoyable!
Have access and support in a private Facebook group those interested in natural health using herbs. You'll have a place to get answers to any and all of your questions.
Learn to view your kitchen as an apothecary through your new eyes as an herbalist
And lots more!
In The Kitchen Herb Garden Combo Pack – This is a great starter kit for your Kitchen Herb Garden.  Includes a full-pack of the following varieties: Genovese Basil, Cilantro, Dill, Oregano, Parsley, Tarragon, Thyme.
STARTER PACK option includes 24 coconut coir pellets and 7 plant markers. Retail Value $19.95
Garden Starter Combo Pack – Easy to grow and wonderful to eat.  This pack contains a large variety of easy to grow seeds at a great value. This combo pack includes one pack of each: Little Gem Lettuce, White Egg Turnip, Detroit Dark Red Beet, Extra Dwarf Pak Choy Cabbage, Boston Pickling Cucumber, Kentucky Wonder "Old Homestead" Bean, Dynamite Popcorn, Sugar Ann Snap Pea, Black Cherry Tomato, Ruby Red Swiss Chard, Genovese Basil, Dill Bouquet, Lemon Queen Sunflower, Butterfly Garden Mix, As well as 14 Plant Markers. Retail Value $18.95
Handcrafted stirring spoon from the homestead of New Hampshire Woodworks, courtesy of UnexplainedUnderfoorObjects.com. This delicate stovetop stirring spoon is hand-carved from reclaimed Malaysian Acacia wood and rubbed with beeswax and mineral oil. Retail Value $35
https://www.newhampshirewoodworks.com/store/c2/Kitchen-Bar
Every gardener wants an easy way to bring their harvest inside. You could use a trudge or bucket, but why not wear your harvest apron instead! Use the Cotton Garden Work Pinafore to protect your clothes while you're out in the garden collecting the harvest.
Retail price $35 
Color: Black
CobraHead Original Weeder & Cultivator Garden Hand Tool – Forged Steel Blade – Recycled Plastic Handle – Ergonomically Designed for Digging, Edging & Planting – Gardeners Love Our Most Versatile Tool. Retail Value $29.95
BUILT BY GARDENERS – CobraHead tools are developed from seasons of hands-on gardening experience.
EASY TO USE – Our classic garden weeding tools are great for greenhorns or green thumbs of all ages.
TEMPERED STEEL BLADE – Gardeners love this tool because the curved head plows though any soil.
COMFORTABLE UNIVERSAL GRIP – Our recycled plastic handles are made for easy right or left-hand use.
MADE IN THE USA – All of our dependable garden tools are crafted with care in Cambridge, Wisconsin.
The Beginner's Guide to Raising Chickens by Anne Kuo makes it simple and easy to start keeping these surprisingly smart birds right in your backyard. From constructing coops to rearing chicks, you'll learn everything you need to know to make sure your chickens stay happy and healthy all year round.
Retail value of $17.99
Plus…
Gardeners' Hand Salve – 4 oz tin of hand salve to rescue dry chapped hands! Retail value $8.99
In addition to these prizes for our Spring Homesteading Giveaway, the Self Sufficient HomeAcre is sending a surprise gift to 6 additional entrants! (Approximate Value of $10 each)
Although the items in these additional 'sur-prizes' won't be disclosed ahead of time, you can be sure that any homesteader or gardener will appreciate their runners-up gift items!
Bamboo cutting boards are a beautiful, unique addition to your personal kitchen or given as a gift to friends, clients, neighbors, and family. Dimensions: L 12″ W 9″ H 0.5″
Your choice of cutting boards from the Seeds for Generations wonderful selection here…
https://seedsforgenerations.com/product-category/cutting-board/
Retail value $25
Free access to Our Inspired Roots Academy for 3 months
Learn to grow food wherever you are — whether you live in the country or city, with a little bit of land or none at all.
Our Inspired Roots Academy can help you achieve your dream of growing food and medicine for your family!! Retail value $24

Help your hive thrive with this guide to beekeeping for new-bees.
Wouldn't it be great to raise your own bees, have a fresh supply of honey, and bring thousands of healthy pollinators into your yard? Beekeeping for Beginners is a simple, step-by-step guide that helps you learn the fundamentals of modern beekeeping. You (and your bees) will be buzzing with delight.
From picking the right hive and bringing your bees home to surviving winter and collecting honey, experienced beekeeper Amber Bradshaw takes you on an easy-to-follow journey through your first year of beekeeping and beyond. Retail Value $19.99
PLUS a Honey Bear from Amber's bee hives! Retail value $4.00
Hori Hori Garden Knife with Sharpening Stone, Nylon Sheath and Extra Sharp Blade – in Gift Box. This Knife Makes a Great Gift for Gardeners and Campers
Retail Value $23.95
The tool features extra-sharp flat and serrated edges on a 7″ blade made of 420 stainless steel; a hand guard to protect your hand, and a full tang handle for extra strength
It comes with a quality nylon sheath with a sharpening stone pocket.
Packaged in an eco-friendly compostable kraft paper box.
Includes a 5 year warranty, videos on how to maintain your tool in excellent condition, and full customer care and support
The Do It Yourself Homestead by Tessa Zundel. Retail Value $19.99
The Do It Yourself Homestead shows you how to:
Not worry that you're missing out on an important skill because you'll see that all homesteading goals are connected and you're taking it one step and at time.
Gain peace of mind because have clear goals and meaningful projects to engage in on specific homesteading topics.
Make your own food staples and use up what you already have on hand in healthy ways.
Feel years younger and pounds lighter by letting go of clutter on your homestead, emotional baggage, and outmoded thought patterns.
Learn to preserve surplus fruits and vegetables safely and even more efficiently than your great grandmother did, so that you don't have to go to the grocery store as often.
Find the livestock that's right for you, even if you have no land.
Create homesteading systems that are self-sustaining even if you live in the city.
Gain a level of preparedness that doesn't depend on how big your food storage is whether you live in an apartment or on hundreds of acres.
Get out of debt and live without feeling deprived.
Teach your kids responsibility by getting them involved.
And so much more!
Melissa from Little Frugal Homestead will also share a giveaway prize for a runner-up winner with an approximate value of $13 – it's a surprise gift that any gardener or homesteader is sure to love!
Preserving food can be one of the most intimidating aspects of homesteading and cooking. Luckily, no one makes it as easy and as much fun as farm-girl-in-the-making Ann Acetta-Scott. For a beginner new to the world of preserving, the ideal tool is a detailed reference guide, and in The Farm Girl's Guide to Preserving the Harvest, Ann covers all the basics on canning, dehydrating, freezing, fermenting, curing, and smoking, including how to select and use the right tools for each method. Retail Value $16.34
Hard cover copy of The Wild Things Grow. From fishing to sluggy friends, the prose in this book extols the joys of exploration in nature and raising 'wild' children. Retail Value $13.99
Digz Gardening Women's Fabric Gardener Touchscreen Gloves. Retail Value $8.77
To Enter the Giveaway:
Want to Remember This?