Do you need some ideas on what to make for dinner using fresh ingredients from the garden or from your CSA box? Than you are in the right place! Today I will be sharing several ideas to help you in planning dinner from the garden harvest!
Meal Planning and Garden Harvest - Farm to Table Style
With our first real garden harvest picked just the other day, I was trying to figure out how to use it for dinner. As a result, I was inspired this week to share as my featured articles on today's blog hop, other recipes shared in our Farm Fresh Tuesday's blog hop that used farm fresh ingredients in a dinner recipe!
Having some recipes using your fresh homegrown veggies in your repertoire, will make summer meal planning simple and easy! The best places to acquire in season veggies are from your own garden, a CSA box subscription or your local farmers market.
Before we get to those featured articles this week, I will share my recipe from the other night using my first real garden harvest this year!
Be sure to check out my article about how I track my Garden Harvest Tally each year!
Using in Season Ingredients for Dinner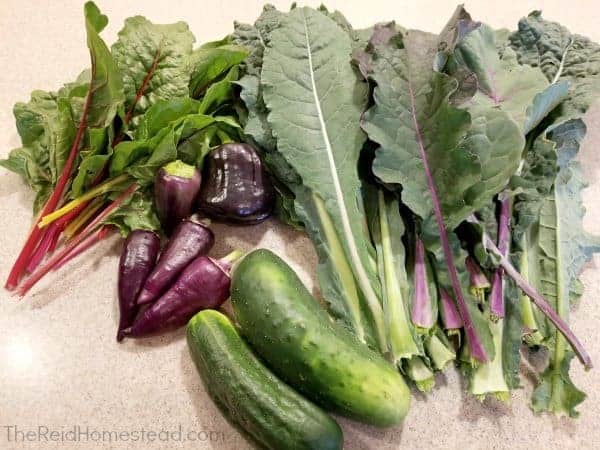 Sunday I harvested what I would consider our first real harvest from the garden. This included kale, swiss chard, and our first cucumbers and bell peppers! I brought it all in the house washed it up and started planning dinner from the garden harvest.
With all the greens I had, I figured a salad would be a great option. We also had tomatoes, red onion and leftover pinto beans to work with. So I decided to whip up a Mexican themed salad and it was super delicous!
Now just a note, I am no food blogger! My food photo's are not top notch. In fact, I didn't even think to share this recipe on the blog, until after I had a few bites! So I snapped a photo of my bowl, and thankfully still had extra kale and swiss chard to wash and put away, so I photographed those shots after I ate dinner!
I will be making this again though, and will update this post with better photo's soon!
Mexican Kale Salad
I decided to make a Mexican Kale Salad and it turned out really well. Everyone in our house loved it! So here is how I made it.
Ingredients:
½ lime
½ cup chopped swiss chard
1 ½ cups chopped kale
2 TBSN's dice red onion
1 tomato diced
1 small bell pepper diced
1 small cucumber chopped
½ cup warmed up whole pinto beans
one handful of tortilla chips, crunched up
4 TBSN's OPA Avocado Cilantro Salad Dressing
Slice the spines out of the kale leaves and remove them and set them aside for the compost bucket.
Stack all the kale leaves on top of each other, and cut them into 1" pieces and add them to a salad spinner.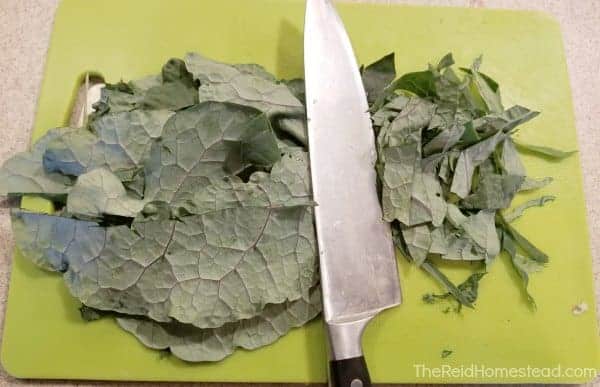 Then cut swiss chard into 1" squares, stems and all, and put them into the salad spinner.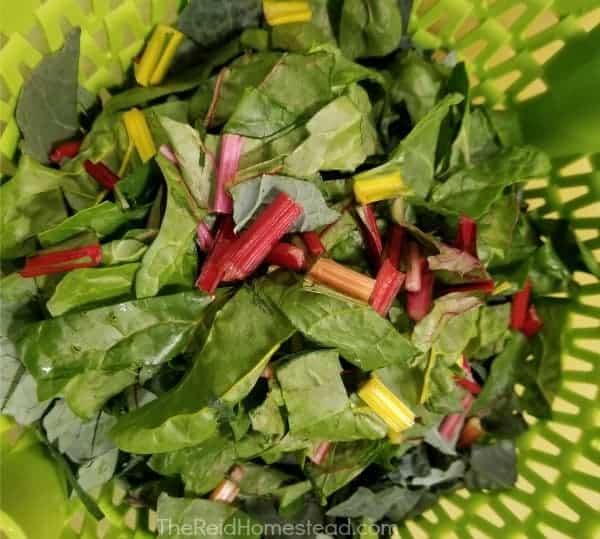 Rinse the greens in the salad spinner well a couple of times and then spin to dry. Add the greens to a large bowl and squeeze ½ of a lime over the greens and toss well. Set this aside while working on the other ingredients. The acid in the lime helps soften up the kale.
Dice up a tomato and a bell pepper and add them to the bowl. Dice up some red onion and added about 2 TBSN's to the bowl. Chop up one cucumber and add it to the bowl as well.
Warm up about a ½ cup of leftover pinto beans. Add the warm beans to the rest of the ingredients.
One of my new favorite salad dressings is this Avocado Cilantro dressing by OPA. I found it in the produce department in the refrigerated dressings section (I think I got it at Safeway? It might have been Fred Meyer's or QFC though.…). I added about 4 TBSN's to the salad bowl and tossed everything well.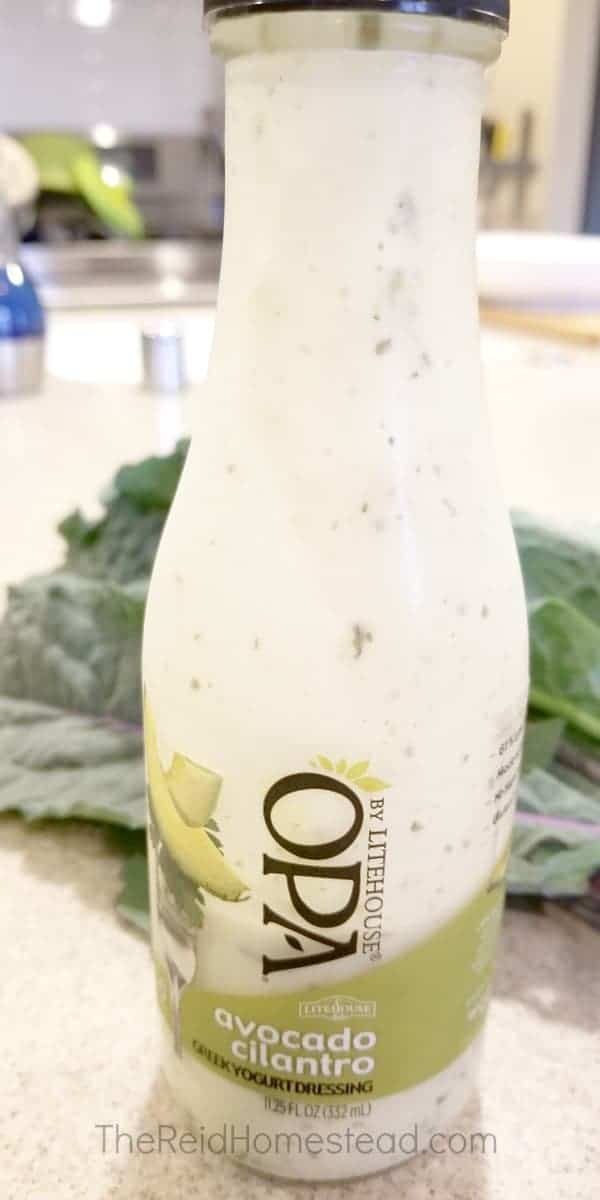 Last, I took a handful of tortilla chips, crunched them up with my hand, and sprinkled them on top of the salad.
This made a wonderful really hearty meal for just one, or could easily be split into two smaller portions maybe to go with the Mexican Corn on the Cob recipe down below, one of my featured articles this week!
Other optional ingredients you could add to the salad are cheese, avocado or some corn nibblets, or if you like it hot, some jalapenos or Anaheim chili peppers.
My Featured Posts This Week From the Farm Fresh Tuesday Blog Hop:
Garden Harvest Dinner Recipes
If you are planning dinner from the garden harvest, or you have a CSA box subscription, or you just visited your local farmer's market, these recipes will help you figure out how to use some of it! Remember to come back to our blog hop posts frequently, when doing your summer meal planning! There are always great recipes using fresh produce included!
Honey Balsamic Meatball Sheet Pan Dinner
Using potatoes and green beans: Honey Balsamic Meatball Sheet Pan Dinner from Of the Hearth
Mexican Corn on the Cob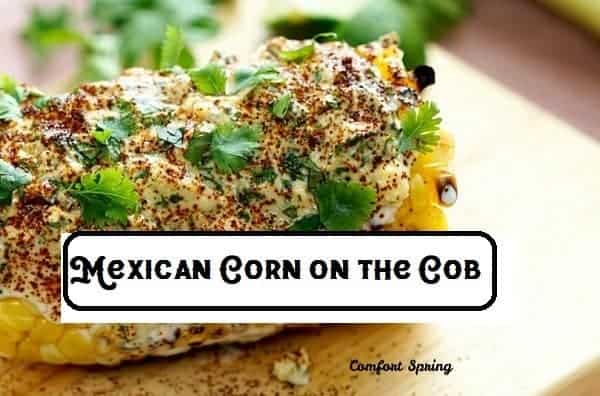 Using corn and cilantro: Mexcian Corn on the Cob from Comfort Spring Station
Planning Meals from a CSA Box
Using kohlrabi, bok choi and broccoli from Planning Meals from a CSA from Nancy on the Homefront
Want to Remember This?