These homemade quick pickles are something everyone with a vegetable garden should learn how to make! These are quick and easy no cook refrigerator pickles, no canning equipment or other special equipment is needed!
This easy refrigerator pickles recipe is a simple recipe that is fun to make with the whole family! Get your kids involved and you can all enjoy fresh pickles all summer long.
Just make a simple brine that is fully customizable, using the recipe below as a starting point. Make small baches at a time to figure out what you and your family like best.
Change up the flavor of the brine as you see fit, for crunchy old fashioned refrigerator pickles all summer long, customized to your personal preferences! Have homemade refrigerator pickles at the ready all season long.
Now, a quick disclaimer, the title says "no cook", but I do suggest just warming the brine to a boil to help the sugar dissolve and to enable to flavors to really come together quicker. Yes, you can skip that step altogether, and really do this with no cooking at all by using a warm brine, but it may take longer for the flavors to really come together.
If that is what you choose to do, I would say let the jars rest in the fridge for a couple of weeks before eating, and shaking the jars once a day for that first week to help dissolve the sugar and bring the flavors together fully.
This recipe is for a sweeter pickle, also called bread and butter pickles. If tangy pickles with garlic and dill are more your thing, just go less on the sugar, and add a fresh garlic clove or two to each jar as well as some fresh dill to get that classic dill pickle flavor.
This recipe is super flexible! You can add more spices or different veggies. You can also re-use this pickle brine again and again!
Which type of cucumbers should I use for refrigerator pickles?
You can make refrigerator pickles with any type of fresh cucumbers. Straight out of your garden is best!
In this recipe I used standard slicing or salad cucumbers.
However, pickling cucumber varieties are the best ones to use as they will remain crispier than slicing, salad or Japanese or English cucumbers. Sometimes pickling cucumbers are referred to as Kirby cucumbers in the store.
But if you are growing your own cucumbers in the garden, search for pickling cucumber varieties when buying seeds or starts. Some common pickling varieties are Boston, SMR-58 or these Pick-a-Bushel cucumbers.
See my article: Why Are My Cucumber Leaves Turning Yellow?
What type of vinegar can I use for refrigerator pickles?
My preference is white distilled vinegar, but you can also use apple cider vinegar for refrigerator pickles. Apple cider vinegar is a bit more mild so it won't have the bite that you will find with white distilled vinegar.
In fact, any clear vinegar will work such as red wine vinegar, white wine vinegar or rice wine vinegar. Different vinegar choices will change the flavor of the pickles, so experiment and see what you like.
Aged vinegars such as balsamic vinegar should not be used. Remembering that this recipe is really flexible, the only thing you really need to stick to is a 1:1 vinegar/water ratio, or pretty close to it when making the brine.
How To Make No Cook Refrigerator Pickles:
Servings: 6 pint jars
Prep time: 15 minutes
Cook time: 5 minutes
Chill Time: One week
Storage: Store in refrigerator
Equipment needed to make No Cook Refrigerator Pickles:
You will need the following items to make the refrigerator pickles:
Cutting board
Chef Knife
Large Bowl
Large Pot
Large Colander
6 Pint Size Mason Jars with re-usable screw top lids
Ingredients needed for the No Cook Refrigerator Pickles:
NOTE: Feel free to half or double or triple this recipe!
DIRECTIONS:
Step 1:
Slice the onion and cucumbers into ¼" slices with a sharp knife. (You could also choose to cut the cucumbers into spears instead of slices). Mix cucumber slices, onions, and kosher salt together in a large bowl. Let stand for 1 hour.
Step 2:
In a large sauce pot combine sugar, vinegar, 1-½ cups water, mustard seed, turmeric, and celery seed; bring just to a boil over high heat. Remove the hot brine from heat and let cool to room temperature.
Step 3:
Strain liquids from the cucumber mixture. Press down on the cucumbers in a colander to release as much liquid as possible.
Step 4:
Fill the jars with the cucumbers, onions and salt mixture that you have drained.
Step 5:
Pour the cooled brine over the cucumbers and place the airtight lids on the jars.
Step 6:
Refrigerate the jars for at least a week before eating to allow for the flavors to mingle and come together. Store in the refrigerator for up to 6 weeks and enjoy!
NOTE: If you would like to re-use the brine in the future once you have eaten all of the pickles, be sure to only use a clean utensil to remove the pickles from the jars so as not to introduce bacteria to the brine so it can safely be used again.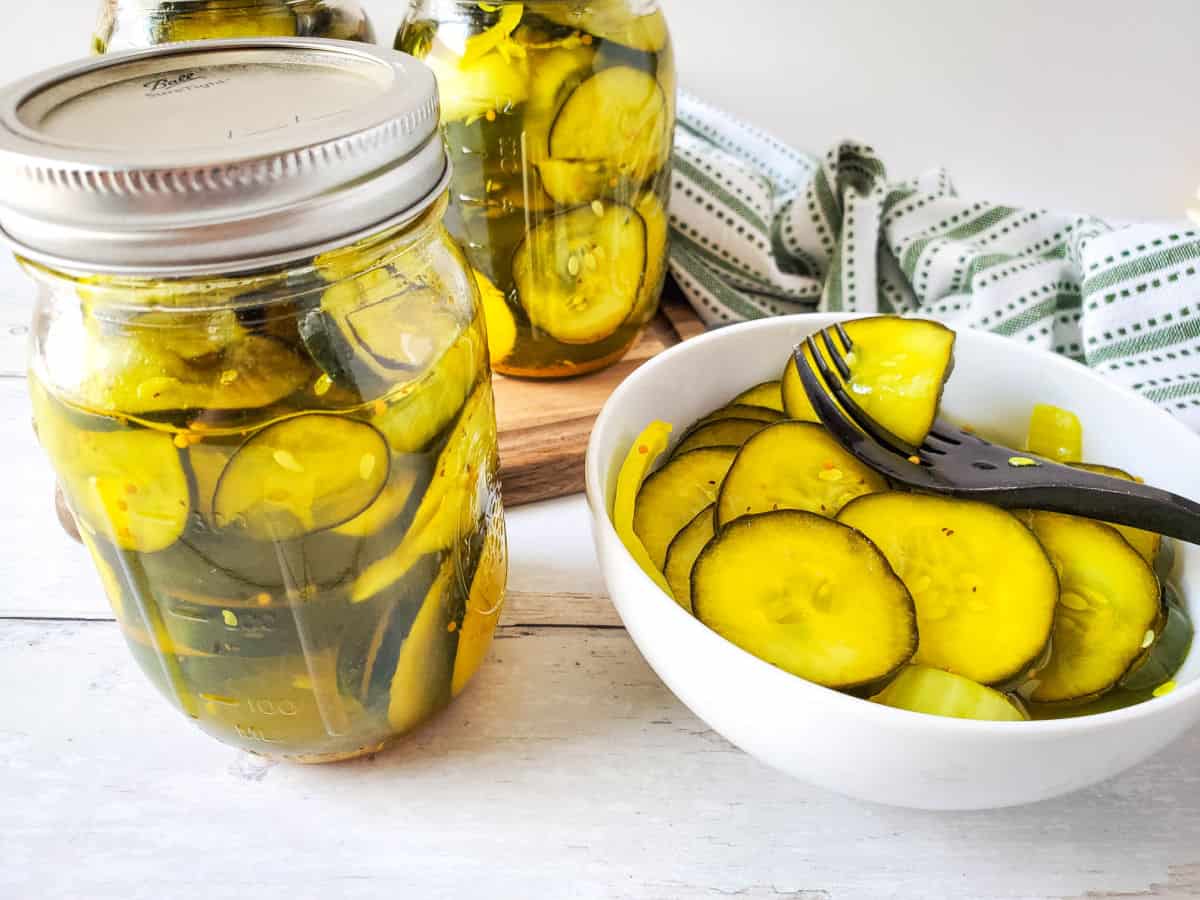 OTHER WAYS TO USE REFRIGERATOR PICKLES:
Eat them straight out of the jar, or add to your hamburger, hot dogs or favorite sandwich.
Chop them up and add them to tuna salad, chicken salad egg salad or potato salad! Or add them to your deviled egg filling!
FREQUENTLY ASKED QUESTIONS:
Do I have to cook the brine? No, but it will take longer for the flavors to be absorbed by the cucumbers. And you may need to shake the jars occasionally that first week to make sure the sugar dissolve fully. You can just use hot water to help dissolve the sugar instead.
Can I pour in a hot brine over the cucumbers instead of waiting for it to cool? Yes, but the pickles will be softer and less crispy.
I prefer a garlicky dill flavored pickle instead of a sweet pickle, can I use less sugar or a sugar alternative? Yes! You can skip the sugar all together if you like, but I suggest using at least a tablespoon to help cut the bite of the sharp vinegar flavor. You can also use other sweeteners if you choose, such as stevia, agave or honey.
Is sterilizing the jars necessary? No, because these are not being canned in the traditional way, however you should use clean jars and lids. I suggest running them through the dishwasher before filling them.
Can I use lemon juice instead of vinegar? I would not recommend using lemon juice for pickles.
Can I use iodized table salt instead of kosher salt? I would not recommend it as it will make your brine cloudy and discolored. Kosher salt, sea salt, canning & pickling salt are all good options.
How can I get the crunchiest pickles? Use pickling cucumbers, and allow the brine to fully cool before pouring it over the cucumbers. Water bath canning actually cooks the pickles, making them soft. Refrigerator pickles are the surest way to get crunchy crisp pickles.
What is the difference between refrigerator pickles and canned pickles? Canned pickles require the cucumbers to be cooked, usually via hot water bath canning. This seals the jars and makes them shelf stable. The cooking process, makes the pickles softer and less crispy. Refrigerator pickles preserve the pickles in the vinegar brine alone, and they are not to be considered shelf stable and must be stored in the refrigerator.
How long do they last in the fridge? 4-6 weeks is probably a safe life, but I have used them up to 3 months.
Can I freeze them? No, freezing breaks down the cell structure of the cucumbers and they will not hold their texture and will be mushy.
What are the best jars to use? Any clean jars with an air tight lid, I like to use mason jars.
Can I use whole cucumbers instead of sliced? Yes, but it takes longer to absorb the flavor from the brine.
Can I add other veggies in? Yes! Add them in with your cucumbers, or save the brine and pickle these veggies with it! Hot peppers, bell peppers, onions, carrots, radish, celery, beets, green beans, cherry tomatoes. And fruit can be used too! I would go heavy on a sweeter brine for fruit, consider apples, pears, plums, grapes, etc.
Can I add other seasonings in? Yes, other spices such as these can be added: black peppercorns, red pepper flakes, bay leaf, thyme, oregano, dill seed, cloves, star anise, caraway seeds, lemon grass, cumin, cilantro, horseradish, etc. Or you can even pick up pickling spice blends already made!
Can I reuse the brine? Yes, use a clean utensil to remove pickles as you use them so you don't introduce new bacteria to the jar from dirty fingers. Try beets or red onions or even hard boiled eggs!
Quick No Cook Refrigerator Pickles
This easy no cook refrigerator pickles recipe is a favorite! Quick and simple, these delicious pickles are on the sweet side, and ready to devour the next day! Seasonings are super flexible, if you don't like sweet, just use less sugar! If you want a more dill flavor instead of sweet, use a bit less sugar and add in the fresh dill and garlic!
Ingredients
6 cucumbers about 3 pounds of cucumbers, thinly sliced
1 onion one small onion, thinly sliced optional
½ Tablespoon Kosher Salt
1 ¼ cups sugar
1 ¼ cups white distilled vinegar or apple cider vinegar
¾ teaspoon mustard seed
¾ teaspoon ground turmeric
¾ teaspoon celery seed
1-2 bunches of fresh dill (remove woody stems and divide equally among jars) optional
6-12 cloves garlic (1-2 per jar) optional
Instructions
Mix cucumbers, onions, and kosher salt together in a large bowl. Let stand for 1 hour.

In a large sauce pot combine sugar, vinegar, 1-½ cups water, mustard seed, turmeric, and celery seed; bring to a boil over high heat.

Strain liquids from the cucumber mixture. Press down on the cucumbers & onions to release as much liquid as possible.

Cook the brine until just boiling, then remove from the heat.

Add cucumbers & onions to the jars and pour in the cooled brine. If using garlic and dill, add them to the jars first.

Best if let rest in refrigerator for up to a week before opening to let the flavors mingle.
Want to Remember This?
Pin it for later reference! Pin "Quick Easy No Cook Refrigerator Pickles" on Pinterest to your favorite Recipe board so you can find it again easily! Or share on Facebook too!